disaster response
disaster response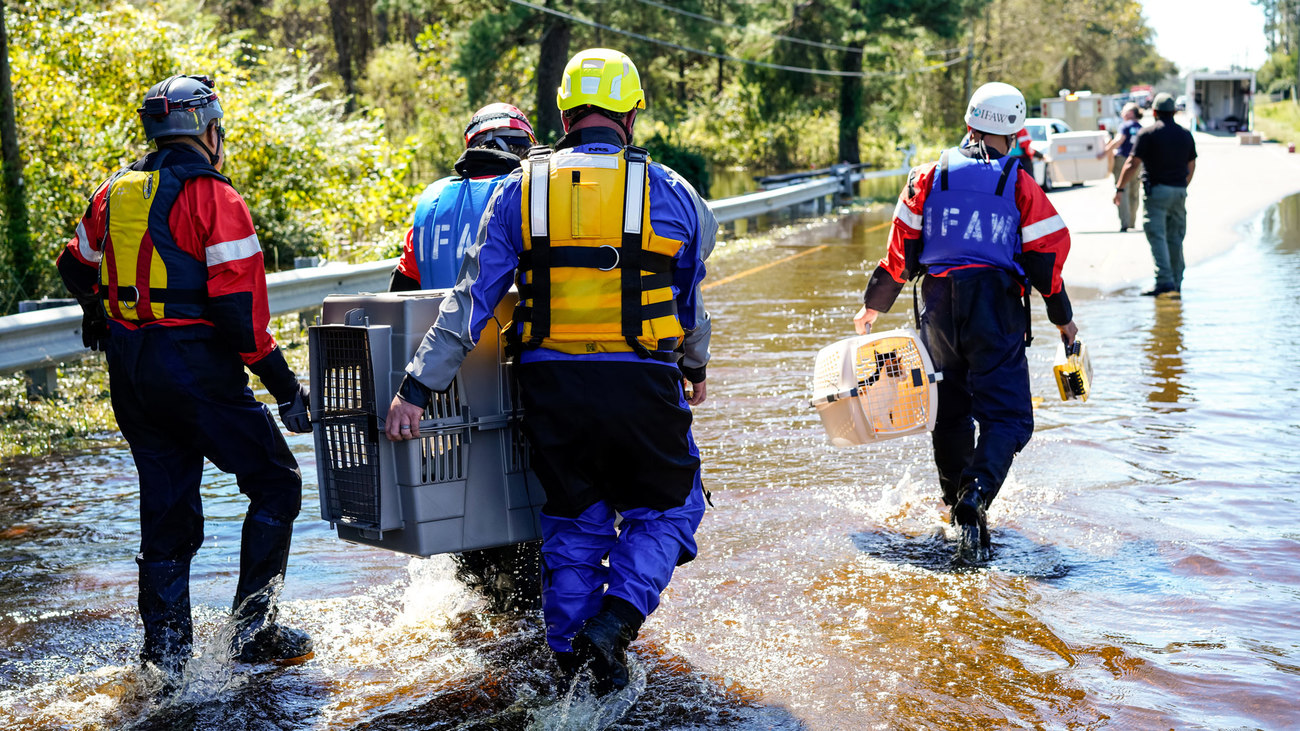 As disasters around the world increase in intensity and frequency, IFAW's Disaster Response and Risk Reduction team is ready to help by deploying to the hardest-hit communities to rescue animals and support local animal guardians and authorities throughout the crisis. In fiscal year 20, IFAW's Disaster Response and Risk Reduction team rescued 50,639 animals.
The Disaster Response team crafted a "Go/No-Go" deployment guide to ensure our team and trained responders could evaluate and deploy safely to disaster zones during the COVID-19 crisis.
Our greatest impact often comes after the disaster strikes, when we work with local stakeholders to evaluate a community's risk and to address threats through strategic planning and building local capacity to prepare for and respond to the next disaster.
During the first few months after Hurricane Dorian hit the Bahamas, IFAW immediately deployed trained responders and provided over 5,000 animals with direct care and over 113,000 kilograms of supplies including food, veterinary supplies, and humanitarian aid. Since then, we continue to work closely with our partners and the Bahamian government to implement a successful, long-term, comprehensive emergency management plan for the islands.
catastrophic bushfires in Australia
Australia's annual drought and bushfires combined for a devastating 2019-2020 season. The climate crisis contributed to record-breaking temperatures and a prolonged drought, which ignited wildfires throughout the landscape earlier than normal and they increased in magnitude and intensity throughout the season.
IFAW has been on the ground in Australia for more than 32 years. For decades, we have grown our team and strengthened our relationships with wildlife rehabilitators and government agencies across the country. So, when unprecedented disaster struck, we were well-placed to respond. Early on, we leapt in to provide assistance to rescue and care teams on the ground. With the invaluable support of generous donors from around the world, we were able to deliver help where it was needed most.
IFAW continues to improve welfare outcomes and release rates of rescued wildlife by building veterinary capacity with our partners on the ground. This includes adding to the veterinary team at Friends of the Koala in New South Wales by sponsoring a vet in April 2020, after already sponsoring a vet nurse since May 2019. We've also funded a veterinary team at Bonorong Wildlife Sanctuary in Tasmania.
Our support enables these partners to provide critical onsite treatment for native wildlife and therefore better welfare outcomes for each individual animal that comes into care. As a result of IFAW donors supporting this work and recognising the importance of wildlife care, IFAW is able to support these critical roles and resources into the future.
Our veterinary support at Friends of the Koala was crucial in our disaster response during the 2019-20 bushfires which involved working on the ground with our local partners to rescue and rehabilitate impacted wildlife.
IFAW provided critical resources and veterinary support to dozens of groups and individual volunteer carers for the rescue and care of countless sick, injured and orphaned native animals from birds, to bats, kangaroos, koalas and wombats.
This included an emergency response trailer, an IFAW 4WD Wildlife rescue vehicle, fuel cards, enclosures, triage buildings, food, water stations, medical supplies as well as online mental health resources for carers.
These essential resources gave impacted wildlife that critical second chance in life.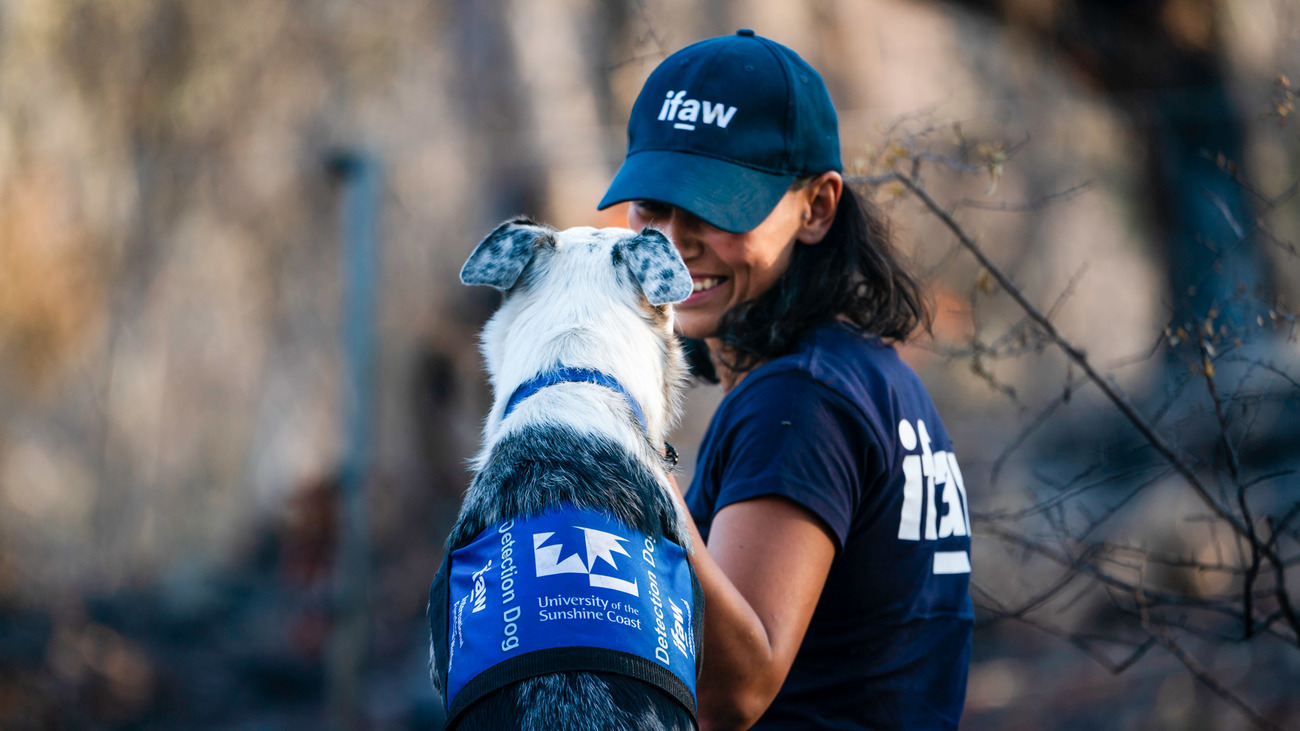 Locating koalas in burned-out forests
Bear, a koala detection dog, was an integral part of our search and rescue efforts to locate koala survivors in the bushfires. Trained by IFAW's partners at the University of the Sunshine Coast's (USC) Detection Dogs for Conservation team, Bear is one of the few detection dogs in Australia able to locate live koalas through the scent of their fur. This lovable canine isn't new to our roster, but we are certainly proud of the celebrity and media attention he garnered while successfully tracking over 100 koalas in burned-out forests this season.
Thanks to timely reporting from the field and widespread attention from media, IFAW received an influx of corporate, private, and foundational grants. With this support and more, Bear and the USC Detection Dogs for Conservation team are now conducting crucial research on the health and resilience of koala populations through the bio-health of their scat after the fires.
IFAW and the University of the Sunshine Coast (USC) Detection Dogs for Conservation program have partnered again, this time through a significant three-year investment in studying the health and resilience of koalas to fire. Koalas are facing significant threats to their habitat because of the bushfires and excessive land clearing which has contributed to the loss of 62% of the New South Wales koala population over the past 20 years.
Together with detection dogs and drone technology, we hope to identify and assess key at-risk koala populations by 2023, develop better conservation strategies for koalas when bushfires hit and inform future priority focus areas for intervention and management strategies.

Impact of science
Not all of our impact happens on charred ground, and in March 2020, IFAW published a first-of-its-kind scientific report identifying a significant loss of 6,382 koalas across New South Wales –15% of the state's population. Over the past 20 years, 62% of the population is estimated to have perished due to drought, bushfires, and man-made causes exacerbated by climate change. For this reason, we embarked on a policy push, calling on our peers, supporters, and the New South Wales state and federal government to "uplist" the status of koalas from "vulnerable" to "endangered."

emergency water stations deployed
koalas tracked by Bear, a koala detection dog
Planting trees
This fiscal year alone, together with local partners and landowners we have taken part in the planting of 35,000 native eucalyptus trees, with plans to expand our collaborative efforts and connect a network of essential wildlife corridors up and down Australia's east coast. This investment in restoration and regrowth – much like our commitment to the migration routes of elephants and whales – will support generations of animals to come, and these community projects help to instill a desire for local landowners to be part of building a healthy future.
The 2019-20 Australian bushfires scorched the landscape and shattered the New South Wales koala population and their habitats. Given that habitat destruction is already the number one threat to koalas, it is even more crucial that we rebuild and restore their critical habitat.
A core element of our work is restoration of critical habitats. By rebuilding vital wildlife corridors, we're giving our iconic koalas and other native species the safe refuges they so desperately need.
Together with Bangalow Koalas, we have planted more than 12,000 trees on four properties in the Northern Rivers region of NSW. While taking care to identify several COVID-19-related adjustments, 5,000 trees were planted in one three-day event this August with the help of dozens of dedicated volunteers.
Our work continues as we partner with more groups to expand our restoration efforts in Australia, and in June we signed a Memorandum of Understanding with the Great Eastern Ranges (GER), a large-scale conservation initiative to restore and reconnect 3,600 kilometers of land from Far North Queensland to Western Victoria.
Now, more than ever, we must find successful ways to co-exist with and protect our wildlife. Together with our partners, we're on the ground connecting protected spaces to create the room these species need to roam. Our goal is to increase the chances of survival of our wildlife and help animals and people thrive together.

rescue, relief, and recovery after Hurricane Dorian
In September 2019, the Bahamas was hit by its worst natural disaster on record. Hurricane Dorian, a Category 5 storm, struck the islands and left a trail of devastation in its wake, destroying many of the places people and animals called home.
Shortly after Dorian made landfall – and at the request of the Bahamian Government – IFAW deployed 50 responders to help with rescue and relief efforts in Abaco and Grand Bahama over the course of two months. While on the ground, IFAW established and led a coalition of organisations to rescue animals, provide shelter and veterinary care, and reunite pets with their owners.
When IFAW arrived in Grand Bahama, 71 unowned dogs and 86 unowned cats at the Humane Society of Grand Bahama needed immediate transportation from the island. Along with our partners, IFAW supported flights to take the animals to the United States, where they could undergo health assessments before finding forever homes.

In total, IFAW, alongside GreaterGood.org and Wings of Rescue, organised emergency transport for over 700 animals—including dogs, cats, rabbits, birds, and turtles. Many of these animals had been rescued from some of the hardest hit areas and required emergency veterinary care and extensive daily care support.
As a result of IFAW's work across the islands, from our immediate response through to ongoing recovery efforts, more than 5,000 animals received direct care and more than 113,000 kilograms of supplies including food, veterinary supplies, and humanitarian aid were delivered to Nassau, Abaco, and Grand Bahama.

animals received direct care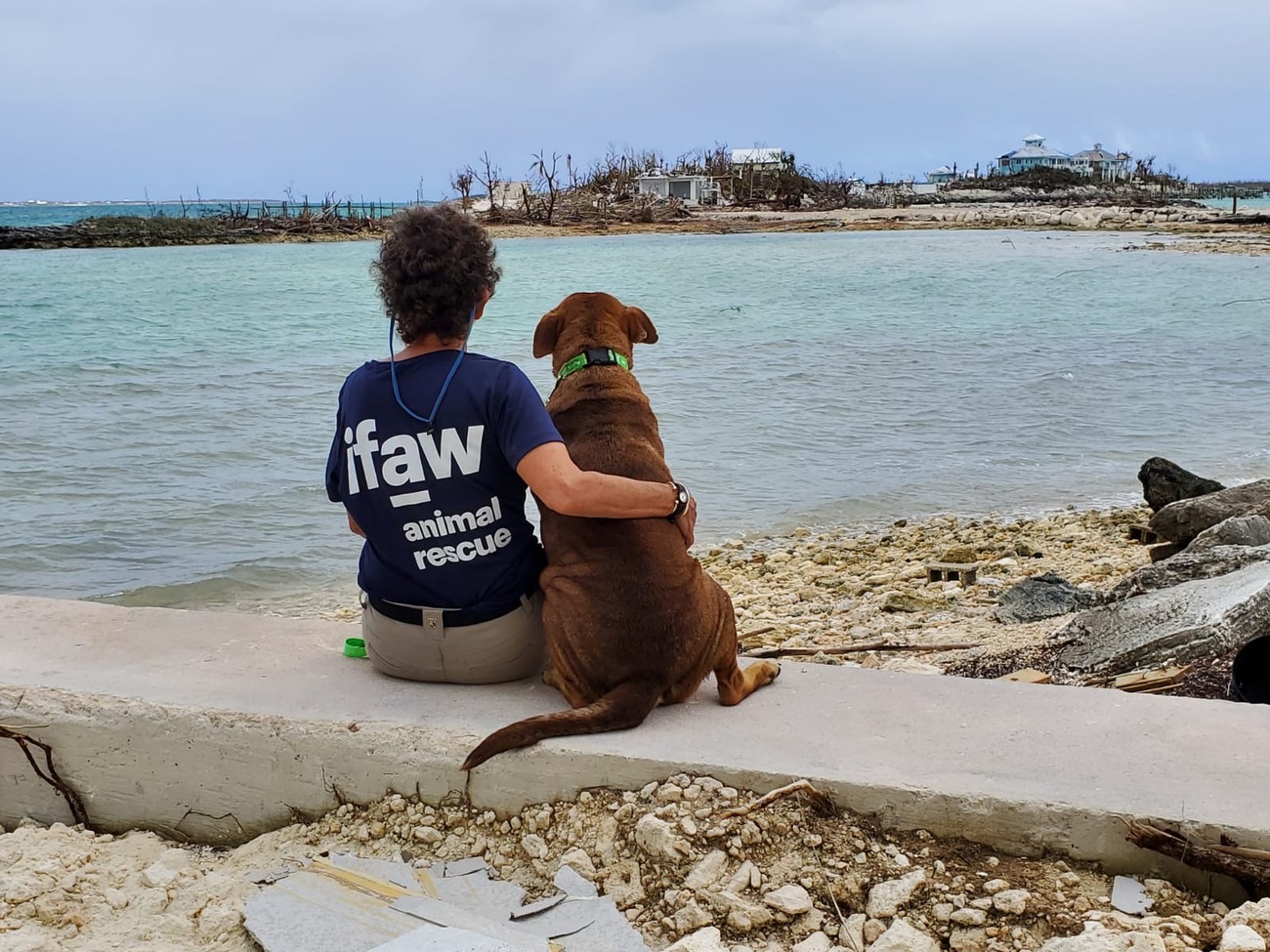 Supporting successful long-term recovery
IFAW is continuing to work closely with the coalition to implement a successful, long-term recovery plan for the islands. On all three islands, we awarded emergency grants to local partners as they rebuild stronger than ever and care for the animals in their communities.
The Abaco Animal Shelter was able to cover mobile pet wellness clinics at Marsh Harbour and Sandy Point, where over 100 animals received treatment, vaccinations, and purchased a truck for volunteers to deliver vital pet supplies to families in the aftermath of the hurricane. IFAW grants were also used to repair the original shelter and increase Abaco Animal Shelter's capacity to care for animals in need and promote responsible pet population management.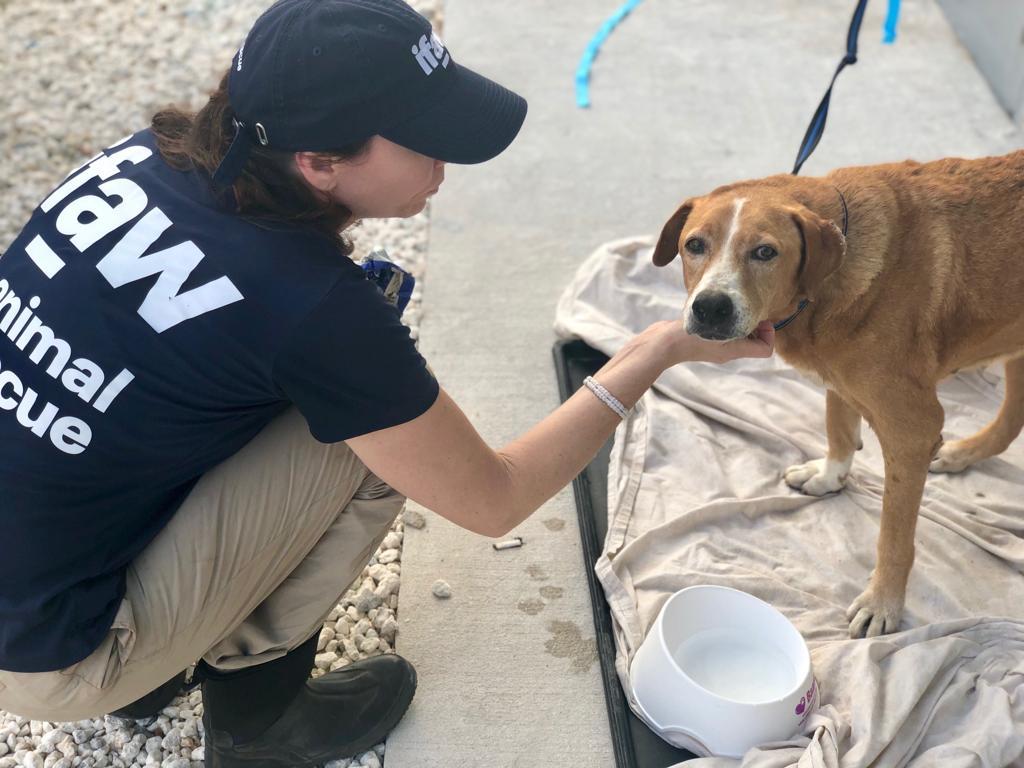 Preparedness that reduces future risk
In spring 2020, IFAW created a Bahamas Comprehensive Emergency Management Plan and submitted it for consideration to the Ministry of Agriculture and Marine Resources, Division of Veterinary Services, and all other coalition members. IFAW is working one-on-one with all coalition members to create contingency plans and prepare their communities.
By implementing a full-circle approach to disaster response, from response and recovery to preparedness and risk reduction, we can help communities be more resilient, protecting even more animals from harm.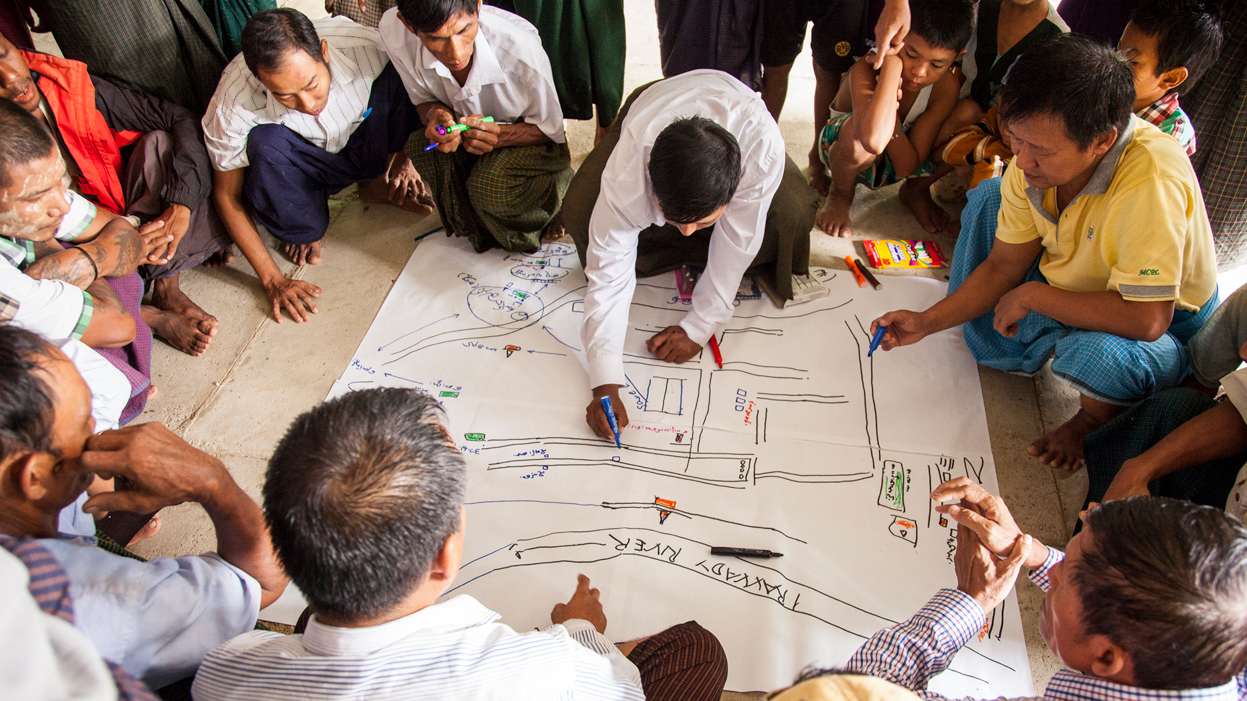 saving animals from flooding to support communities
We know that healthy animals are often the key to community health and resilience. Since 2015, IFAW's community-led Safelands project in Myanmar has provided farmers with raised platforms for their cattle to find refuge when flooding hits. Farmers rely on cattle for ploughing fields, so the animals provide vital support to the farmers' families and their communities. Cattle caught in floodwaters suffer and become vulnerable to illness and death.
In fiscal year 20, one Safelands platform in Myanmar provided safe refuge for 175 cattle during flooding. Evacuation of these cattle by boat would have cost the community around US$1300, which is a significant amount that can instead be saved and invested in other aspects of the community.
Today, Myanmar's government is investing its own resources to replicate the Safelands project across the delta region. In fiscal year 20, an additional eight platforms were built.
The Safelands project is an example of how sustainable projects can thrive when community participation, ownership, and leadership is encouraged. By fiscal year 20, all 11 project sites had established community-led committees to oversee the management of the Safelands, and several of the communities had hosted training sessions for their own villages. In the Myan Aung community, which is one of the government-built Safeland sites, IFAW helped three local women set up a community fund to pay for upgrades and repairs. This community and female-led initiative has secured donations from community members and local business that will help sustain their Safeland in the future.

IFAW's Safelands project was featured on the United Nations' Sustainable Development platform, highlighting IFAW's commitment to implementing sustainable conservation and animal welfare projects.

additional platforms built in fiscal year 20
project sites with community-led management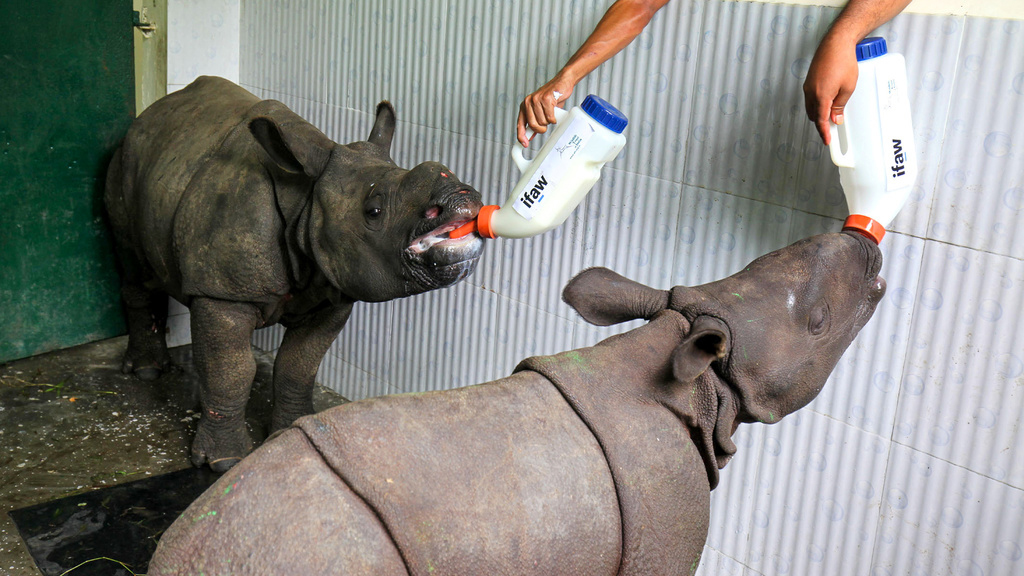 five rhino calves rescued from flooding
Since 2001, we have partnered with the Wildlife Trust of India (WTI) and the Assam Forest Department to protect animals and the habitats they call home. By implementing an approach that combines animal rescue, landscape conservation, and community engagement we have seen the return of some of the region's most iconic species and allowed landscapes to thrive.
In July 2019, along with our partner WTI, we rescued five rhino calves from the annual flooding in Kaziranga National Park, Assam. All five of the calves have now been moved into the rhino enclosure at the jointly run Centre for Wildlife Rehabilitation and Conservation facility where they have successfully adjusted to their new environment and are exploring the natural feed available to them. In time, they will be released back into the wild in places like Manas National Park, where our integrated approach to welfare and conservation shows landscape conservation, wildlife crime teams, and rescue efforts, all contributing to a holistic solution.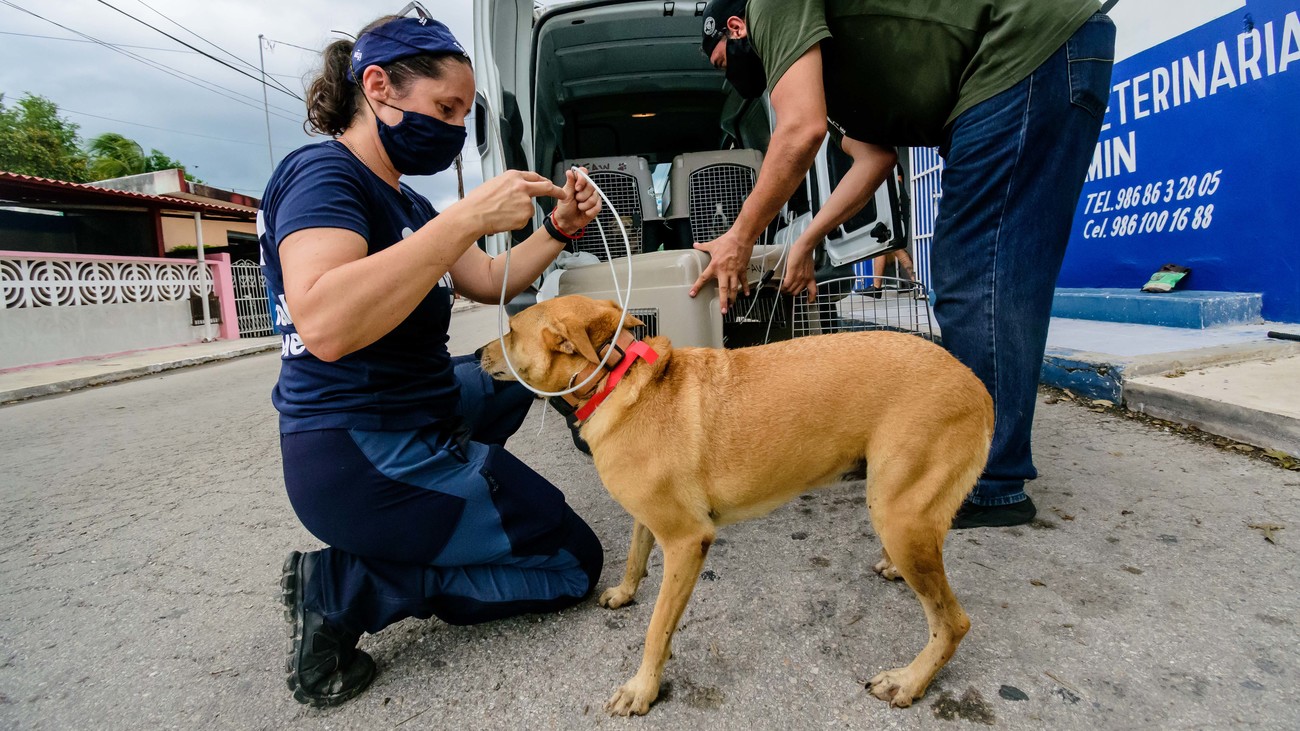 keeping families together by feeding pets
IFAW's work also included keeping families together during the COVID-19 pandemic. From the West Coast of the United States to Mexico and the US Virgin Islands, IFAW issued grants and worked with local partners to purchase and distribute pet food to families facing economic challenges during the pandemic. In total, 25,000 kilograms of pet food was distributed to families in need. In the US Virgin Islands alone, we helped feed more than 1,200 pets.

Stay in the know. Be ready to act.
You'll receive news, updates on activities and on future giving opportunities. You can unsubscribe at any time.