Japan's whaling fleet fuels up on earthquake funds, launches, as locals struggle to rebuild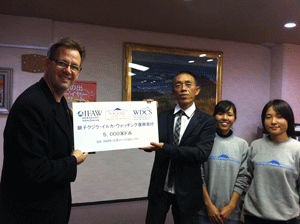 When the Japanese accented announcement at the end your 14 hour flight calls out your name and asks you to "see the agent," you sense something has gone horribly wrong. Happily, all Tanikami, the persistently pleasant ground staff person at Narita Airport needed to tell me was that my suitcase full of clothing was still sitting at JFK.
Undaunted, after hurriedly securing expensive underwear subsidized by American Airlines, I stumble onto the "Friendly Airport Limousine Bus" for the 90 minute ride to my hotel in Akasaka, just a few blocks up from the Imperial Palace in downtown Tokyo.
My thirty-second trip to Japan (and second in the past thirty days) takes place just as this nation's whaling fleet steams toward the placid waters of the Southern Ocean Sanctuary around Antarctica in hot pursuit of more than 900 whales.
To the astonishment of many international observers, Japan Fisheries Agency (JFA) officials have just this week confirmed this year's boondoggle is being subsidized via taxpayer funds earmarked for disaster relief following the awful "QuakeTsuNu" disaster of 3-11.
And unlike my new undees, which are black, Japan's unsustainable and utterly unscientific annual slaughter remains very much in the red.
After an all too brief Ambien-assisted stupor I'm awake before dawn in the Land of the Rising Sun, making my way to Tskijii Fish Market, a pilgrimage I repeat on every visit to Tokyo.
Six mornings a week, the scope and scale of what our species is doing to the oceans is nowhere more obvious than at Tskijii. Thankfully, the whale meat stalls, like the shoppers who once frequented them, are increasingly difficult to find. The good people of Japan, it seems, are losing their yen for whale meat.
Back to the hotel, a shower and shave and I'm off to Tokyo Station to join my friend and colleage Naoko Funahashi, the International Fund for Animal Welfare's Japan representative, for a train trek to the seaside town of Choshi, directly to the East of Tokyo. Naoko and I have made this trip before. In 2004, she and IFAW organized a gathering of whale and dolphin watching operators from around Japan.
Naoko, who has been back four times already this year, has reported that our host on that occasion, Miyauchi-san, a dynamic local whale and dolphin watching operator urgently needs our help.
We survey the devastated Choshi marina as Miyauchi recounts the events of that horrible day. Racing to save his prized vessel, "The Flipper," Miyauchi-san abandoned his new car on shore and boldly drove his boat out to sea, narrowly escaping the disastrous waves that destroyed more than half of Choshi's sizable fleet. Returning to shore 23 hours later and seeing the damage, he confesses, he simply wept.
Today is a happier occasion as we gather together in Choshi's town hall to convey $5,000 in joint funding from IFAW and the Whale and Dolphin Conservation Society's Beautiful Whale Project. It's a pittance compared to the Government of Japan's millions currently in use for going whaling, but it's going to make a difference.
The Mayor of Choshi City (and all around "big fish") Masakuni Nohira, beams as Naoko, Miyauchi-san and I answer questions from local and national media. At my insistence, Naoko explains my all black traveling clothes are not what I would normally wear to greet the Mayor or the media but that my luggage won't arrive till we are back in Tokyo tonight.
The media seem not much to care about my 'Man in Black' apparel as we smile and pose with our oversized cardboard check. And while we raise the issue only gently given the focus of today's event, I hope they are instead appalled by the massive amounts of government disaster relief monies going to fund Japan's Antarctic whaling even before the wreckage is cleared from Choshi marina.
As we board the return train trip back to Edo, Miyauchi-san and his bright young assistants graciously give us each a bottle of soy sauce and a low bow. And I suddenly am struck by the bonds that exist beyond country, language and culture. Across the years and miles and some obvious divides, we are proud to stand with together with these good people, with their mayor, their media and with those in their community who depend on restoring their marina. Together we stand on the shores of this recession-racked yet still recovering country, ready to press forward for a better life, a better future, and a better world for animals and people.
--PR