To save elephants, we have to smash every link on the ivory trade chain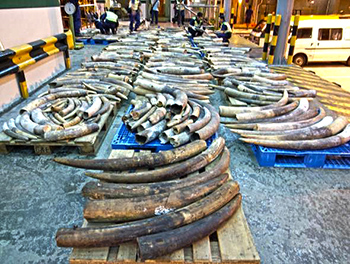 The recent confiscation of 3.8 tonnes of elephant ivory tusks in Hong Kong SAR of China reminds me of another ivory seizure also made by the island's Customs officers.
In May 2006, Hong Kong Customs foiled an ivory smuggling attempt by confiscating 3.9 tonnes of ivory hidden in a truck also bound for mainland China.
Although similar in weight, the 2006 seizure contained 600 tusks, yet the recent seizure represents 1209 tusks, more than double the amount. This means that the tusks in the recent seizure are much smaller than those from previous seizures.
This made me suspect that the ivory tusks came from forest elephants.
It has long been our concern that poachers are targeting forest elephants for their ivory.
Forest elephants, smaller than their savannah cousins, live in the forests of Central and West Africa and are fewer in number as well. Because of the thick forest canopy, they are more vulnerable to poaching.
Earlier this year, the International Fund for Animal Welfare raised the alarm as hundreds of elephants were slaughtered in one national park in the Central African country of Cameroon.
Entire families of elephants were killed…including juveniles with small tusks.
The Hong Kong seizure of 1209 tusks represents the lives of at least 600 elephants.
The tusks from killed elephants are then smuggled across national borders to other parts of the world, to be sold on the markets and online, as decorations and trinkets.
The escalating poaching in Africa is entirely fueled by the demand in Asia, particularly China, where a legal ivory market provides criminals with opportunities to easily launder black-market ivory, according to an IFAW market investigation.
IFAW's Asia Regional office recently uncovered auction data in mainland China showing a significant increase in the amount, sales volume and price for parts and products from endangered species, such as elephant ivory and rhino horn.
In 2011, 11,100 pieces of ivory carvings were put on the auction block in mainland China which more than doubled the amount auctioned in 2010.
The total ivory sales volume in 2011 reached US$94 million, which was an increase of 170% over the previous year.
Biologically, elephants simply cannot support an economic model of supply and demand.
With the fast growing human population, economy and consumerism, no wildlife can sustain this type of commercial exploitation, let alone a long-living, slow growing, slow-breeding species like the elephant.
The only way to stop the bloody onslaught is to break every link on the terrible trade chain—from elephant poaching to ivory trafficking to market demand.
And IFAW is working to address every link on the trade chain;
In China, 7 out of 10 people don't know that every piece of ivory comes from a dead elephant. Elephant ivory is translated as "elephant teeth".
The IFAW public service announcement designed to raise awareness of this fact "Mom I have teeth" truly resonated with the Chinese public, so much so that the message was adopted into China's school curriculum and college entrance exams.
Whether one is in Africa, China, US or anywhere else in the world, we CAN save elephants by saying NO to elephant ivory products and tell our friends about the truth behind ivory.
Every piece of ivory, no matter how small comes from a dead elephant.
--GGG