Welcome to the Animal Action Art & Writing Contest gallery.
We would like to share with you the winners for the 2017-2018 Student Art for Animals Contest! This year we had two contest categories, General Art and Big Cats, predators under threat. We added the big cats category to align with the United Nations' theme for World Wildlife Day this year. Big cats are facing a multitude of threats to their survival in the wild such as habitat loss, poaching, human-wildlife conflict or climate change. Highlighting the beauty, strength, and grace of big cats visually reminds us how wild cats have inspired humans for ages and need to be protected.
IFAW's free resources educate students about the threats to wildlife while teaching kids what they can do to make the world a better place for people and animals. This contest inspires us all to continue our work to help big cats and other species. We hope the art will inspire you as well!
Deadline for next year's contest will be January 31, 2019—more details will be on our website this fall.
Please click on any of the pictures below to enjoy the slideshows of this year's winning entries: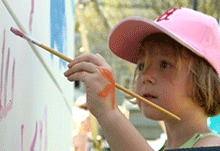 Enjoy the 2017-18 Art Contest Winning Entries!