Welcome to the Animal Action Art & Writing Contest gallery.
NEW! Let's make a splash! IFAW is excited to announce a global art contest coming this January in partnership with CITES and the UNDP for World Wildlife Day (WWD) 2019. The theme for WWD 2019 is Life below water so this year's art contest will be marine focused and aims to help youth build a sense of connection with the marine world. The winning entry will be announced at the high-level WWD event in UN Headquarters.
IMPORTANT NOTE: We are not accepting physical submissions this year so please do not mail in works of art. Rather, submissions must be uploaded electronically by the child's parent or guardian (or the student directly if 18 years of age). Please watch this space in early January for additional details on contest rules and instructions for where and how to upload works of art. We are excited for this year's contest and hope you are as well. Together we can make a big splash for Life below water!
Please click on any of the inspiring pictures below to enjoy the slideshows of last year's winning entries: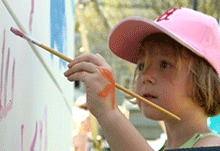 Enjoy the 2017-18 Art Contest Winning Entries!