Welcome to the World Wildlife Day Art Contest gallery.
In commemoration of World Wildlife Day (WWD) 2019, recognized annually on March 3rd to celebrate and raise awareness of the world's wild animals and plants, the International Fund for Animal Welfare (IFAW) is pleased to share with you the finalists for the 2019 World Wildlife Day Art Contest. Inspired by the 2019 theme of Life Below Water: for people and planet, the contest was sponsored by IFAW, and held in collaboration with the United Nations Development Programme (UNDP) and the Convention on International Trade in Endangered Species of Wild Fauna and Flora (CITES).
Enjoy the 2019 World Wildlife Day Art Contest Grand Prize Winner and Finalists!
Please visit Winner of World Wildlife Day 2019 International Youth Art Contest announced at UN Headquarters to learn more about the art contest and Valerie's work entitled Ocean in 500 years. Please click on any of the inspiring pictures below to enjoy the slideshow of this year's finalists:
World Wildlife Day was established in 2013 in the 68th session of the United Nations General Assembly (UNGA). Since that time it has become the most important global annual event specifically dedicated to wildlife. This year's first-ever global competition received entries from 19 nations all over the world, several of which are represented within this slideshow of the finalists.
The panel of judges included cartoonist Jim Toomey, creator of the syndicated daily comic strip Sherman's Lagoon, Monica Medina, Founder and CEO of Our Daily Planet, IFAW Executive Vice President Kelvin Alie, CITES Secretary-General Ivonne Higuero, and UNDP Senior Policy Advisor, Natural Capital and Environment, Tim Scott. The panel also included 11-year old Bria Shay Neff, a former IFAW art contest finalist and Animal Ambassador winner.
Congratulations to the young talent featured here! We hope you enjoy the breadth and beauty of the artwork created from the talent of our global youth. May their talent inspire you to continue protecting our marine wildlife and build an even stronger sense of connection with the natural world.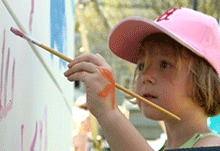 Enjoy the 2019 World Wildlife Day Art Contest Finalists!