Man arrested at Cairo International Airport trying to smuggle three lion cubs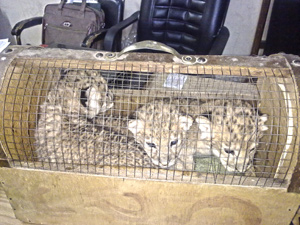 Cairo Airport's officers have foiled an attempt by a Kuwaiti national to smuggle out three lion cubs from Egypt.
The funny thing is, the man presented authorization certificate reportedly stating that the cubs are registered as three Shirazi cats and he is allowed taking them out of the country!
He kept claiming that they were cats and not lion cubs.
The International Fund for Animal Welfare MENA office is fighting wildlife trade through conducting series of wildlife law enforcement training in coordination with the administrative authority in Egypt for the CITES.
So far we conducted seven training workshops that ensure effective enforcement of wildlife trade regulations.
-- EM