100 days of war in Ukraine: helping refugees and animals
100 days of war in Ukraine: helping refugees and animals
100 days of war in Ukraine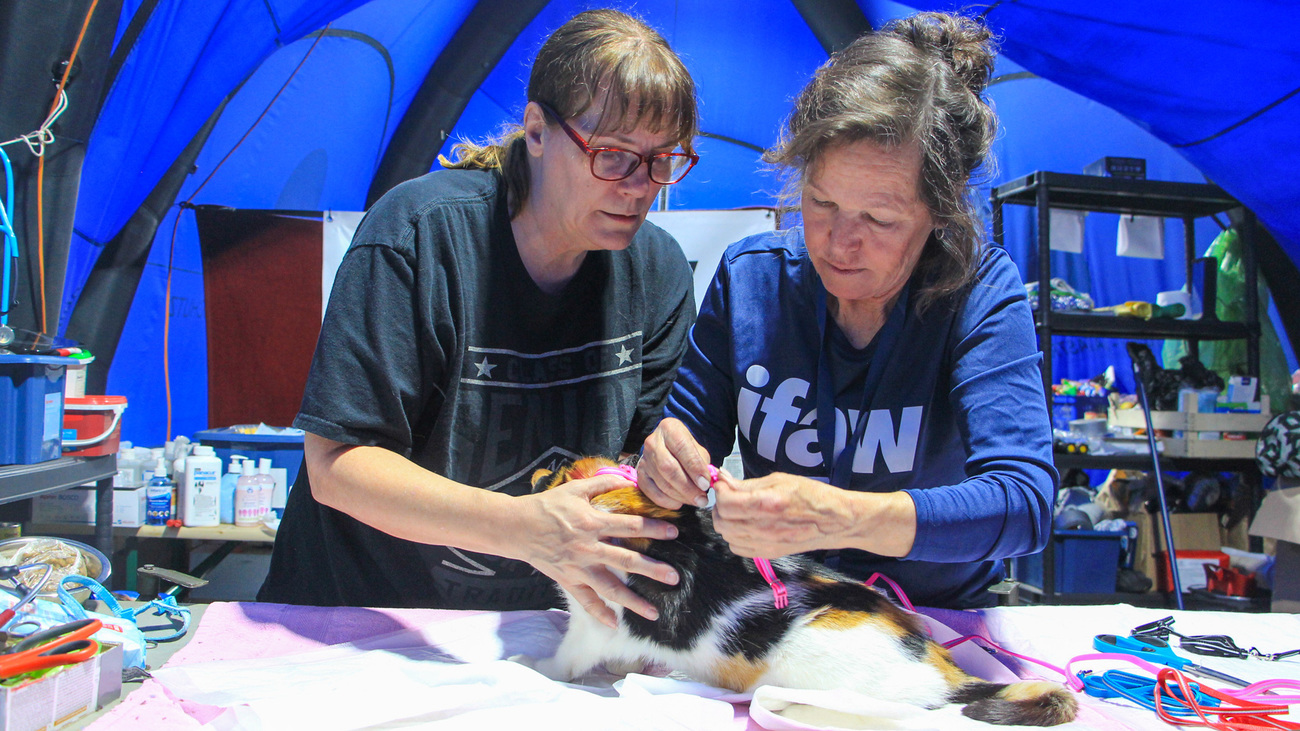 June 3, 2022 marks the 100th day since Russia launched its invasion of Ukraine. IFAW's Disaster Response team, together with our partners, was at the forefront of the crisis providing urgent support to animals from the very beginning.
We've been working with local shelter partners in Ukraine since 2014 to rescue and care for animals, and we stood by those same shelters when Russia invaded earlier this year. We have been working tirelessly to support refugees and their pets, fund shelters and zoos in need of critical supplies, and aid with animal rescues.
Since the start of the war, IFAW has directly helped more than 42,000 companion and wild animals, most of which were cats and dogs, and wild animals like bears, bats and tigers. In addition to helping animals in crisis, we also supported the incredible families and caretakers of those animals.

Stories and resources
Meet Alina

Ukraine: what you need to know
Read our FAQ to learn more about our work helping animals affected by the war in Ukraine.
Read our latest updates from Ukraine.
See a list of resources for families fleeing Ukraine with their pets.

Artwork from the children of Ukraine
For World Wildlife Day 2022, IFAW recently hosted its fourth annual International Youth Art Contest. Hundreds of entries received this year came from young artists across Ukraine. In tribute to those young people and their families who are experiencing such immense hardship during the unfolding crisis, we would like to share their artwork with you here.

Ukrainian organizations in need can contact IFAW at disasterresponse@ifaw.org
Ukraine Aid FAQ
Q: What about the people? Why are we helping the animals?

A: The immediate needs during times of conflict are always focused on the safety of the people involved. However, we know from our rescue work around the world that animals are often the forgotten victims of conflict and war. Many animal shelters, sanctuaries and individual guardians refuse to evacuate because they do not want to leave their animals - placing them all in danger. It is our job to focus on the animals in times like this because we know that by helping the animals, we are also helping people.
Q: Can you get the animals out of the country?

A: Many families with pets are trying to evacuate the country. We hope that neighboring countries will allow pets to remain with their family during this crisis. Our shelter partners would require additional, extensive permissions to transport shelter dogs into another country and there are many risks of travelling with so many lives at stake.
Q: Can you get food and veterinary supplies into the country?

A: In many Ukraine cities there are still veterinary supplies and animal food available for purchase. IFAW is fulfilling specific requests for these items by wiring funds so that local organizations can buy items themselves. If a non-Ukraine based organization has animal food or veterinary supplies for animals in Ukraine, we recommend that they work through collaborative efforts to verify the items are needed and where they are needed. Many local organizations have posted wish lists citing a request for the supplies to be delivered when possible or asking for financial donations so that they can purchase the supplies themselves.