Importing wild-caught macaques is cruel, unnecessary and against policy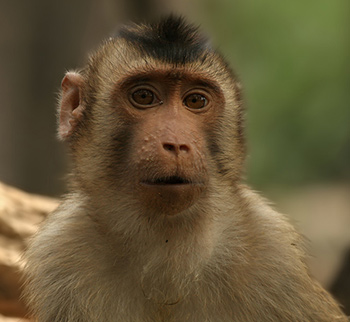 Since 2000, Australia has imported at least 264 pigtail macaques from Indonesia for research and there is evidence that some of these macaques are from a breeding facility that has been catching the primates in the wild to supplement their stock.
This is wrong on a few levels. It's cruel. It's unnecessary. It goes against policy.
It's cruel
In 2009, the British Union against Vivisection published a report Indonesia: The trade in primates for research about the plight of wild-caught macaques.
The macaques were kept indoors, with limited sunlight, in small chain link pens and with little food and water, BUAV investigators found.
"The areas underneath the pens were covered in waste and what appeared to be monkey chow biscuits that had fallen through the grid floor. Mould could be seen growing on some of the food. This was a stressful environment in which these monkeys were forced to live. These conditions were in stark contrast to living freely in family groups in a natural environment on Tinjil Island." (Indonesia. The trade in primates for research A BUAV investigation, April 2009, page 18).
It's unnecessary
The second is that the Australian government's current policy is that non-human primates must come from within Australia whenever possible. There are three government-funded primate breeding centres in Victoria and NSW so there's little need to import the macaques for biomedical research.
It's against policy
The 2009 BUAV investigations found that wild monkeys from Tanjil Island were captured and kept at the facility involved in trade with Australia. It is possible that these wild animals have then been incorrectly identified as 'captive bred' allowing them to be shipped to Australia without the proper checks or CITES documentation.
Pigtailed macaques are listed on Appendix II of CITES, meaning that "although not necessarily now threatened with extinction may become so unless trade in specimens of such species is subject to strict regulation to avoid utilization incompatible with their survival."
Their trade is strictly regulated through a CITES permit system. Wrongly describing animals as 'captive bred' is a way to avoid restrictions placed on the export and import of Appendix II animals like pig tailed macaques.
The National Health & Medical Research Council's policy on the care and use of non-human primates for scientific purposes states "Non-human primates imported from overseas must not be taken from wild populations and must be accompanied by documentation to certify their status." (Policy on the Use of Non-Human Primates for Scientific Purposes, NHMRC, page 5, item 7)
Last word
I can only surmise that neither Indonesian nor Australian authorities have made checks on the facility that provides macaques for export to Australia to ensure their policies are being applied.
--IM