wildlife rescue
wildlife rescue
IFAW's Wildlife Rescue team operates globally and strives to prevent the suffering and improve the welfare of individual animals. With 4,025 animals rescued and 1,989 animals released in FY21, our Wildlife Rescue programme continues to make excellent progress in achieving a better quality of life for wild animals around the world.
Although this programme centres on the rescue, rehabilitation and release of wildlife, a critical part in the success of our work is engaging with communities to facilitate a relationship where both people and animals thrive in their shared environment. Communities in and around the places where wildlife are rescued, rehabilitated and released play a crucial role in the survival of nearly every animal species on Earth.
helping one by one, because every animal matters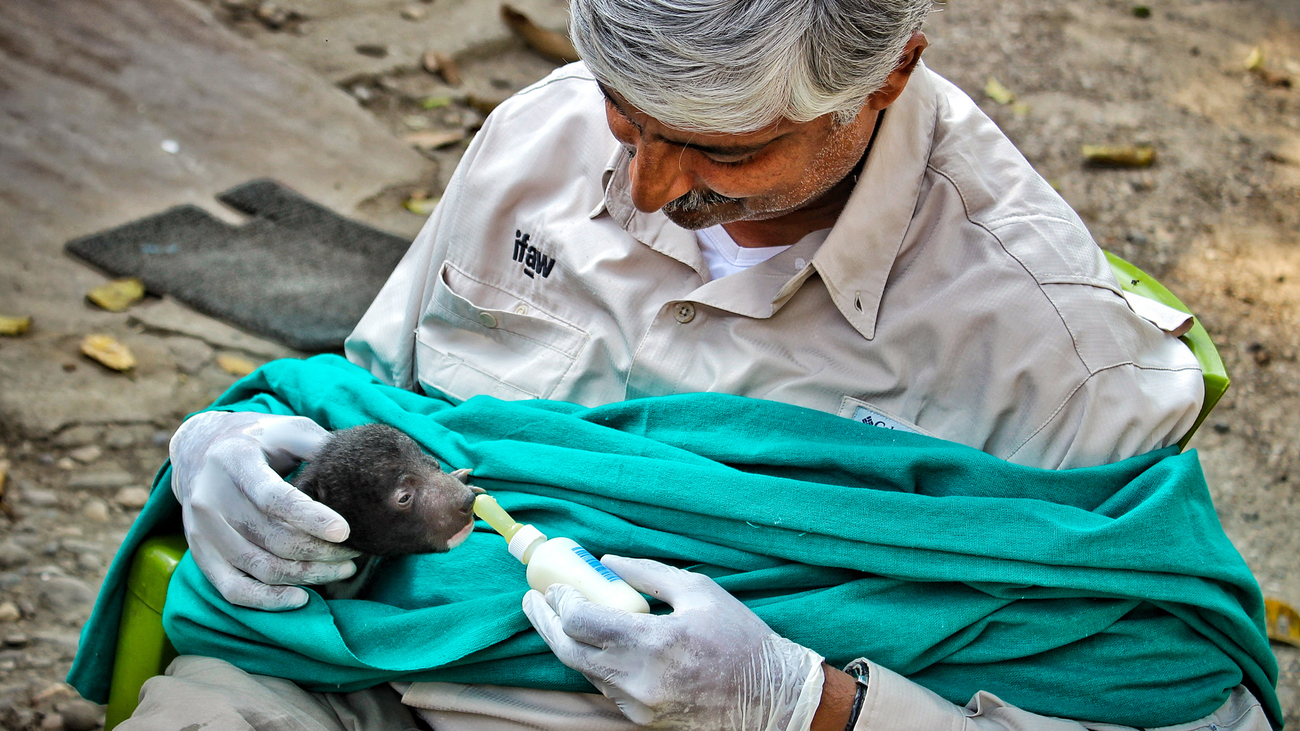 rescuing Asiatic black bear cubs in India
The Centre for Bear Rehabilitation and Conservation (CBRC) in northeast India, founded in 2002 with our partner Wildlife Trust of India (WTI) and the Arunachal Pradesh Forest Department, is a powerful example of how community engagement strengthens the reporting of injured or orphaned wildlife. In FY21, five Asiatic black bear cubs were rescued and brought into care at CBRC. Of those five, four were initially found by community members who then alerted local wildlife authorities who rescued the cubs and brought them to our CBRC facility. Not only did each bear cub survive, all five are on a journey back to the wild and are scheduled to be translocated into a forest pre-release site in FY22.
To date, IFAW-WTI has released 50 Asiatic black bears into the wild and each individual bear we rescue, rehabilitate and release plays a key role in the survival of their species.
IFAW-WTI also combats climate change and deforestation in communities throughout India with our cookstoves project, which provides alternative cooking solutions for local communities to reduce air pollutants released from wood-burning stoves and to reduce further deforestation.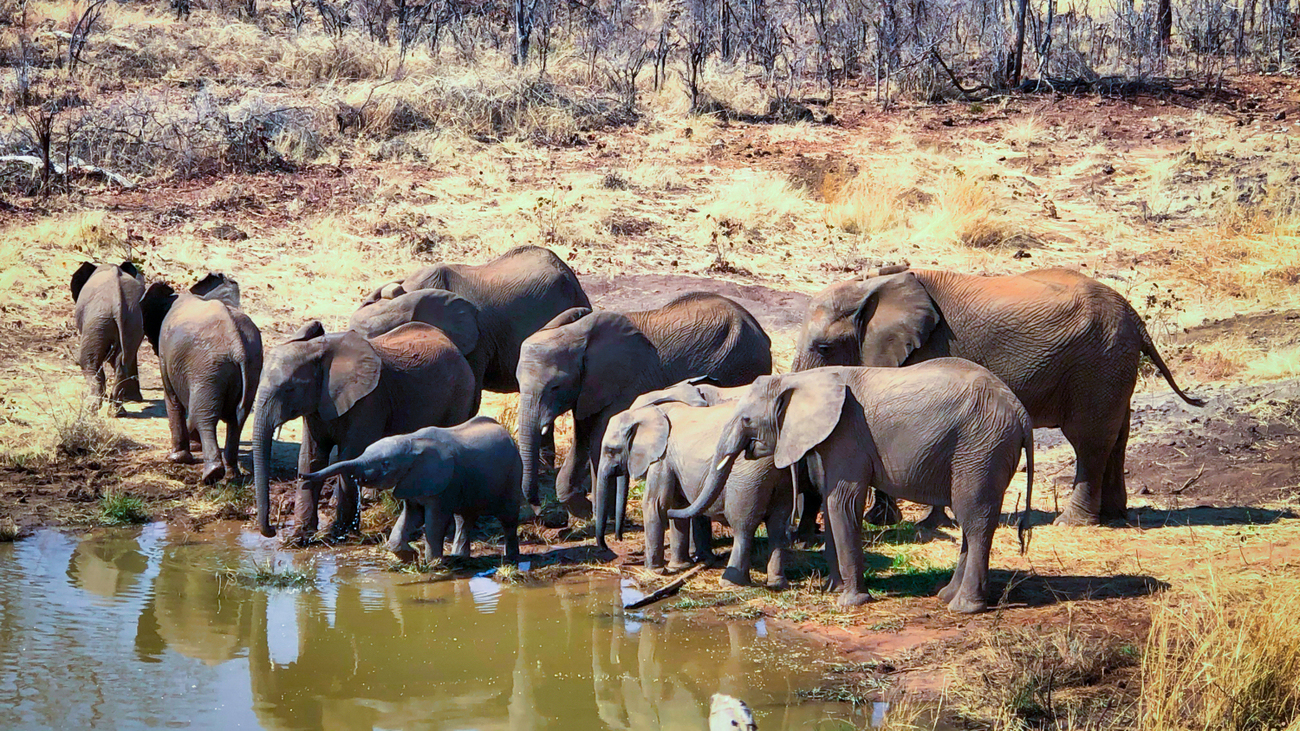 saving elephant calves in Zimbabwe
Our partner, Wild Is Life (WIL), received an urgent call to rescue an elephant calf in Zimbabwe's Hwange National Park. The calf, later named Samson, was found next to his mother who had died from a gunshot wound to her leg. Samson was safely captured by the team, sedated and transported to the ZEN-IFAW release facility in our Panda Masuie landscape project.
WIL-IFAW has secured a critical migratory corridor for elephants and other animals through the Kavango Zambezi Transfrontier Conservation Area (KAZA-TFCA). We protect the long-term future of this vital forest reserve so that rescued elephants in Zimbabwe can return to a wild home. Samson has joined the release herd and found maternal comfort from the older females, Annabelle, Nkanyezi and Nora.
This year, IFAW was also proud to support Zimbabwe National Parks and Wildlife Management Authority (ZimParks) and The Dete Animal Rescue Trust (DART) in the lifesaving rescue operation to remove a snare from an elephant calf in Hwange National Park.
The rapid intervention, led by ZimParks and their veterinarian Dr. Kudzai Mupondi, was successful. DART immobilised the calf, removed the snare, which was made from telephone wire, and treated her wound. Shortly after the sedative reversal was administered, the calf was reunited with her mother, who had waited nearby, but distant enough that she did not need to be immobilised.
rescuing, rehabilitating and releasing raptors in Beijing
In March 2021 a pigeon keeper in Beijing trapped an eagle-owl that had been killing and eating his pigeons. He contacted the IFAW Beijing Raptor Rescue Center (BRRC) and asked for help in getting the animal released back into the wild. Our rehabilitators examined the eagle-owl, determined that it was in good health, rehabilitated it and then released it.
BRRC, the only designated rehabilitation facility for birds of prey in Beijing, has rescued 5,549 raptors since it was established in 2001. Despite the continued impact of COVID-19 on operations, in FY21 the team brought 150 raptors (18 different species) into the facility for rehabilitation and care.
Our centre receives raptors confiscated in illegal trade, but many reports, like the one from the pigeon keeper, come from members of the community. In most cases, community members respond to injured or orphaned raptors with care and tolerance. In 2009, the city of Beijing began to compensate farmers for the loss of poultry and livestock caused by birds of prey—helping ensure that animals and people can continue to coexist and thrive.
BRRC also provides capacity-building support to other rescue facilities and professionals to improve raptor rescue skills in China. In FY21, IFAW provided direct financial support to two organisations, helping them rescue 42 injured raptors and produce a Chinese and Tibetan bilingual manual on raptor rescue and rehabilitation. In addition, IFAW organized two trainings reaching more than 80 animal rescue professionals from 23 rescue centres of nine provinces of China.
returning to the wild
For many rescued animals, rehabilitation is a critical process with success or failure determining the ability of wildlife to thrive in the wild. We invest both in research and in a network of partners and experts to support individualised rehabilitation plans for orphaned, ill or injured animals. The ultimate success is when individual animals are released back to the wild. Here are some of the fantastic releases we celebrated this year.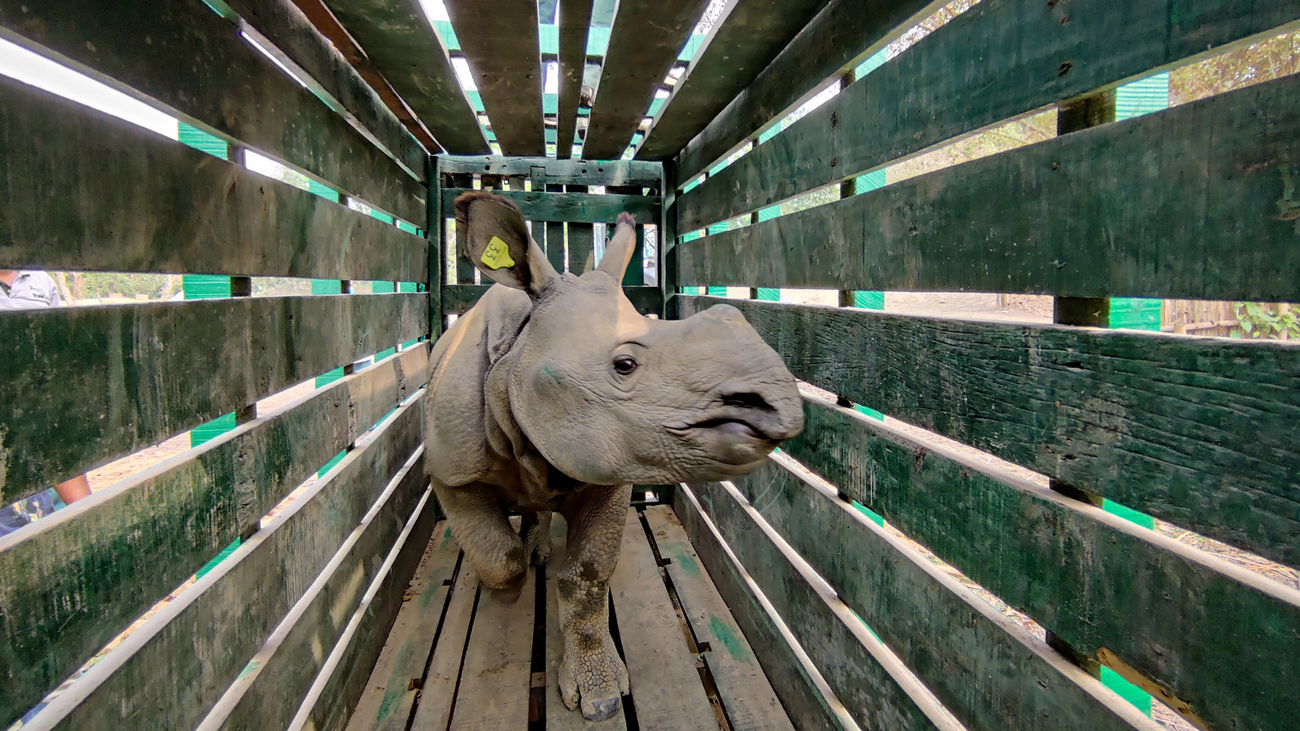 three rhinos getting ready for the wild
In India, three greater one-horned rhinos were translocated to a soft release enclosure in Manas National Park. All three rhinos, two females and a male, were rescued by IFAW-WTI during the 2019 Kaziranga floods in Assam, India. Each rhino was cleared for release before being loaded into individual crates and driven 400 kilometres to Manas National Park. The rhinos typically spend a few months in a soft release enclosure to allow them to acclimate to a new environment. Once ready, the rhinos are released into the park.
We have partnered with the Assam Forest Department and WTI since 2006 to reintroduce rhinos to Manas National Park. This project is the first attempt to re-establish the rhino population in Manas after losing an estimated 100 rhinos to poachers in the 1990s. IFAW-WTI took a unique approach of reintroducing rehabilitated rhinos that would otherwise have perished in annual floods instead of translocating healthy adults from other areas as had been done in the past. The approach has been wildly successful, with more than 40 released rehabilitated rhinos living in Manas with their children and grandchildren.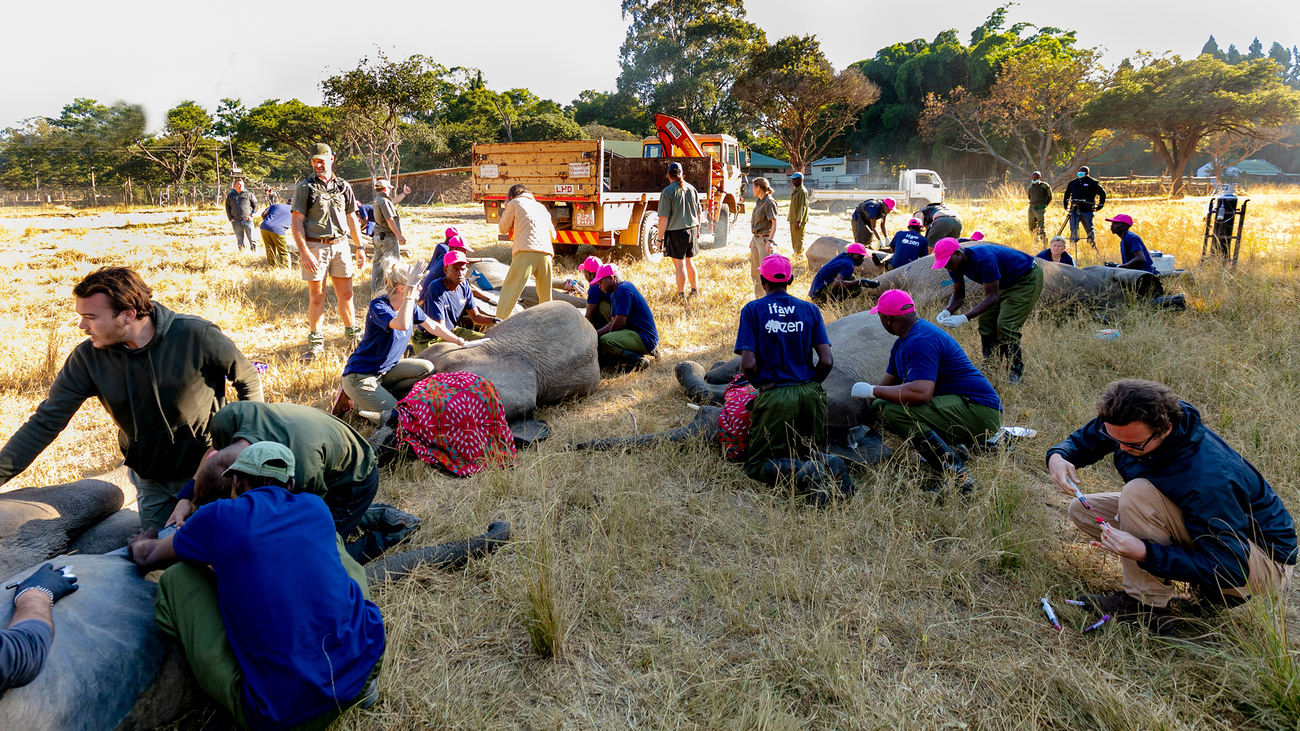 translocating six elephant calves in Zimbabwe
This year, six orphaned elephant calves at the Zimbabwe Elephant Nursery (ZEN) in Harare, Zimbabwe, were translocated 900 kilometres to a soft release facility in the Panda Masuie Forest Reserve. The translocation was planned by WIL founder, Roxy Danckwerts, and the welfare of each elephant was the priority for all teams. One of the elephants was Amira, an elephant calf who was found next to her deceased mother in Mana Pools National Park. Amira's rescue team arrived onsite by plane and included IFAW President & CEO Azzedine Downes. The team safely captured Amira and airlifted her to safety at ZEN.
Amira and five other orphans received thousands of hours of intense care and rehabilitation from the keepers at the ZEN facility and were prepared for the next step in their journey back to the wild. In Panda Masuie they will continue to develop the survival skills they need to live as wild elephants in a protected area.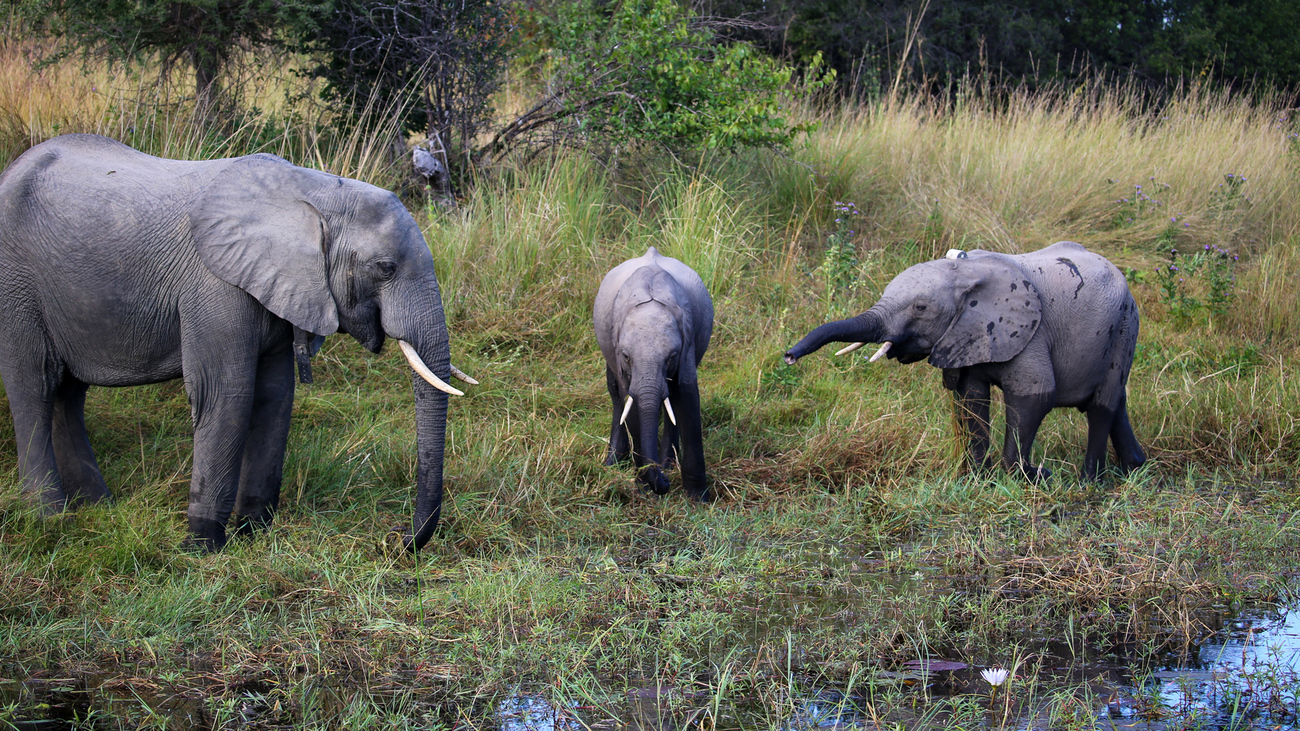 bringing two elephant calves closer to the wild
Two rescued elephant calves at the Elephant Orphanage Project (EOP) in Lusaka, Zambia, were translocated to the soft release facility in Kafue National Park. Ludaka and Lufutuko (Tuko), have been in care at EOP, an elephant orphanage founded by our partner Game Rangers International (GRI). Both Ludaka and Tuko still have a long way to go until they are fully released, but this is an exciting and important next step in their journey back to the wild.
Together with GRI, we also celebrated the successful rehabilitation and release of our first male elephant, Batoka. After 11 years of care at the Kafue release facility, he joined a herd of wild elephants. We follow Batoka's progress via a GPS satellite collar that allows the team to closely monitor his movements to ensure that he's thriving in the wild.
returning an injured jaguar to the wild
In Mexico, a male jaguar was injured by a car, suffering a shoulder fracture and lacerations. He was rescued and transferred to the Payo Obispo Zoo for assessment and rehabilitation. As Covi's fracture healed, the team monitored and cared for him with minimal human interaction to reduce the risk that he would lose his fear of humans. Covi completed his recovery and demonstrated that he had maintained excellent hunting skills, so in June 2021, he was fitted with a GPS satellite tracking collar and released back to the wild. Data from the tracking collar showed that three months after release Covi was integrating back into the wild, staying near the release area and not approaching any human settlements.
This success is a milestone example of collaboration between our team, government authorities, the scientific sector and local communities. The collaboration included our wildlife rescue experts, the Payo Obispo Zoo, the National Alliance for Jaguar Conservation (ANCJ), the Federal Attorney for Environmental Protection (PROFEPA), the State of Quintana Roo Attorney for Environmental Protection (PPA) and the Biodiversity and Natural Protected Areas of the State of Quintana Roo (IBANQROO).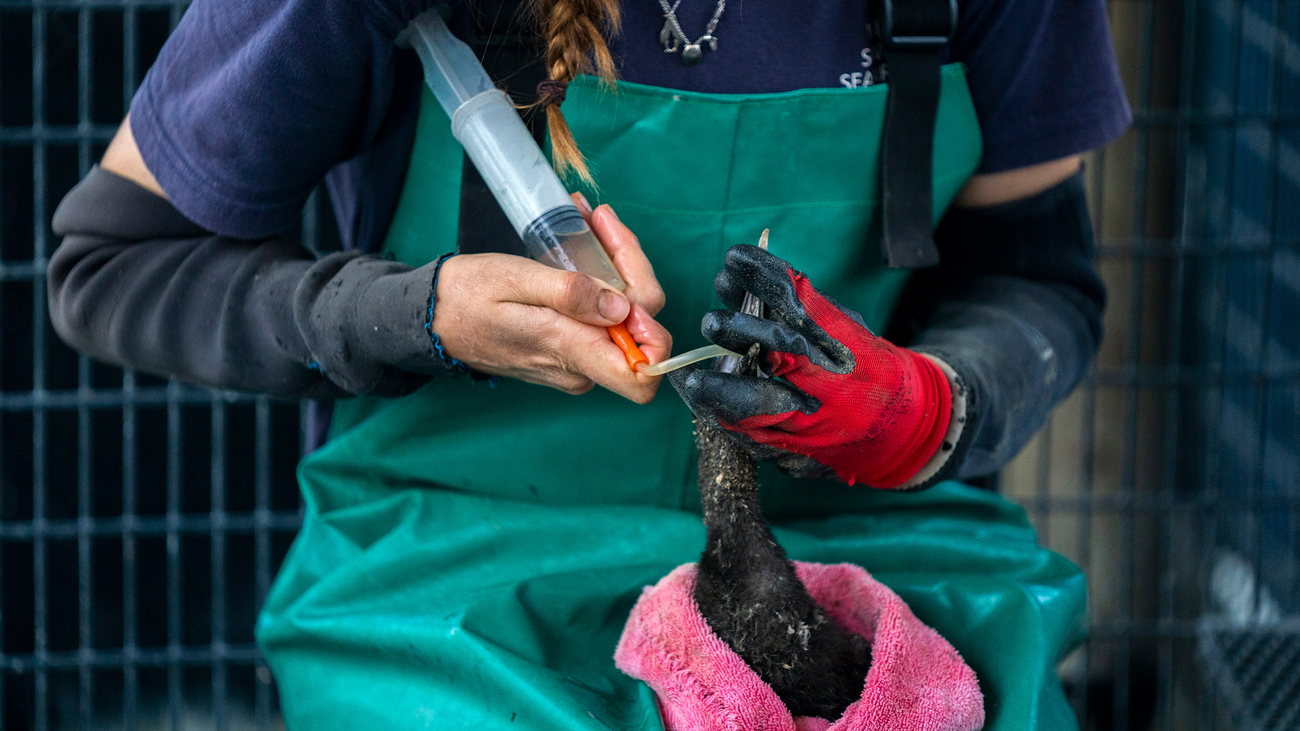 supporting wildlife rescue during climate change
Climate change is having a dramatic impact on animals and has exacerbated the existing threats to many species. Our frontline rescue teams, who work in wild spaces every day, have encountered the effects of climate change in the natural world. From depleted availability of food and water resources to changes in breeding patterns, the impact of climate change is growing, further straining already threatened species.
In FY21, we supported our partner, The Southern African Foundation for the Conservation of Coastal Birds (SANCCOB), in a mammoth operation to rescue, rehabilitate and release more than a thousand endangered Cape Cormorant chicks. This was our biggest seabird rescue event for South Africa in 20 years.
More than 2,000 chicks, some as young being found abandoned by their parents. The cause of the mass abandonment is suspected to be a lack of food due to low levels of small pelagic fish stocks and a mismatch in the timing of breeding and hot weather conditions. With predicted increases in heat events due to climate change, which will also further negatively affect fish availability, these mass abandonments may become more frequent. Due to the skill of our partners at SANCCOB, more than 1,090 of the rescued chicks were released back to the wild.
better lives for animals
Wildlife populations are being decimated worldwide because wild animals are targeted for the exotic pet trade and for their body parts. Illegal wildlife trade poses a serious threat to our world's declining biodiversity and must be stopped.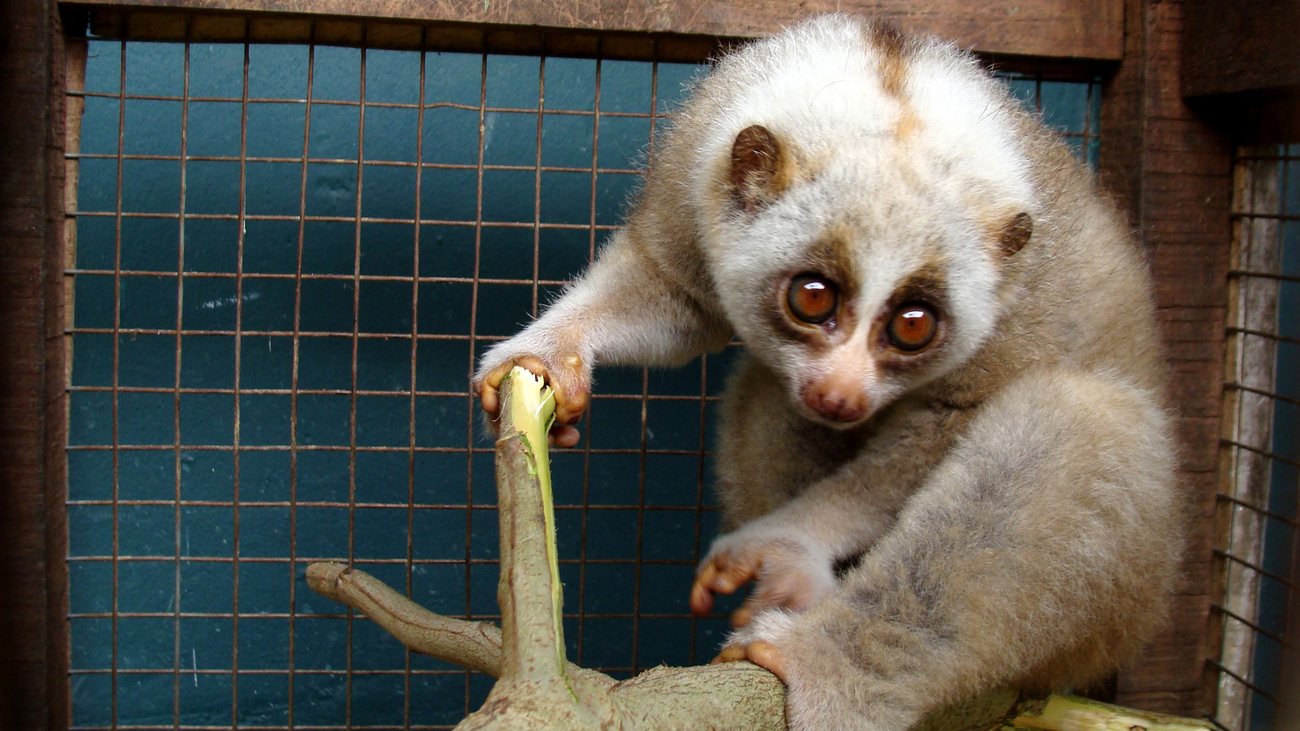 helping seized animals
Our Live Animals Seized in Trade (LAST) aims to provide sustainable solutions for live wild animals seized or confiscated from illegal trade. We have been awarded a grant, with Freeland Foundation (lead organisation) and WWF, from the U.S. Department of State, Bureau of International Narcotics and Law Enforcement Affairs (INL) for the Targeting Regional Investigations for Policing Opportunities and Development (TRIPOD) project.
Together with Freeland and WWF, we aim to disrupt the illegal wildlife trade in Malaysia, the Philippines and Indonesia by providing species ID technology to accurately and quickly identify and care for confiscated wildlife and, ideally, repatriate wildlife to their original wild homes. Additionally, we will train frontline enforcement staff on protocols and tools for handling confiscated wildlife safely and humanely.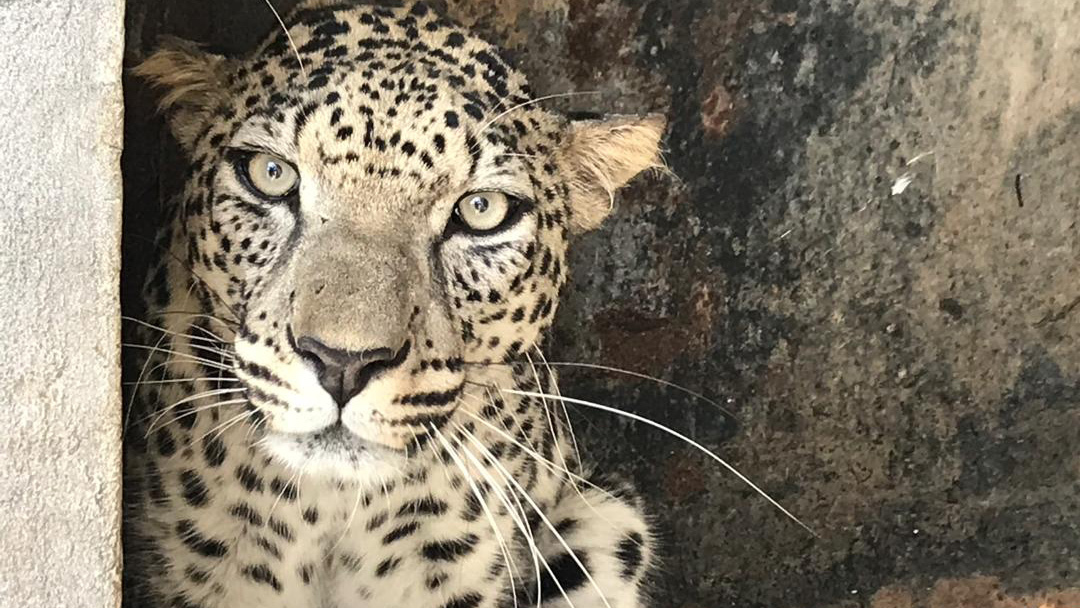 providing relief for zoos caught in crisis
In 2020, as the crisis in Yemen unfolded, we provided relief to the Sana'a and Taiz zoos. The welfare of carnivores in these zoos was deeply impacted by the ongoing civil war. Our support provided food, veterinary care and better living conditions for the carnivores, including 14 lions and 34 endangered Arabian leopards, at the Taiz zoo. Due to challenges on the ground and COVID-19 restrictions, additional support of the Sana'a zoo was not possible. As a result of our efforts, more than 80 animals received better care, food and medical supplies. Moreover, IFAW also supported the restoration and improvement of enclosures to secure better shelter and living conditions for these animals.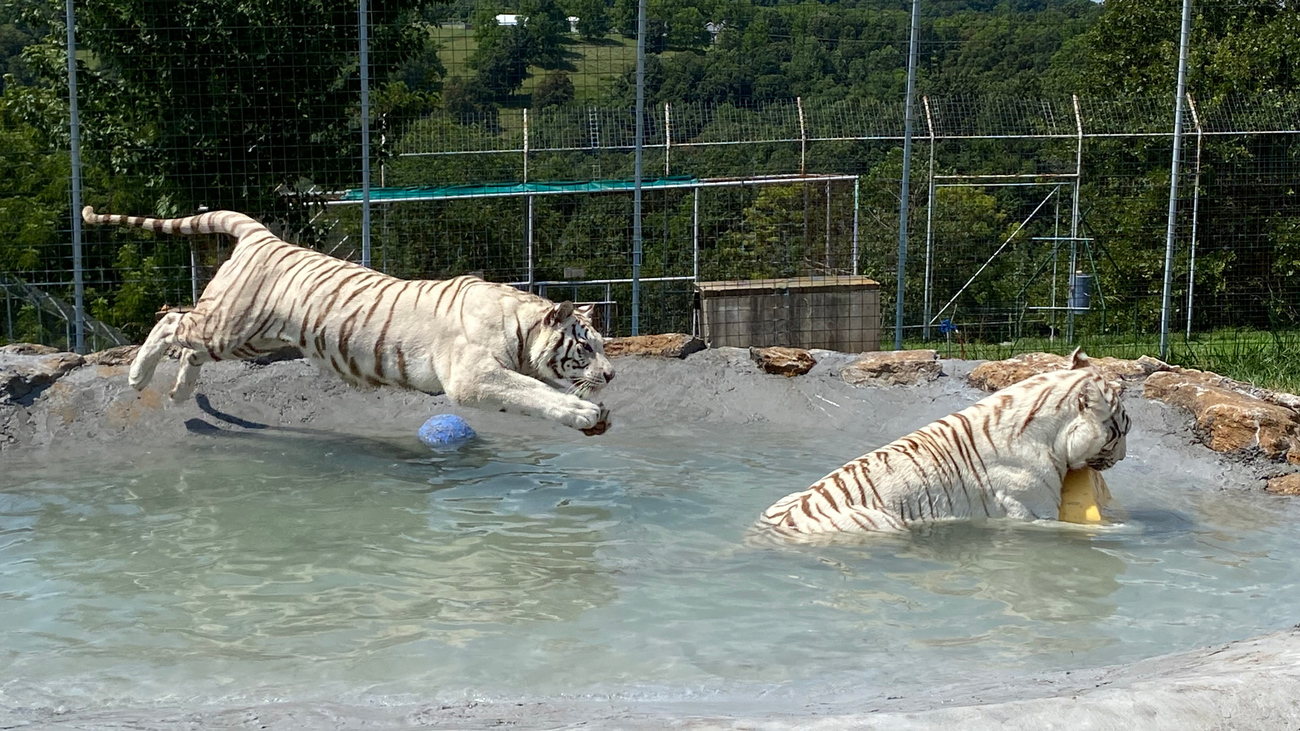 helping big cats in the US
In the U.S., we continue to help big cat sanctuaries prepare for new rescues, improve sanctuary practices related to animal care and financial sustainability, and advocate for the end of private ownership and commercial exploitation of big cats like tigers and lions. Weak regulation makes it impossible to know how many big cats (lions, tigers, leopards, snow leopards, clouded leopards, cheetahs, jaguars, cougars and hybrids) live in captivity in the U.S., but estimates are around 10,000. Many of the facilities housing these big cats are not accredited zoos or bona fide sanctuaries. They are kept as pets or in roadside menageries in circumstances that are dangerous for both people and animals.
For more than a decade, IFAW has worked with the sanctuary community to identify bona fide sanctuaries, assist them to improve and increase capacity and to rescue, and provide lifetime care with good welfare for surrendered or confiscated animals. For example, the Big Cat Sanctuary Alliance (BCSA), which grew from our big cat workshops and conferences and which we continue to support, hosts conferences, drafts best practice manuals and develops mechanisms for sanctuaries to collaborate on rescues.
IFAW continues advocating for the Big Cat Public Safety Act, which will provide stronger legal protection for big cats. Encouraging progress was made in FY21 with the Act successfully reintroduced in the U.S. House and Senate.
improving animal welfare through expanded veterinary care in Australia
To improve the welfare outcomes and release rates for rescued wildlife, we ensured animals had access to specialised veterinarians and vet nurses to receive immediate and life-saving care 24/7. This included sponsoring the critical work of a full-time veterinary team at Friends of the Koala in NSW, Australia. Our support enabled the team to provide immediate life-saving treatment and care to injured, sick or orphaned koalas. This is more important than ever because this iconic animal faces an increased risk of local extinction from bushfires, climate change and habitat loss in NSW. The specialist vet team treated 326 koalas in FY21, releasing more than 100 back into the wild.
We also funded the veterinary team at Bonorong Wildlife Sanctuary in Tasmania, allowing the wildlife hospital that IFAW helped build to operate five days a week. By increasing veterinary capacity at the hospital, we improved welfare outcomes and release rates of rescued wildlife that came into care. Doing so ultimately gave wildlife in care a critical second chance at life back in the wild. In FY21, the specialised vet team treated 950 animals including the endangered wedge-tailed eagle, the endangered Tasmanian devil and the eastern quoll, with 406 animals being released back into the wild.
IFAW and the University of the Sunshine Coast's (USC) koala detection dog Bear continues to respond to requests from individuals and wildlife groups to rescue and survey koalas in the wild. Bear's help in the field is significant because he can smell what people cannot see. We work with our partners at the USC Detection Dogs for Conservation to help find and rescue koalas. Detection dogs, together with drone technology, greatly increase koala detection rates, which is vital during rescues.
innovation in the search for an orphaned elephant's herd
In a research first, we are one step closer to identifying the family herd of our rescued elephant calf, Nania. She was rescued by local community members when she was found wandering near Boromo in Burkina Faso in 2017 when she was just two months old. Our team was approached to provide long-term support for her rehabilitation and release back to the wild.

Over the last few years, we collected DNA samples from the dung of both Nania and wild elephants travelling through Deux Balés National Park (Burkina Faso). The 17 samples were processed and analysed at the lab of Dr. Sam Wasser, Director of the Center for Conservation Biology at the University of Washington. The lab typically uses DNA from elephant dung to map elephant movements and highlight poaching hotspots in Africa. This was the first time Dr. Wasser and his team analysed DNA with the aim of identifying the family herd of an orphaned calf.
Incredibly, the analysis determined that one of the elephants in the park is likely Nania's mother or less likely, a half-sibling. Since no elephant carcass was located near where Nania was found, our team and consulting experts believe that Nania's mother, grandmother and cousin are probably still alive, which raises hope that we will be able to reunite her with her family herd.
The analysis also confirmed Nania is an African forest elephant (Loxodonta cyclotis), a species of elephant that is critically endangered. Previously, all African elephants were considered a single species. However, in March 2021 the International Union for the Conservation of Nature (IUCN) recognized forest elephants and Savannah elephants (Loxodonta africana) as different species, based on genetic data.

stay in the know. be ready to act.
You'll receive news, updates on activities and on future giving opportunities. You can unsubscribe at any time.