wildlife crime
wildlife crime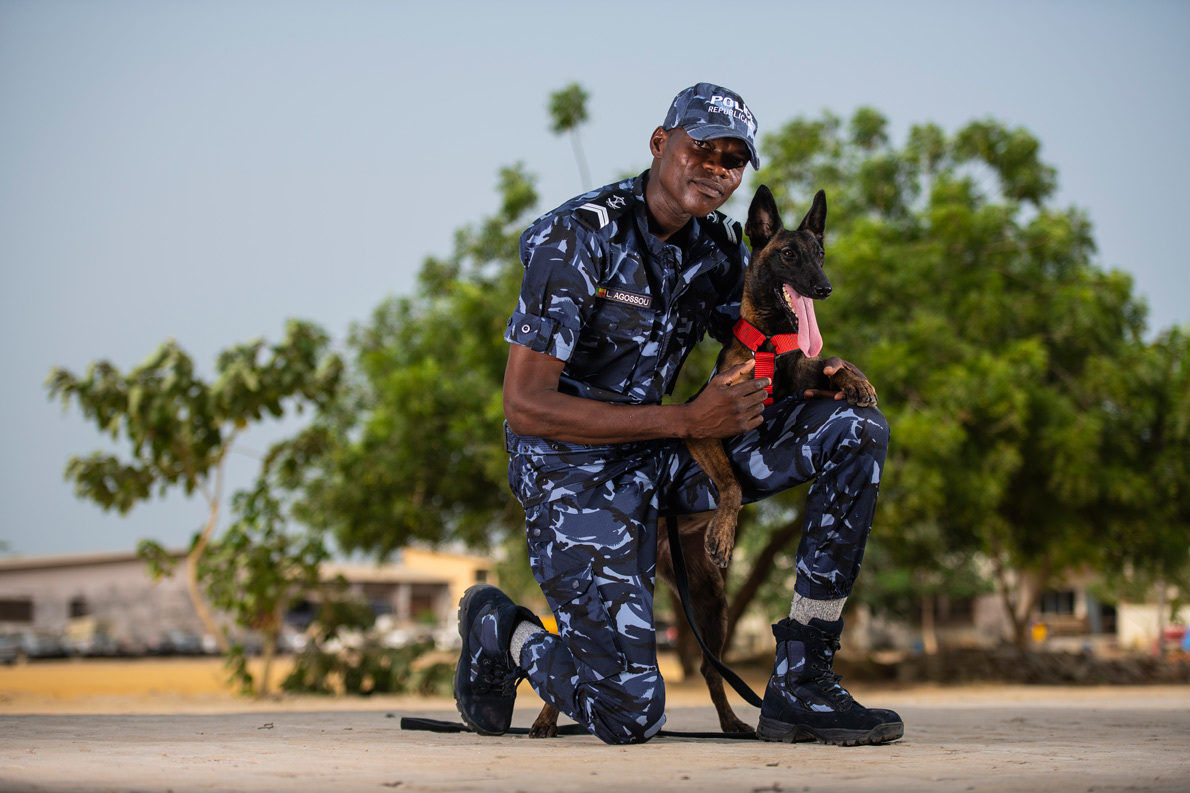 Wildlife crime is one of the largest transnational criminal activities, putting at risk the survival of thousands of species of animals and plants, and accelerating the ongoing collapse of biodiversity. The illegal trade in live wild animals is causing tremendous suffering and countless animals die while being captured, transported, and kept in homes as exotic pets. Even legal wildlife trade, particularly when there is a lack of regulation and enforcement, can facilitate the spread of zoonotic diseases, creating huge threats to humanity.
COVID-19 has increased the urgency for wildlife crime to become a higher priority for governments, policymakers and consumers alike. We've been encouraged by seeing strengthened political will to tackle this problem. Over the past year, IFAW experts have shared their insights at high-level counter wildlife crime meetings, including ones organised by the United Nations Office on Drugs and Crime (UNODC), Convention on International Trade in Endangered Species of Wild Fauna and Flora (CITES) Working Groups and other wildlife enforcement networks.
IFAW is working to see this political and social will translated into strengthened government legislation, implemented company policies, adequate resourcing for law enforcement and targeted consumer education and action.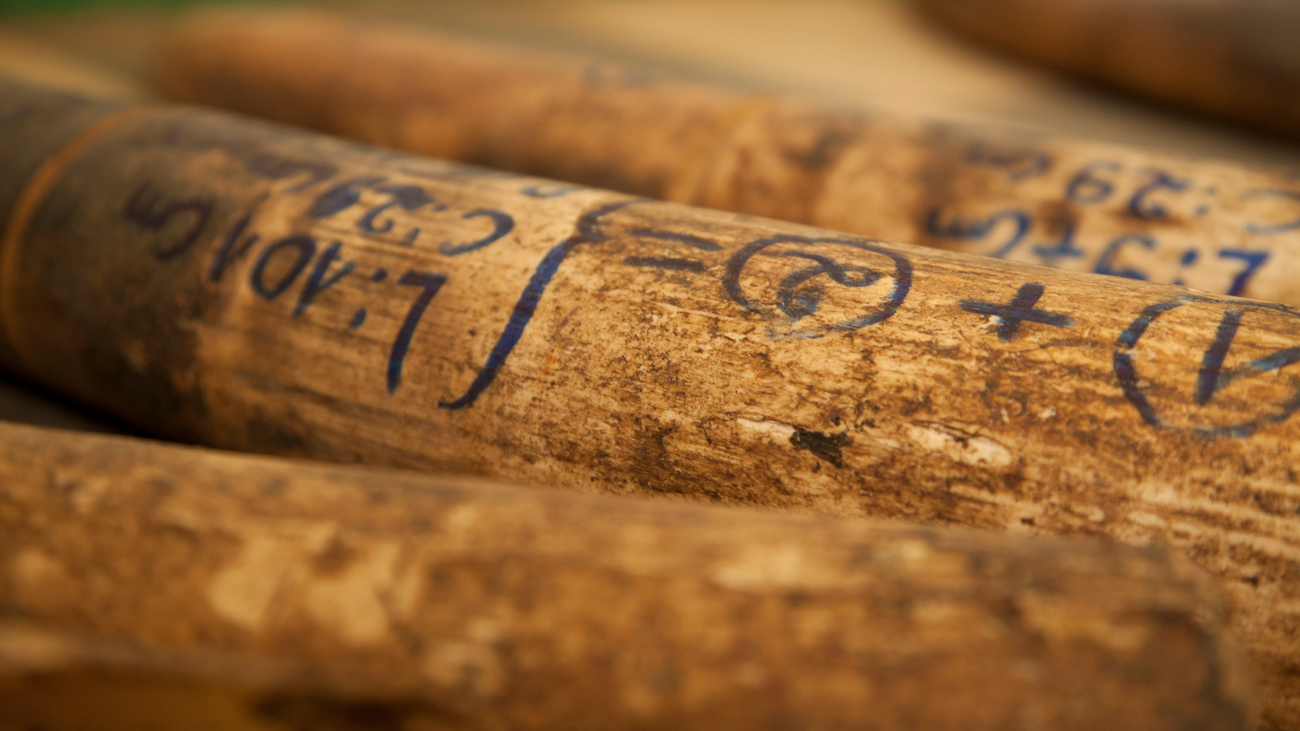 fighting crime along the trade chain
IFAW fights global wildlife crime along every link in the trade chain, which requires strong laws, global coordination, vigorous enforcement and consumer behaviour change to reduce demand for wildlife parts and products. We support wildlife law enforcement officials and judicial institutions in enforcing wildlife crime legislation and prosecuting offenders. We also proactively provide tailored trainings and mentorship programmes for law enforcers as well as workshops for judiciary experts.
When facilities closed and countries went into lockdown because of COVID-19, tourism and local revenue plummeted. As a result, numerous national parks across Africa saw a rise in poaching, which caused rangers to expand their patrols and cover more kilometres every day.
Thanks to the TUI Care Foundation, we were able to support wildlife security operations of the Kenya Wildlife Service in the Tsavo Conservation Area by providing 10,000 extra liters of fuel, one vehicle for covert operations, four motorcycles, 16 laptops, four printers, four tents and 180 pairs of boots, with a combined value of close to US$50,000.
In FY21, IFAW provided training and operational support to 236 law enforcement officers, prosecutors and judges in 10 countries across three regions. During operations executed by organisations supported by IFAW, 1,340 kilograms of ivory were seized.
In the Middle East and North Africa, we conducted trainings to increase awareness about shark conservation and the illegal trade in shark fins.
In China, we provided ongoing support to police and customs departments, focusing on identifying wildlife species and products, sharing research data and information on wildlife crime cases, and consulting on relevant laws and regulations. The intelligence we shared led to the apprehension of a suspected ivory seller.
IFAW co-organised workshops with the local anti-smuggling authorities in southern China (bordering Myanmar, Laos and Vietnam) for disrupting and preventing wildlife trafficking through the logistics and transportation channels. More than 1,000 capacity-building manuals were distributed to 51 transport companies to increase their staff's awareness of regulations and improve their ability to identify commonly transported wildlife products. Another training in Yunnan included 35 government agencies, 12 logistics and transportation companies and 10 express delivery companies.
Together with the anti-smuggling bureau of the General Administration of Customs of China (GACC), IFAW organised a workshop in April 2021 on customs enforcement against wildlife trafficking in the Asia-Pacific Region. Customs authorities from mainland China, Hong Kong Special Administrative Region, Vietnam, Laos, Singapore and Malaysia had in-depth exchanges on the characteristics of smuggling cases of endangered species.
We were also able to start three new initiatives to protect wildlife and tackle illegal trade in Kenya, Uganda, the Democratic Republic of the Congo and Zambia.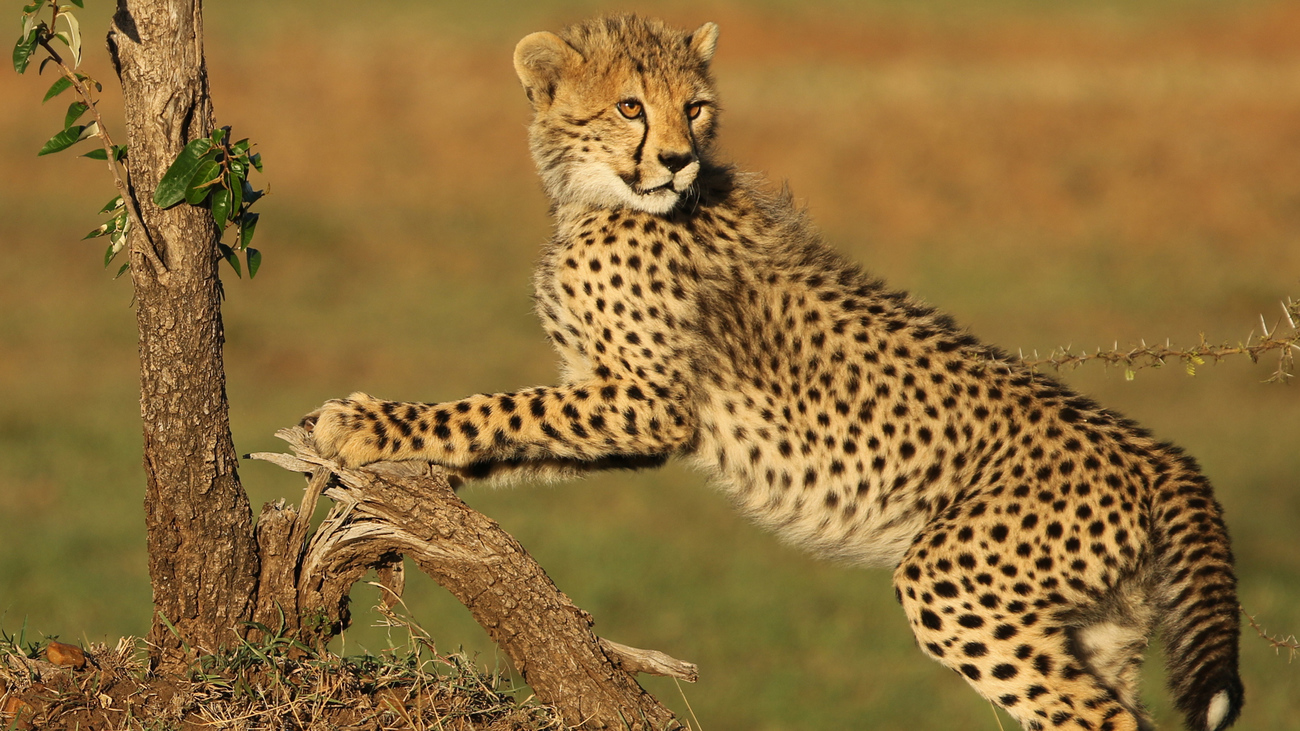 critical training for frontline officers to protect cheetahs
Fewer than 7,500 individual cheetahs are left in the wild. Cheetahs are trafficked for the illegal pet trade from the Horn of Africa to the Arabian Peninsula. That's why IFAW works together with the Cheetah Conservation Fund (CCF) and Legal Atlas to disrupt the poaching and trafficking of cheetahs from Ethiopia and Somalia/Somaliland and through Yemen. Funded by the UK government through the Illegal Wildlife Trade Challenge Fund, the Legal Intelligence on Cheetah Illegal Trade (LICIT) project provides support in strengthening national legislation and establishing enforcement networks to support counter-trafficking activities.
A series of law enforcement operations in Somali State and Somaliland resulted in the confiscation of more than 40 cheetah cubs in FY21. This led to the organisation of a two-day Border Summit in November 2020 with some 60 participants from Ethiopia and Somaliland to discuss the urgent need for stronger bilateral cooperation to halt the illegal trade in live cheetah cubs.
In February 2021, IFAW and CCF jointly organised and co-funded a workshop for 20 veterinary doctors (including six women and eight participants from Ethiopia) in Somaliland. The focus was providing emergency treatment to confiscated cheetah cubs and other wildlife, understanding Somaliland's laws forbidding poaching and trade and promoting conservation of wildlife through education and engagement with local communities. Later, we held another workshop for veterinarians from Ethiopia.
protecting giraffes in Zambia
The number of giraffes has plummeted by up to 40% in the past three decades. IFAW and Save Giraffes Now (SGN) have partnered to support local communities and law enforcement staff in Zambia to increase the protection of Thornicroft's giraffe and other wildlife in the Luambe-Lukusuzi region.
As part of IFAW's broader Community Game Scout Programme in Malawi-Zambia, four community members were equipped and trained as community scouts with funding from SGN and support from the Zambian Department of National Parks and Wildlife (ZDNPW). The scouts received grounded, practical training to conduct counter-poaching patrols and support other law enforcement activities within the Game Management Area (GMA) to deter illegal encroachment, logging and bushmeat trade.
Between October 2020 and June 2021, more than 130 arrests were made with a conviction rate close to 70%. Offenses involved wildlife products of elephants, pangolins and leopards. In total, 225 kilograms of ivory were seized as well as eight pangolins, of which four were found alive and released back into the wild. We are also pleased to report that no unlawful loss of giraffes was recorded in the landscape during this time.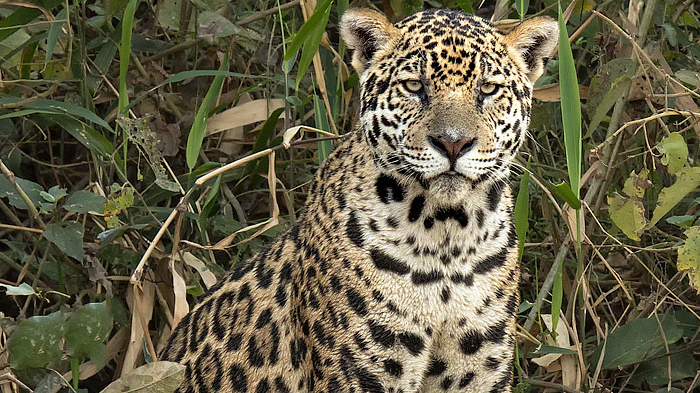 making a difference for jaguars
Operation Jaguar focuses on combating jaguar poaching and trafficking in Bolivia, Guyana, Peru and Suriname. IFAW's core role is to build capacity by empowering law enforcement officers with tailored train-the-trainer workshops and on-the- job mentorship, and work with prosecutors and judges to ensure adequate follow-up of criminal cases.
The project is a joint effort led by the IUCN National Committee of the Netherlands (IUCN NL), IFAW and Earth League International (ELI) and is made possible by the Dutch Postcode Lottery.
In October 2020, as a follow-up to the Guyana law enforcement training in 2019, we carried out a virtual judiciary sensitisation workshop in coordination with the Guyana Wildlife Conservation and Management Commission (GWCMC). During the two-day workshop, we covered a wide range of critical skills such as investigative strategies and evidence collection, interviewing and working with witnesses, using non-wildlife laws to prosecute wildlife offenders and the importance of preserving ethics.
IFAW was also able to carry out a two-day virtual judiciary workshop with 19 attendees from different agencies in Suriname in May 2021. We extended our work in Suriname with a pilot project on working with wildlife detection dogs. With the help of Scent Imprint Conservation Dogs, two dogs, Bruce and Boris, were trained in detecting jaguar parts. They are being deployed to seaports and airports in Suriname, where they will demonstrate the effectiveness of dogs in searching for jaguar scents in packages, luggage and vehicles.
In collaboration with the United Nations Office on Drugs and Crime (UNODC), we held a four-day virtual workshop for 39 trainees from diverse government agencies in Peru to strengthen the technical-regulatory capacities of the administrative authorities in the fight against wildlife trafficking. We also organised a virtual judiciary workshop to strengthen the capacities of 20 justice operators on the criminal process in matters of illegal wildlife trade.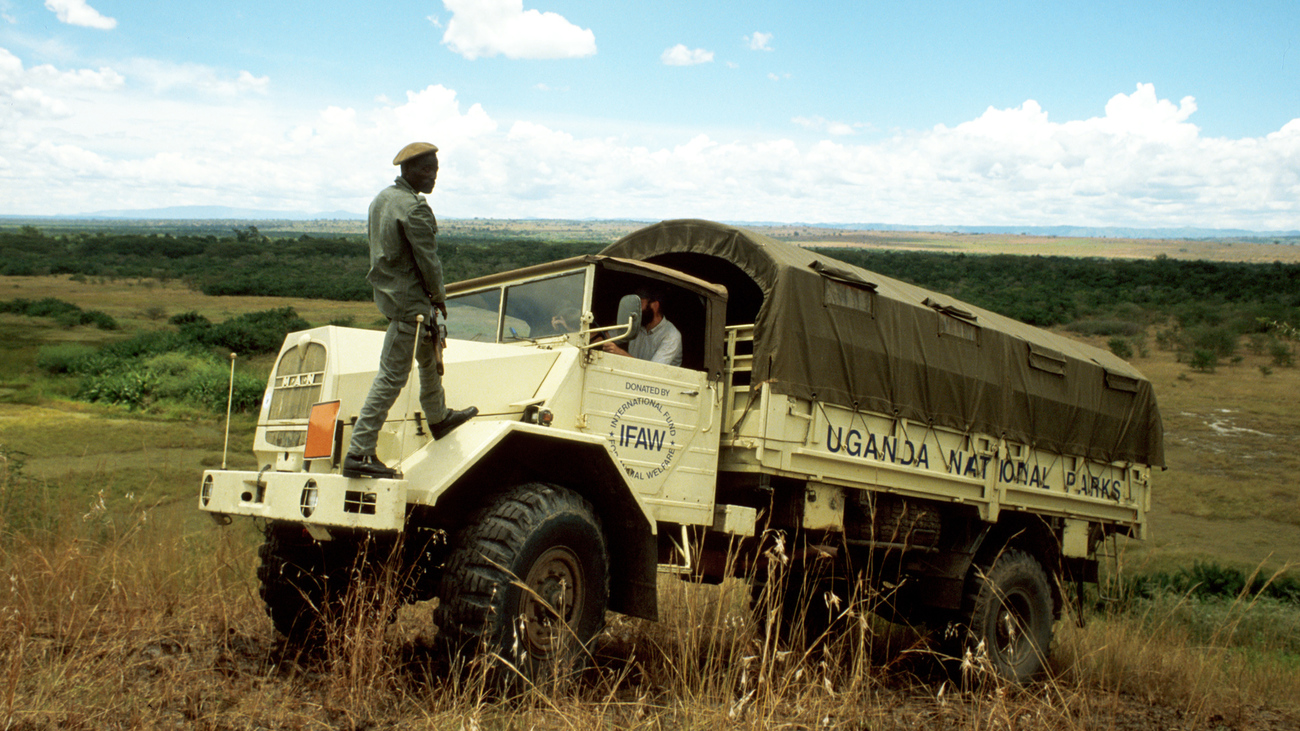 preventing wildlife trafficking in Kenya, Uganda and DR Congo
The U.S. Department of State Bureau of International Narcotics and Law Enforcement Affairs (INL) is working with IFAW and local partners to prevent wildlife trafficking in Kenya, Uganda and the Democratic Republic of the Congo (DRC). In August 2020, INL started funding two major projects: Countering Wildlife Trafficking in Kenya and Capacity Building to Stop the Poaching and Trafficking of Protected Wildlife between Uganda and the Democratic Republic of the Congo.
These projects aim to reduce poaching and trafficking of wildlife species and their products by strengthening transboundary collaboration; building investigative, operational and prosecutorial capacities of law enforcement and judiciary agencies; and engaging community members in information gathering in protected areas.
In Uganda and DRC, IFAW works together with the IUCN National Committee of the Netherlands (IUCN NL). This past fiscal year, we provided training to 30 law enforcement officers working on both sides of the border. We also support a team of five intelligence officers and wildlife crime analysts who can review data and collaborate with governmental agencies.
Community members also play a critical role in the protection of local wildlife, and we engaged 12 community wildlife monitors to help us gather information. Between January and June 2021, information from such informants led to the arrest of eight poachers and the removal of eight wire snares and traps, which can inadvertently trap lions and injure elephants. Approximately 100 kilograms of buffalo meat was also confiscated.
In Kenya, IFAW has partnered with the African Wildlife Foundation (AWF) and Kenya Wildlife Service (KWS). Between August 2020 and June 2021, IFAW donated equipment worth US$17,941 to KWS, including six motorbikes, five printers, five desktop computers and five uninterrupted power supply devices. The items were purchased with support from INL and will support KWS operations in data collection and processing for actionable intelligence that drives enforcement operations. Over the same period, IFAW provided rations for 77 community rangers within the Olgulului- Ololarashi Group Ranch and 17 community rangers from the Ilkimpa Community Conservation Area.
Also funded by INL, IFAW facilitated the 29th Kenya-Tanzania Cross-border Wildlife Security Meeting to improve collaboration on securing the wildlife habitats and ecosystems that are shared by both Kenya and Tanzania.
detection dogs in Benin
With its expertise in wildlife protection and animal welfare, IFAW is uniquely positioned to implement a new model for training and deploying detection dogs in the fight against wildlife crime. Since 2018, IFAW has been working in Benin in West Africa to update the existing K9 brigade of the police in Cotonou. An experienced French cynotechnical expert works onsite to develop this new training method and formed select dog-handler units with officers from the police and forestry departments.
Currently, the team consists of four handlers from the Republican Police and four dogs who are each paired and trained in the detection of wildlife products, in addition to another officer and his dog who will become the unit's local trainer.
Training at the airport in Cotonou started in September 2020 with three teams. In more than 250 training exercises, the dogs searched 28,094 bags, suitcases and packages. Some of those intentionally included ivory and pangolin products, and the dogs had a success rate of more than 95%, proving the effectiveness of the dogs and their handlers.
In late 2020, we entered a partnership with Enabel, the Belgian Development Agency. With their funding support we will train four new officers from the Water and Forests Department in Benin and pair them with detection dogs. The partnership will also enable future implementation of RASCargO, a state-of-the-art control system that collects the air from containers to capture the odours on filters that are then analysed by our detection dogs.
The team welcomed the arrival of two new six-month-old puppies, Senséo and Sonic. In the coming year they will be joined by the last two new dogs and will be trained as detection dogs to complete the team.
FY21 also marked the conclusion of our partnership with Almo Nature/Fondazione Capellino, and through them, with DSV Group. We thank them both for their support in providing our detection dogs in Benin with high-quality food, so they could focus on their task at hand: helping to save other animals.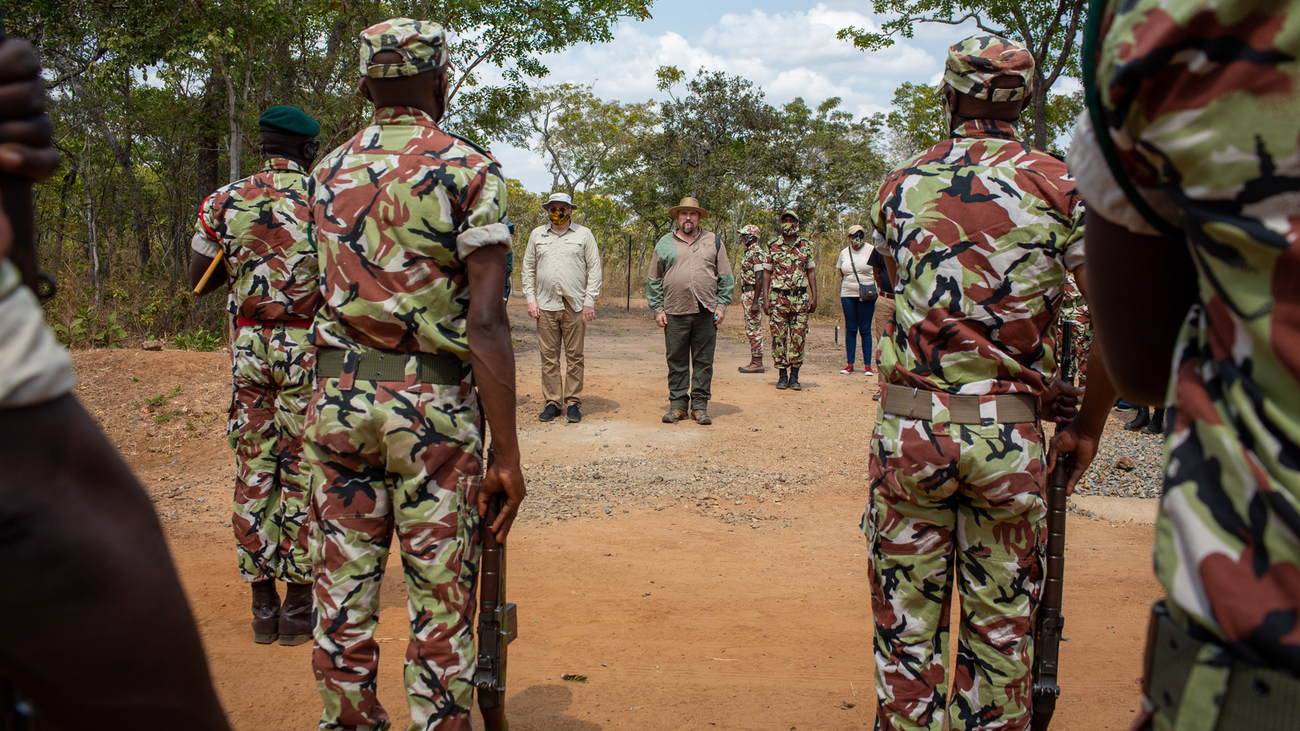 combating wildlife crime in Malawi and Zambia
IFAW's Malawi-Zambia landscape project, which is supported by USAID, targets Luambe National Park and Lukusuzi National Park in Zambia and Malawi's Kasungu National Park. In FY21, law enforcement activities continued to focus on building the capacity of the Departments of National Parks and Wildlife of Malawi and Zambia to establish dedicated institutional investigative capacity to address wildlife crime in the landscape.
Rangers received regular training and conducted a total of 300 long patrols and 130 short patrols, resulting in the arrest of 259 suspects and the seizure of 759.9 kilograms of ivory.

As part of our engagement with the communities, we held 15 community meetings to sensitize people on various issues such as human-wildlife conflict, encroachment, the formation of by-laws and fence construction. A total of US$137,760 was earned by communities employed in tailoring and construction projects and by working at a mechanical workshop.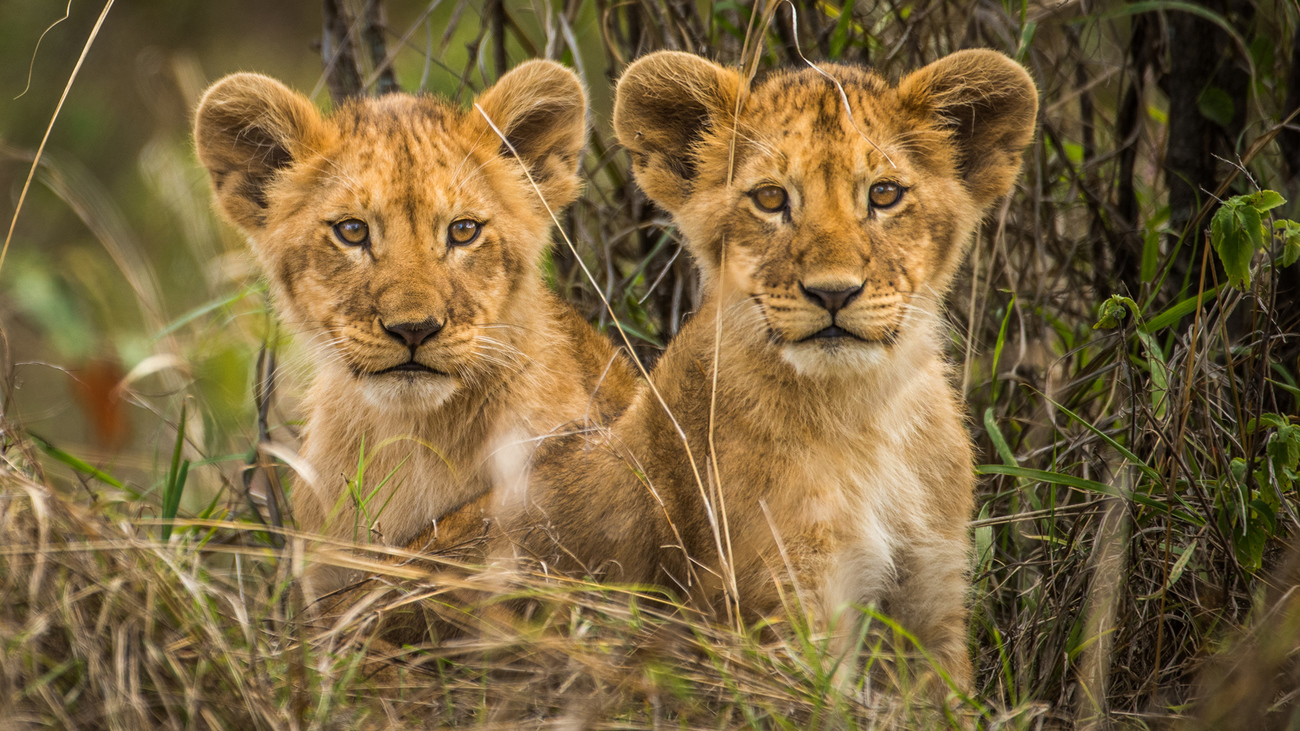 illegal wildlife trade is just a click away
While the global pandemic affected many areas of our work, we were able to continue the fight against wildlife trafficking online together with online technology companies and law enforcement agencies. For instance, IFAW's continued online monitoring in the U.S. and Europe resulted in 1,808 illegal wildlife listings being blocked or removed by companies after being identified by IFAW. We also conducted online research in the UK to assess its ivory market, flagging almost 1,000 ivory items in just 12 days.
Throughout FY21, IFAW China continued its regular patrolling of Chinese websites and media platforms to monitor illegal wildlife trade activity and gather intelligence, especially across popular social media platforms. This enables us to help develop keyword filters, train online company staff and provide information to law enforcement. In total, 1,727 illegal listings involving more than 10 species were detected and acted upon by the respective marketplaces or platforms.
IFAW collaborated with Baidu, the largest Chinese search engine, to educate their users about wildlife conservation and related laws and regulations. We provided 139 keywords to Baidu, after which they optimized their search results and activated pop-up banners for wildlife species commonly traded. With Sogou, another search engine, we launched a joint campaign where the first image people saw when opening the app was that of an endangered animal. The campaign received more than 25 million views and guided more than two million app users to the encyclopedia pages about animals such as jaguars, minke whales and harp seals.
Since April 2020, IFAW and tech giant Baidu have applied an artificial intelligence (AI) tool, the AI Guardian for Endangered Species, to identify images of endangered wildlife products traded online. The deep learning tool then traces back to the source link of the images and feeds back to relevant network platforms for removal. By the end of June 2021, the AI Guardian had detected 7,548 illegal wildlife trade–relevant images from more than 300,000 raw images, linking to 1,085 online trade listings and contributing to the efficiency of our efforts to make e-commerce platforms a no-go area for traffickers.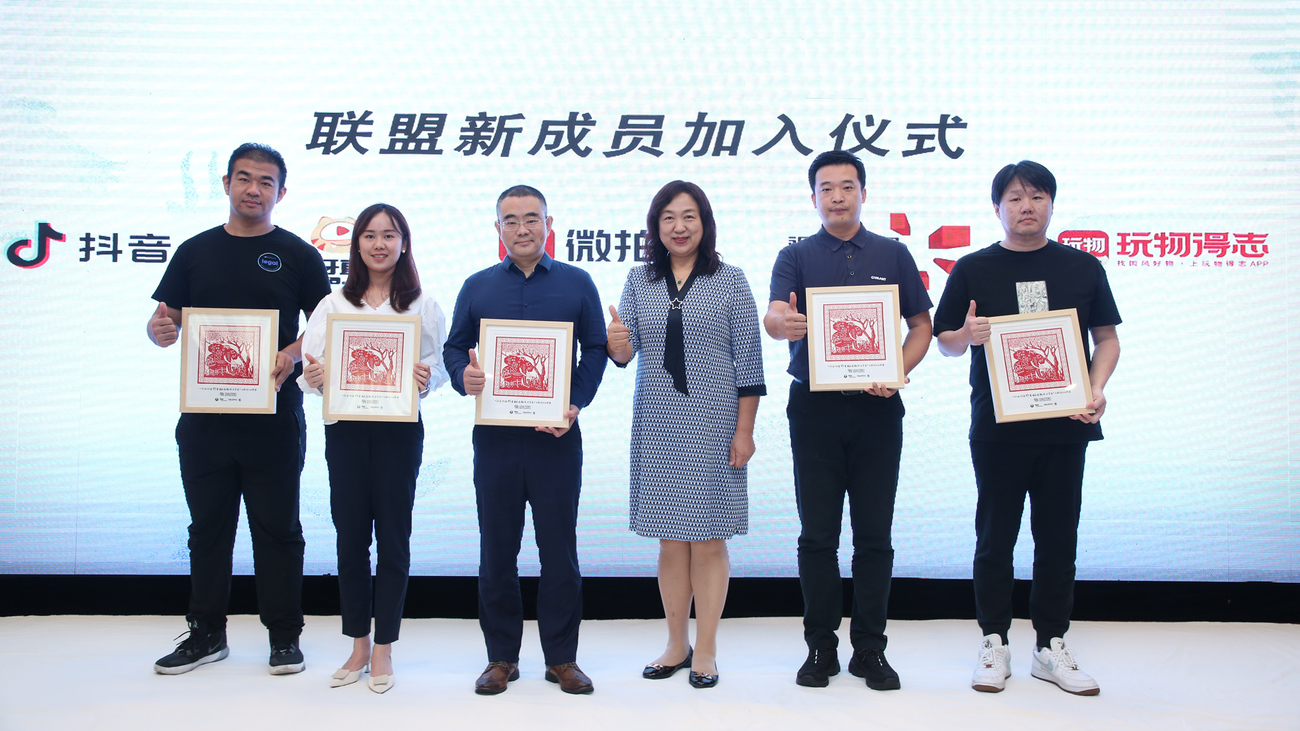 stopping online trafficking of protected wildlife
Through the Coalition to End Wildlife Trafficking Online, IFAW works together with World Wildlife Fund (WWF), the Wildlife Trade Monitoring Network (TRAFFIC) and more than 35 global online technology companies to help stop the trafficking of protected wildlife via their platforms. Between July 2020 and June 2021, around five million advertisements and posts were removed or blocked by Coalition members across Africa, Asia, Europe, and North and South America.
The Coalition expanded with new partners in FY21, including TikTok (700 million users), Douyin (600 million users), 37 Interactive Entertainment, 7788.com and Zhangyan. In July 2021, the French classifieds site Marche.fr and the German online marketplace Quoka joined, adopting a series of concrete measures to ensure their platforms will become free from illegal wildlife products.
In November, Facebook launched an interstitial alert system to inform users of their updated prohibited wildlife policies and to deter illegal trade on the platform. The alert pops up at the top of a user's feed when searching for one of 93 terms associated with wildlife trafficking combined with one of 15 commerce terms.

IFAW is working with Douyin to develop a tool that uses machine learning and big data methods to identify wildlife products and live animals in short videos.
As a result of the close collaboration with IFAW, DeineTierwelt, Germany's leading pet community platform with four million visits per month, announced a ban of almost all wild and exotic animals on June 8, 2021.
In October 2020, IFAW, WWF and TRAFFIC co-hosted a hybrid virtual/in-person event in Beijing with almost 100 participants from 33 companies, including Alibaba, Google, Baidu, eBay and Tencent. During the event, companies shared their experiences, discussed aligning on new trends and policies related to wildlife cybercrime and received training from IFAW, TRAFFIC, and government and law enforcement officials.
Another important part of the Coalition's activities is to provide training for detecting wildlife cybercrime to company staff. In China, we held 25 in-person trainings and provided tailored online training to 1,562 people. In addition, the Coalition's online training program OWLET was carried out more than 200 unique times.
By encouraging online platforms to take action and strengthen their policies and filtering systems, we're creating long- lasting measures that help disrupt criminal networks and wildlife cybercrime.
wildlife cybercrime in the EU
In February 2019, IFAW joined forces with INTERPOL, Belgian Customs and WWF, with in-kind support from TRAFFIC, to combat wildlife cybercrime as part of an EU-funded initiative aiming to disrupt and deter criminals and their networks trafficking in, or via, the EU using the internet and parcel delivery services.
In July 2020, a report entitled Stop Wildlife Cybercrime in the EU: Online Trade in Reptiles and Birds in Belgium and the Netherlands was published. The report was produced by WWF and TRAFFIC, with support from IFAW and Monitor Society, and it provides an in-depth understanding of how wildlife criminals exploit the internet in the EU.
INTERPOL and the World Customs Organisation (WCO) coordinated Operation Thunder 2020, in which 103 countries participated, including 20 EU Member States. According to INTERPOL data, 145 cyber-investigations were performed, leading so far to 58 criminal penalties, 1,194 units of illegal wildlife seized, 40 suspects identified and 18 prosecutions. For the first time, and as a result of this EU-funded project to combat wildlife cybercrime, the operation included a cyber-enabled wildlife crime component.
IFAW engaged successfully with nine of the 13 online platforms approached during the project to get those platforms to (further) commit to fighting wildlife trafficking online, with many of them agreeing on new actions including bans on specific species on their platform, improved filters to detect/block products and user education.
In May 2021, IFAW, in collaboration with WWF, TRAFFIC, and with support from Belgian Customs and INTERPOL, organised an online multi-stakeholder workshop with over more than 140 representatives from the public and private sector. In June, IFAW shared a restricted report with the workshop attendees, which identifies best practice models currently used by law enforcers and online platforms to cooperate in detecting and disrupting wildlife cybercrime. The report also outlines recommendations so that these processes can be rolled out more widely across the EU, and touches on ways in which NGOs and academics can support these efforts.
The project ended in June 2021, and we achieved our objectives to disrupt wildlife criminals and to increase the EU law enforcement focus and operations on wildlife trafficking online and through parcels. By publicising their work, the consortium partners were able to reach at least 3.7 million people in Europe, increasing awareness of wildlife cybercrime.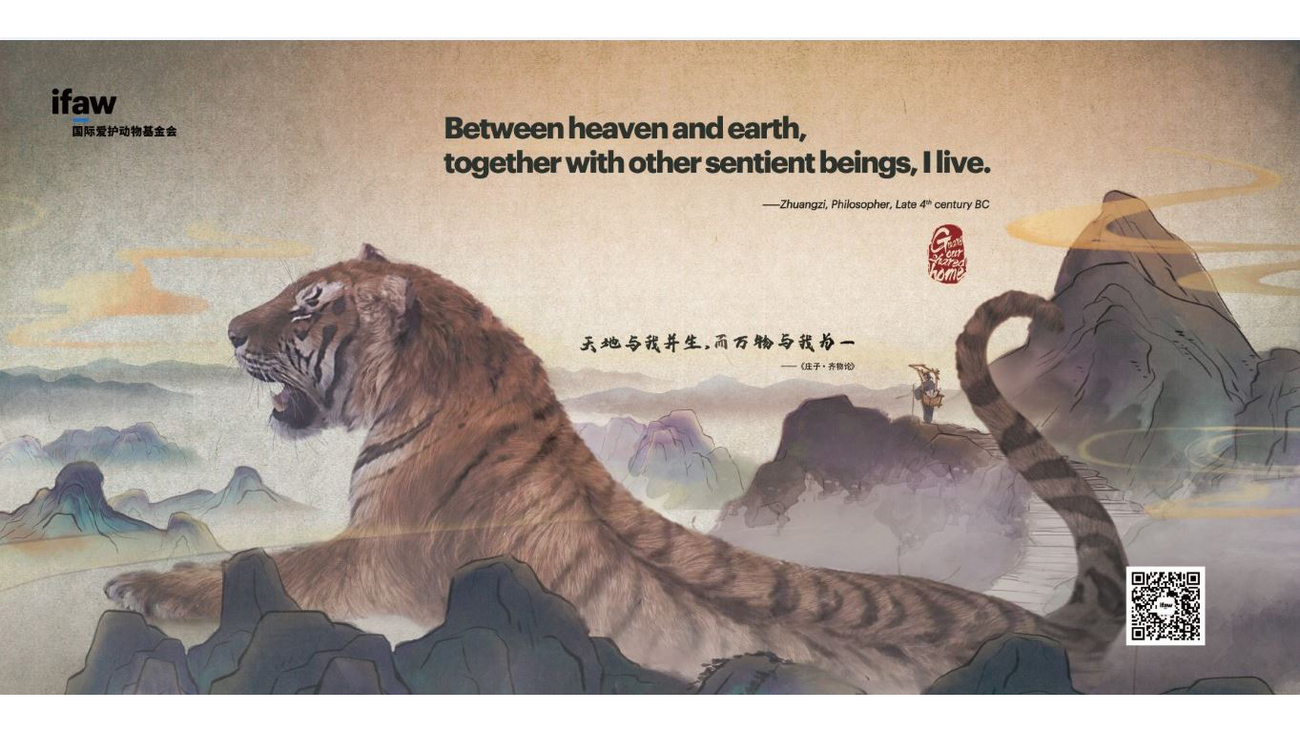 reducing market supply and consumer demand
IFAW works tirelessly to combat global wildlife crime in every link in the illegal trade chain—from source, to transit, to destination. In China, we have a holistic approach to reduce both market supply and consumer demand for wildlife parts and products. We collaborate with public and private partners, and we develop and implement demand reduction activities using social and behaviour change communication (SBCC).
Despite the COVID-19 restrictions, IFAW was able to develop and implement several integrated, multichannel marketing campaigns in China in FY21. We connected with museums, zoos, public transport, airports and cinemas to find creative ways to communicate our messages to a large audience. Media companies also routinely provided promotional space for IFAW's culturally sensitive and socially motivating campaigns aimed at creating a social norm to stigmatise wildlife consumption.
To reduce consumer demand for wildlife products and raise public awareness of conservation, IFAW's Guard Our Shared Home public service announcements (PSAs), jointly promoted with China Wildlife Conservation Association (CWCA), appeared in airports, transportation hubs, newspapers and magazines. On Earth Day in April 2021, the Guard Our Shared Home PSA about protecting pangolins, tigers, elephants, rhinos and raptors became an online campaign of IFAW and the China Customs Anti-Smuggling Bureau. The campaign broke a record as it was shared on social media by more than 100 Chinese government agencies.
In total, IFAW's campaigns in China in FY21 reached more than one billion people and leveraged more than US$23 million in in-kind media donations, with more than 550 media articles published on wildlife crime.
IFAW also cooperated with Animal Dialogue, a Chinese research and educational think tank that aims to promote discussions on human-animal-environment relationships. Together, we organised an online lecture for 50+ students from China and overseas on applying the One Health approach to curtailing wildlife trade.
We collaborated with group-buying and delivery service provider Meituan to bring more attention to environmental conservation and to educate the public not to consume wild animal meat. The campaign had more than 16 million views.
IFAW also worked with WeMake, a leading technology company in China, to digitalize IFAW's story book "Laura the Elephant" through virtual reality and panorama technology. The immersive experience was launched on World Elephant Day and reached 50,000 users.

in in-kind media donations leveraged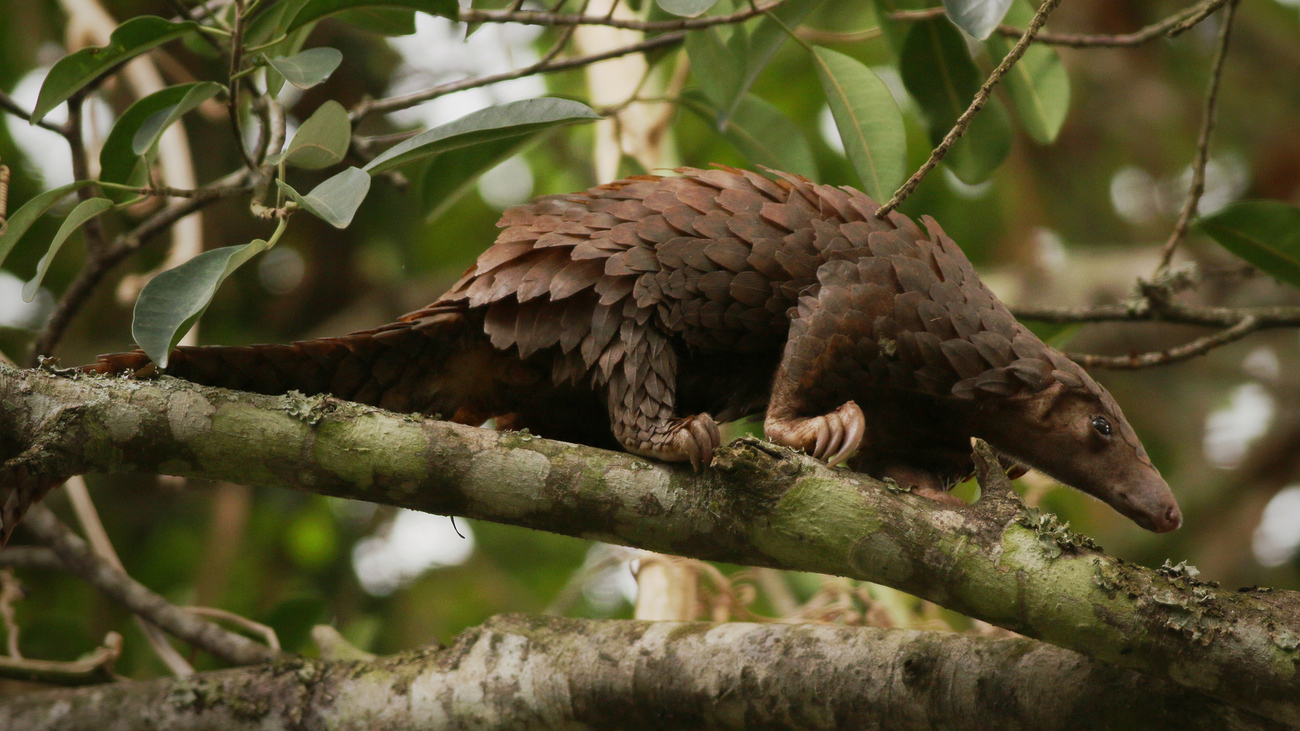 supporting policy and legislative reforms to fight wildlife crime
We urge governments around the world to develop clear legislation that strongly regulates or prohibits the commercial trade of wildlife, due to zoonotic risks for humans, animal welfare concerns, the ecological value of wildlife in the wild and the spread of invasive alien species.
In October 2020, members of the International Union for Conservation of Nature (IUCN) adopted, with nearly 100% support, a resolution to combat the sale of illegal wildlife products online. IFAW played an instrumental role in drafting this new resolution, which encourages effective collaboration across different sectors and urges governments to adopt and enforce effective legislation against wildlife cybercrime.
To showcase our cross-sector work and to increase the ambition of international communities to protect nature, we actively participated in key events such as Wildlife Crime Is Financial Crime, organised by the International Compliance Association, and the One Planet Summit for Biodiversity.
In China, we continued to advocate for stronger wildlife policies and laws, believing that clear and strong laws could prevent wildlife trafficking loopholes and enhance law enforcement efficiency.
When the Legislative Committee of the National People's Congress solicited public opinions on the revision of the Criminal Law, IFAW provided suggestions for amendments to expand the scope of wildlife species protected by law, strengthen the management of commercial wildlife breeding, and improve the national wildlife rescue system.
IFAW worked with the European Commission for the last four years to review the Environmental Crime Directive, participating in stakeholder meetings and consultations, and submitting joint letters with other NGOs to ensure suggested revisions of the Directive were considered. We called for EU Member States to apply truly dissuasive and harmonized penalties against wildlife crime and use effective investigative tools to facilitate and promote cross-border cooperation and information sharing. The Commission should adopt the revised Directive in 2022.
In April 2021, the European Commission adopted its new Strategy to Tackle Organised Crime, which complements Europol's Serious and Organised Crime Threat Assessment (SOCTA). Thanks to IFAW's advocacy, the Strategy and SOCTA acknowledge the interlinkages and devastating consequences of organized crime and wildlife crime. The Commission's strategy committed to review the EU Action Plan against Wildlife Trafficking and revise the Environmental Crime Directive.
We also worked with key stakeholders and EU institutions to operationalize this work by ensuring that the European Multidisciplinary Platform Against Criminal Threats (EMPACT), which enables collective action across EU Member States, included wildlife crime as a priority environmental crime. This means more resources will be allocated to create or strengthen specialized units, undertake operations, develop new tools and improve data gathering on environmental crimes.
In May 2021, IFAW spoke to the U.S. Congress during a hearing entitled "Wildlife Trafficking and the Growing Online Marketplace." Although no specific legislation is currently under consideration, the willingness to learn about it suggests there is political will to address it.
Ending illegal wildlife trade takes a significant and sustained commitment from governments, online platforms and law enforcement around the globe. We will continue our efforts to encourage collaboration across borders and sectors and among key stakeholders, sharing our expertise and working to achieve real and sustainable impact for animals and people.
stay in the know. be ready to act.
You'll receive news, updates on activities and on future giving opportunities. You can unsubscribe at any time.