Oman hosts "Prevention of illegal trade in wildlife" workshop
Oman as one of the Arabian Gulf countries has excellent geographic location (Southeast of Arabian Peninsula), its coast with a length of 1700 km, which is one of the most important habitats for marine turtles nesting like Green Sea Turtle (Chelonia mydas), Hawksbill Turtle (Eretmochelys imbricate) and the Olive Ridley Turtle (Lepidochelys olivacea). Its vast marine waters are a unique habitat for many of the targeted international trade marine species such as sharks.
The Omani land is one of the most historic and natural habitats for Arabian Oryx (Oryx leucoryx), Arabian Leopard (Panthera pardus nimr), Arabian Tahr (Hemitragus jayakari), and many species of reptiles as the Omani Dabb (Uromastyx thomasi).
Oman became a signatory to the "Convention on International Trade in Endangered Species of Wild Fauna and Flora" (CITES) in 2008. In addition, Oman is a party to other agreements, such as CBD, CMS – IOSEA MOU, Man and Biosphere MAB.
Based on that and the will of the Omani authorities concerned with protection and conservation of nature and implementation of CITES, IFAW organized for the second time, and in cooperation with Ministry of Environment and Climate Affairs a training course titled "Prevention of illegal trade in wildlife" from 13 to 19 Feb. 2015. The first training was in 2011.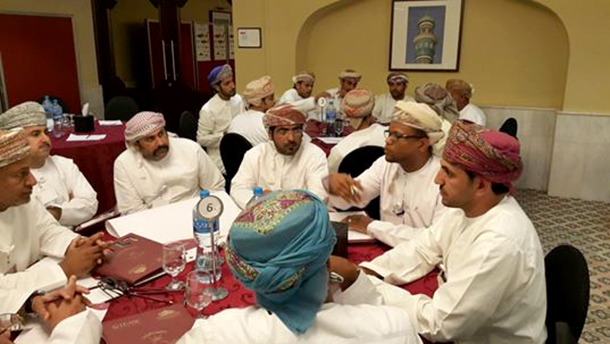 45 people participated in this training from CITES management Authority, Customs, Ministry of Agriculture and Fisheries, Environment Conservation Office, National Center for Field Researches and Scientific Research Council.
The main subjects introduced in the workshop were:
An introduction to CITES.
An introduction to the CMS convention and CMS Shark MOU.
CITES permits.
Commonly traded CITES-listed species (Felidae, primates, canidae, elephants, rhinos, Tibetan antelope, birds, reptiles, marine species (sharks, whales, corals, fishes, turtles, sturgeon fish...) and plants.
Identification of CITES-listed shark species and mantas as well as their products in international trade.
Omani legislations and procedures on the CITES implementation, veterinary and fisheries issues.
Oman is on its way to adopting new national legislation on the implementation of CITES and is about to submit it through the official channels for issuing.
And this work is promising, one of the Omani newspapers reported that "the coming Action Plan will be based on the finding of a recent workshop on an application to CITES" an official spokesperson of the ministry said.
In addition, the participants were trained on how to recognize the species listed in CITES appendixes using the species ID guides, and how to deal with the cases which may they face at the entry points and local markets.
Depending on the evaluations and comments came from the participants before the closing session, we can say: This workshop was a great success.
The training workshop was launched and closed by Mr. Ali Bin Amer Alkoumi, Minister Counselor for the conservation of Nature and Mr. Soliman Bin Naser Al-Akhzami, General Director of the Conservation of Nature in the Ministry of Environment and Climate Changes Affairs.
They extended thanks to IFAW for its support and interest in building the national capacity, and call for more cooperation in the upcoming years and wished to implement this workshop yearly.
--DA
For more information about IFAW efforts to prevent wildlife crime, visit our campaign page.