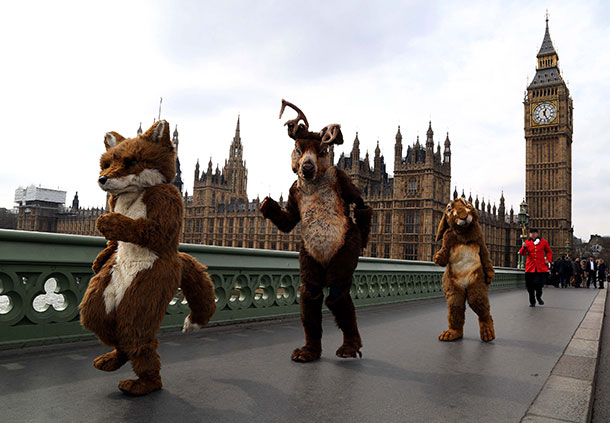 Don't you just love it when a plan works?
About four weeks ago IFAW received reliable intelligence that there were Government plans afoot to reintroduce hunting by the back door. The idea was to make a small change to a crucial part of the Act banning hunting and pass it off as a way of helping a few farmers in Wales. It didn't take us long to realise that far from being a small change in Wales, it would be a massive change across England and Wales and what's more it would make the ban almost impossible to enforce. A hunters' charter.
So we informed the media and started to get the first confirmations from DEFRA and the Government that they were indeed considering such a change. As we suspected, they were considering using a parliamentary process that could be done quickly and relatively quietly. Unless someone created a bit of a song and a dance about it…
Related: Chasing through London to save wildlife
With the help of our fantastic supporters we started to create that song and dance. First of all we sent out an e alert to over 100,000 people asking them to contact their MPs and let them know that they should resolutely oppose any such move to repeal the ban through the back door. A hard copy mailing then went to a further 50,000 supporters asking them to do the same thing. Just last night one MP asked me to send her thanks to our supporters as she had received over 40 letters calling on her to defend the ban.
Together with the League Against Cruel Sports and the RSPCA we also sent a detailed briefing to every MP, giving them the arguments to rebut any suggestion that this was a simple change to help a small number of Welsh farmers.
Finally, we unleashed a pack of hounds in central London to 'chase' a fox and a stag.
"You did what?" I hear you ask.
Fear not, the animals weren't real. They were photographs on huge advertising hoardings pasted onto the side of two ad vans that chased each other around Parliament Square and all over central London. The words on the posters said that the ban would be ripped to shreds if an amendment was passed and it urged readers to also contact their MPs. The ad vans patrolled central London for four days over the past two weeks.
Meanwhile, our parliamentary team were keeping their ears closely to the ground and working with supportive MPs (including a large number of Conservative MPs) to make sure that they would be ready if a vote was suddenly announced.
Earlier today, as the ad vans were swinging by Parliament, a Conservative MP came up to me in Portcullis House. She had just come from the Chamber where Prime Minister's Questions had just ended. "Have you heard the good news about hunting?" she said. "The Prime Minister has just announced that they aren't going to move forward with an amendment".
Don't you just love it when a plan works? Don't you just love it when people across the land answer a call to help protect the hunting ban? And don't you just love it when the Government has to recognise a groundswell of public opinion that tells it that the reintroduction of a blood sport in the 21st century would be as repellent as it would be repugnant.
Government Ministers are still saying there will be a vote on whether or not to repeal the Hunting Act before May 2015 – I know we can count on our supporters to respond to that threat whenever it comes.
--RM