wildlife crime
wildlife crime
The world's COVID-19 crisis put added pressure on wildlife. For example, the simple presence of people helps keep poachers away, so when tourists vanished due to lockdowns and travel restrictions, animals in many parks and protected areas were at increased risk. Meanwhile, many frontline rangers saw their wages cut or eliminated due to the lack of tourist revenue.
In the places where IFAW works, we stepped in to help. We made sure rangers were paid, supported, and able to do their work. And that was just one aspect of our work to reduce wildlife crime in fiscal year 2020.
IFAW's Wildlife Crime Program takes a multi-faceted approach. We support capacity building for law enforcers and we strongly believe that change at an international and national policy level is key to tackling wildlife crime. IFAW continues to be a pioneer disrupting online trade in wildlife. IFAW's Wildlife Crime Program is committed to reducing public demand for illegal wildlife and wildlife products through public awareness.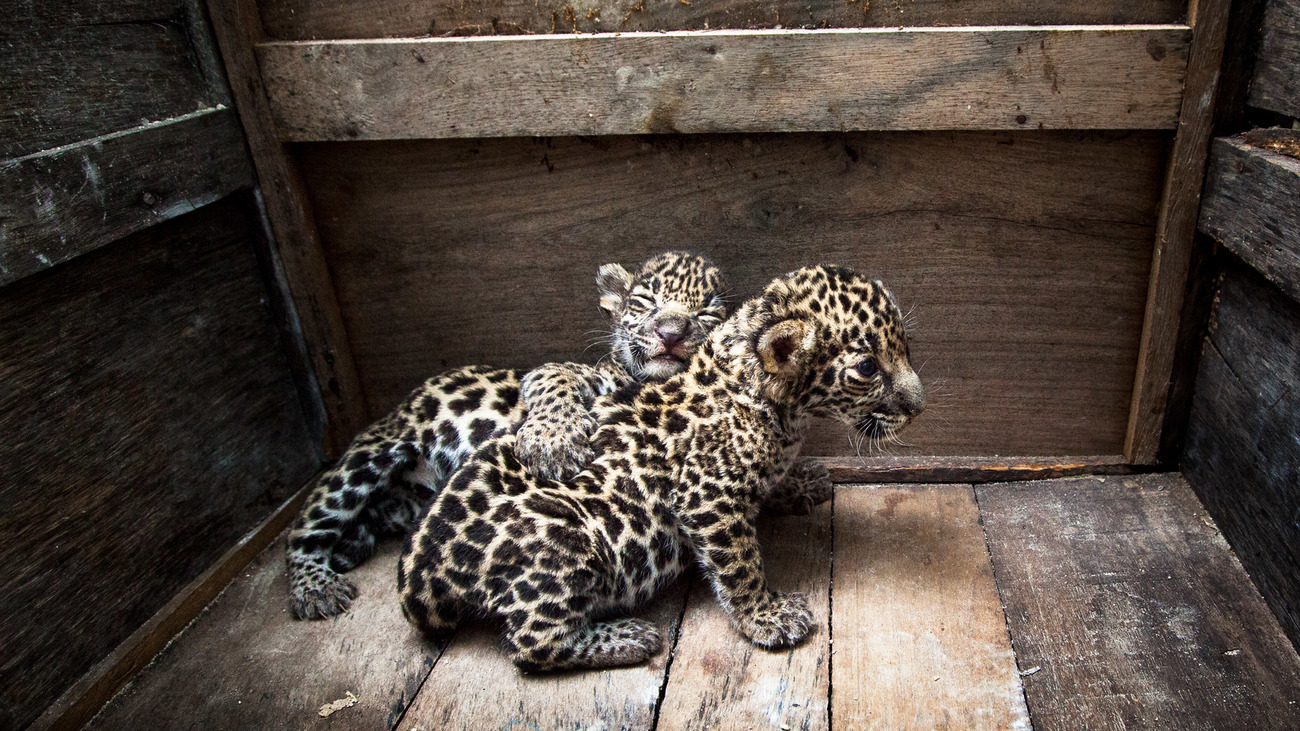 strengthening law enforcement capacity
The COVID-19 pandemic has thrust issues around the legal and illegal trade of wildlife into the global spotlight like never before. But away from the headlines, statements, and promises, the day-to-day work of wildlife law enforcement personnel, often dangerous and very unglamorous, continues and IFAW has been there with our partners throughout this tumultuous year.
Despite the challenges and restrictions imposed by the pandemic, our projects were able to train a total of 479 law enforcement personnel in eight countries, across four continents. Our operations support led to our partners seizing over 350 kilograms of elephant ivory and hundreds of kilograms of bush meat and other contraband, including illegal firearms.
In fiscal year 2020 we kick-started two new initiatives: Operation Jaguar in Bolivia, Suriname and Guyana and the Legal Intelligence for Cheetah Illicit Trade (LICIT) project in the Horn of Africa.
Protecting jaguars
Operation Jaguar (funded by the Dutch Postcode Lottery and led by IUCN NL) provides training to personnel from a range of government agencies responsible for tackling wildlife crime, along with prosecutors and judges, who are critical elements of the legal system and are often overlooked by conservation organizations. Before COVID-19 travel restrictions caused a pause in some activities, we were able to work with 26 staff from seven different agencies, led by the Guyana Wildlife Conservation and Management Commission. We have adapted some of our training methods and course content to make it available for remote training and will be looking to utilize these methods more while travel restrictions persist.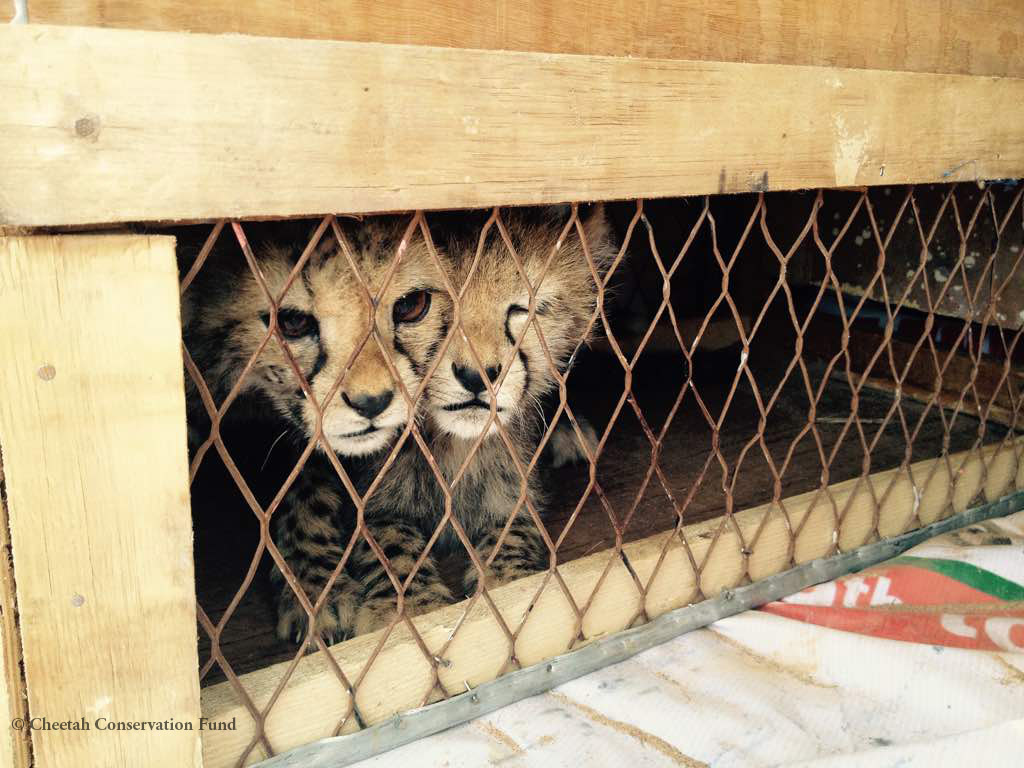 Combating cheetah trafficking
The LICIT Project (funded by the UK Government's Illegal Wildlife Trade Challenge Fund and led by the Cheetah Conservation Foundation) addresses the need for stronger legislation and enforcement and greater cross-border cooperation to combat trafficking of cheetahs. IFAW is helping to establish networks of organizations and individuals to prevent cheetah cubs from being taken from their dens and sold into the exotic pet industry, which, tragically, is often done by cattle herders in Ethiopia, Somalia, and Somaliland in an effort to protect their livestock from predators.
Our expert trainers will be working with law enforcement personnel from across the region to assist them in tackling this devastating trade. It is estimated that nearly 300 cubs a year are trafficked illegally from the region. At this rate, it will not be long before populations are locally extinct.
Disrupting wildlife trafficking networks
IFAW teams in southern and eastern Africa continue making inroads into networks trafficking in wildlife products. In Zambia, over 114 kilograms of ivory was seized, along with pangolin scales and leopard skins. Among those arrested were a number of citizens from other countries in the region, highlighting the long and multinational nature of the trafficking chains. Kenya Wildlife Service (KWS) staff and IFAW-supported Community Rangers seized more than 110 kilograms of ivory and bush meat that had been poached from elephants and vulnerable giraffe populations.

kilograms of ivory seized in Zambia
kilograms of ivory and bush meat seized in Kenya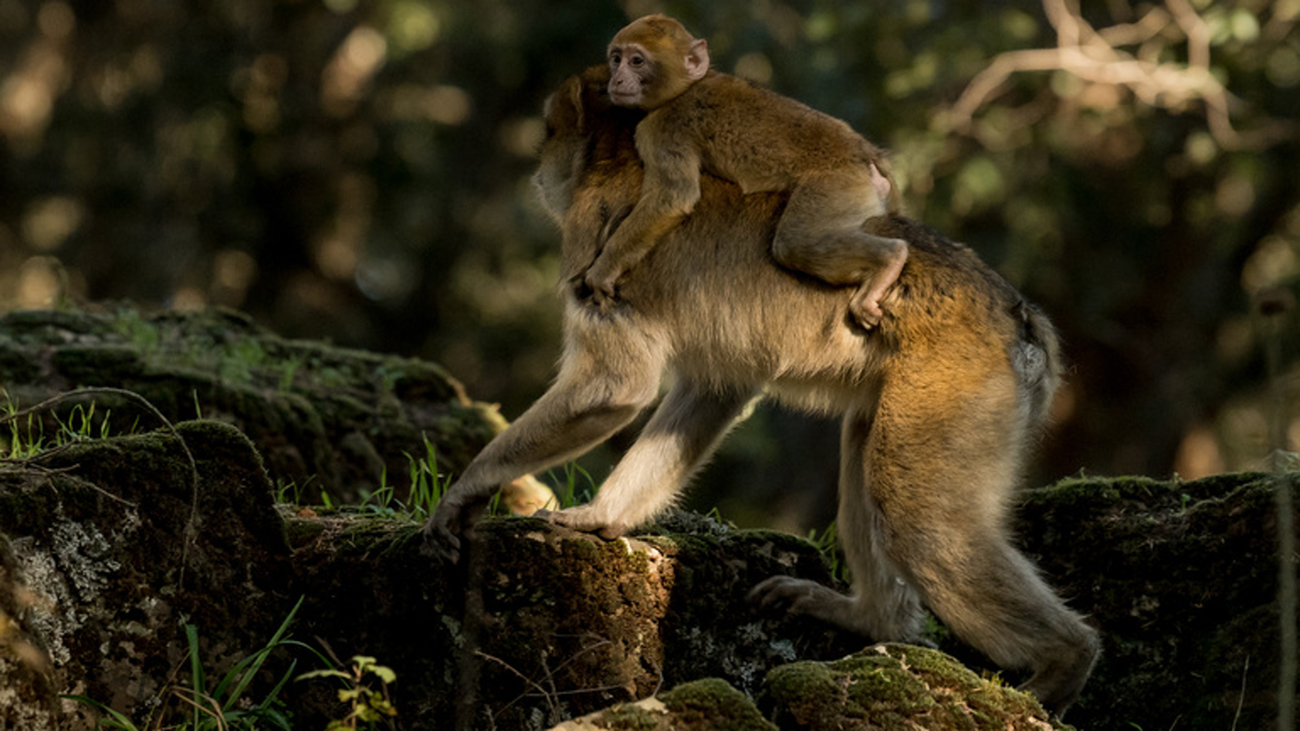 securing survival of Barbary macaques
We refused to sit back and watch as Barbary macaques, a monkey species native to the Atlas Mountains of Algeria and Morocco, were pushed to the brink of extinction, with just 10,000 individuals estimated worldwide. In partnership with Animal Advocacy and Protection (AAP) and the Water and Forests Department in Morocco, IFAW helped create Born to Be Wild, a project to stop the poaching and smuggling of Barbary macaques, to strengthen enforcement capacity, and to raise awareness among local communities and tourists. Born to Be Wild is funded by the Dutch Postcode Lottery.
Born to Be Wild has been operating for three years in Ifrane National Park, Morocco, with 10 local scouts patrolling 12,500 square kilometers night and day. We aimed to see Barbary macaques and humans thrive together, so we employed local scouts to engage with park visitors and conduct educational activities at more than 30 nearby schools to raise awareness. We also recognized that local farmers suffer when macaques feed on their crops, so we have helped to establish the Cherry Tree Association, a group of 50 farmers discussing the challenges and working on solutions together.
Thanks to this all of this work, the population of Barbary macaques has grown by 31% over the three years since 2017.
We also worked to address challenges beyond the borders of the Ifrane National Park. We investigated and analyzed local trade markets and identified trafficking routes from North Africa to Europe that are used to smuggle illegal wildlife like Barbary macaques, tortoises, and the European goldfinch. We trained authorities to identify species commonly traded illegally and supported them in carrying out confiscations. Since Born to Be Wild began, more than 400 animals have been confiscated and released back into the wild, including 12 Barbary macaques.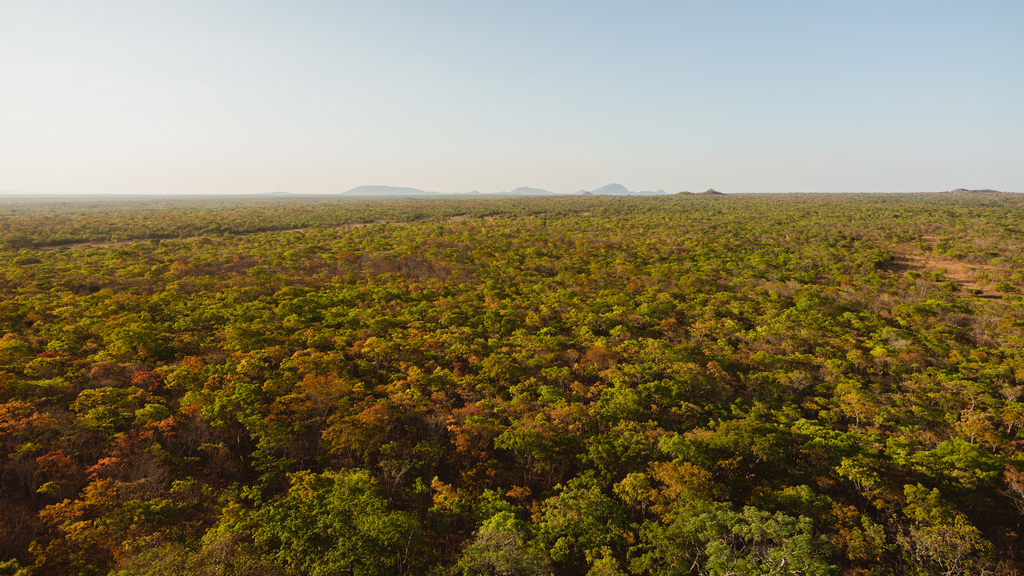 combating wildlife crime in the Malawi-Zambia landscape
Combating Wildlife Crime in the Malawi-Zambia Transboundary Landscape is a five-year project managed by IFAW and supported by USAID. The project operates across a 7,000 square kilometer transfrontier landscape that includes national parks, wildlife reserves, forest reserves, game management areas, and communal lands.
IFAW plays an active role in wildlife crime prevention, working with partners (and sub-grantees), the Lilongwe Wildlife Trust, Wildlife Crime Prevention, and the Departments of National Parks and Wildlife in both Zambia and Malawi.
Despite the challenges of COVID-19, the impact of the project in fiscal year 20 has been significant, including the seizure of a total of 949 kilograms of illegal ivory and the arrest of almost 600 poachers and wildlife traffickers between October 2019 and June 2020.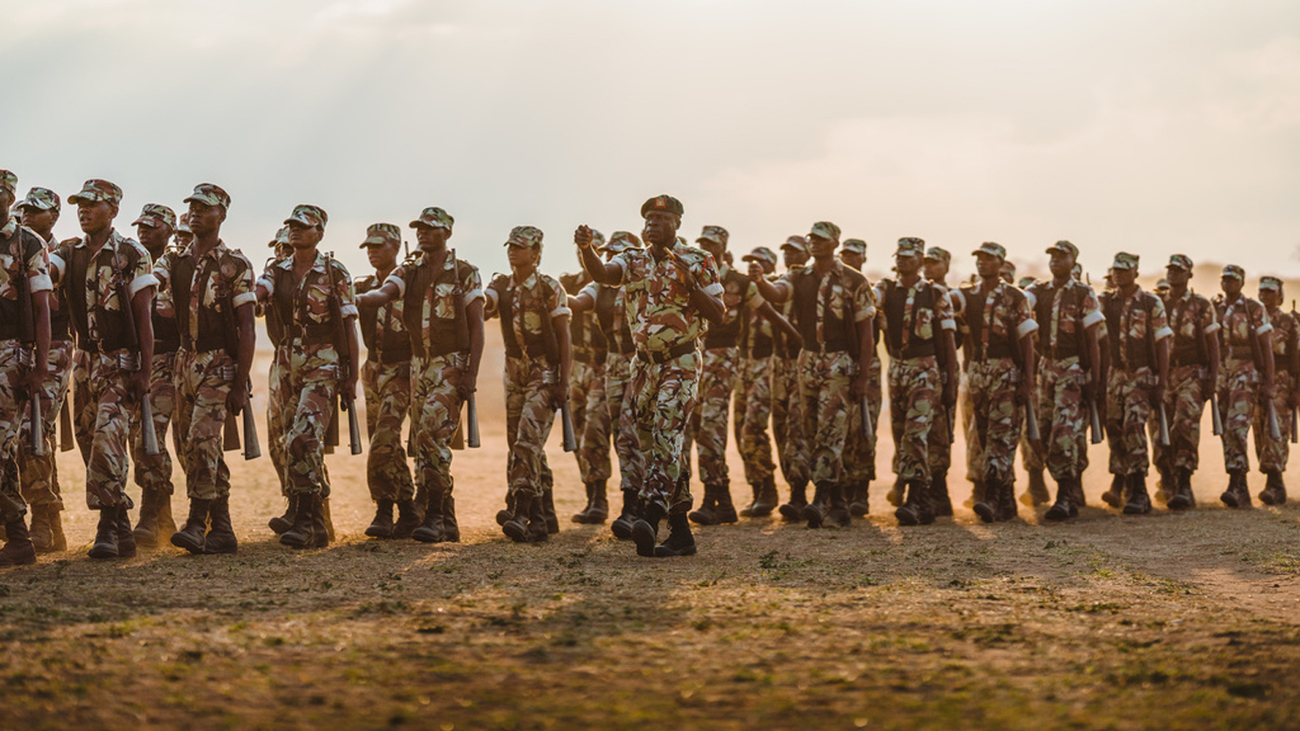 Building a better future
We supported training for 50 teachers to provide environmental education. Despite the interruption to the school year due to the pandemic, they were able to provide environmental education to at least 10,000 learners.
We also supported infrastructure development, including the installation of three VHF antenna masts to provide radio communication, one in Zambia and two in Kasungu National Park in Malawi, funded by the German Corporation for International Cooperation (GIZ). VHF masts are a key communications tool for rangers across the transfrontier, allowing them to remain in touch with their counterparts to prevent wildlife crime.
Another significant construction project was building a bridge linking two key communities near Kasungu National Park. This makes it possible for communities to continue to trade and for children to safely get to school during the rainy season when flash floods sometimes occur.
Through alternative livelihoods initiatives approximately US$39,872 was placed directly into the hands of the local community between April and June 2020. While 206 people directly benefited from earning money, each "breadwinner" supports an average of six people, which means that more than 1,000 members of the local community have benefited from these initiatives.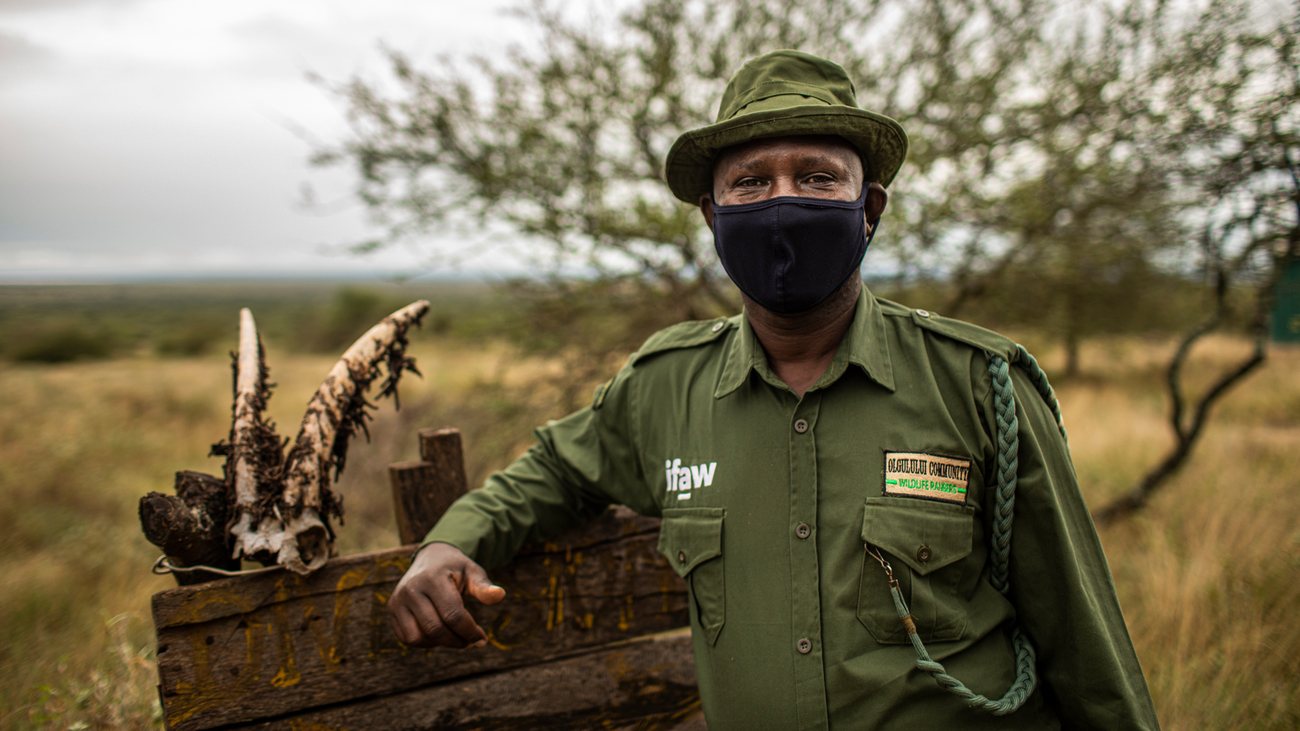 reducing wildlife crime in the Greater Kilimanjaro Transfrontier Conservation Area
IFAW continues to play an important role in supporting law enforcement in the Greater Kilimanjaro Trans Frontier Conservation Area (TFCA), working with both community scouts and the wildlife management agencies of Kenya and Tanzania to better support their efforts to secure the vast area.
IFAW provides logistical and technical support to the 76 rangers of the Olgulului Community Group Ranch, including the members of IFAW's Team Lioness, one of the region's first all-female ranger teams. This year, our team has supported the roll-out of landscape-wide systems to collate, assess, and present data on poaching and trafficking incidents, human wildlife conflict, and many other data points essential to managing the landscape effectively and using resources efficiently.
Throughout fiscal year 20, IFAW facilitated cross-border security meetings between Kenyan and Tanzanian partners to improve intelligence sharing and to promote joint operations against gangs trafficking ivory and bush meat. IFAW supported an operation by Kenya Wildlife Service (KWS) that resulted in the seizure of over 110 kilograms of ivory and the breakup of three networks responsible for trafficking in wildlife products.

The impact of the COVID-19 pandemic has been significant in East Africa. Loss of vital income from tourism has meant that desperately needed funds for law enforcement have run dry. When the pandemic took hold, in-person training and support became challenging so IFAW pivoted to providing logistical support to KWS, including fuel, rations and equipment to keep rangers in the field.

kilograms of ivory seized
wildlife trafficking networks broken up
rangers provided with logistical and technical support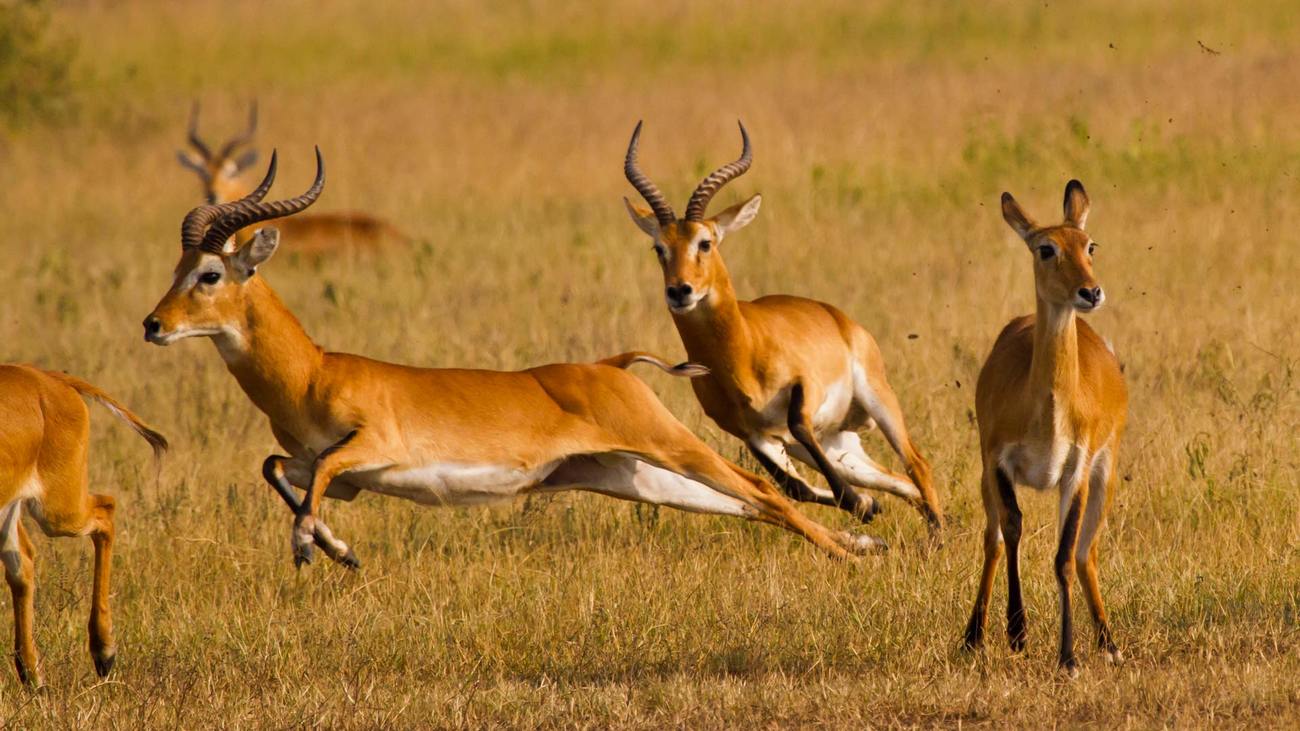 improving security in the Greater Virunga landscape
With financial support from the European Union, IFAW (in partnership with IUCN-Netherlands) in fiscal year 20 moved into the final year of our project supporting law enforcement and communities in Queen Elizabeth National Park in Uganda and Virunga National Park in the Democratic Republic of the Congo.
Our experts trained more than 35 frontline law enforcement officers and intelligence staff from both parks, focusing on tackling cross-border wildlife trafficking. In mid-2020, we completed and handed over a 12-person ranger outpost in Queen Elizabeth National Park to the Uganda Wildlife Authority (UWA). This strategically located facility will allow Uganda's rangers to secure the western boundary of the park and disrupt the activities of poachers and traffickers who previously had free reign in this important part of the landscape.
In addition to supporting a number of joint patrols between Congolese and Ugandan Rangers, IFAW supports a number of community wildlife monitors who support park operations with information and act as bridges between communities and park management. Working with UWA, the activities of our monitors led to the arrest and prosecution of 36 poachers and the recovery of snaring equipment, bush meat and vehicles used in cross-border smuggling.

We facilitate meetings that let communities share with UWA rangers their concerns and challenges about living alongside wildlife. We also work with local community informants to support the park in tackling wildlife crime, such as poaching and trafficking.

frontline officers trained
poachers arrested and prosecuted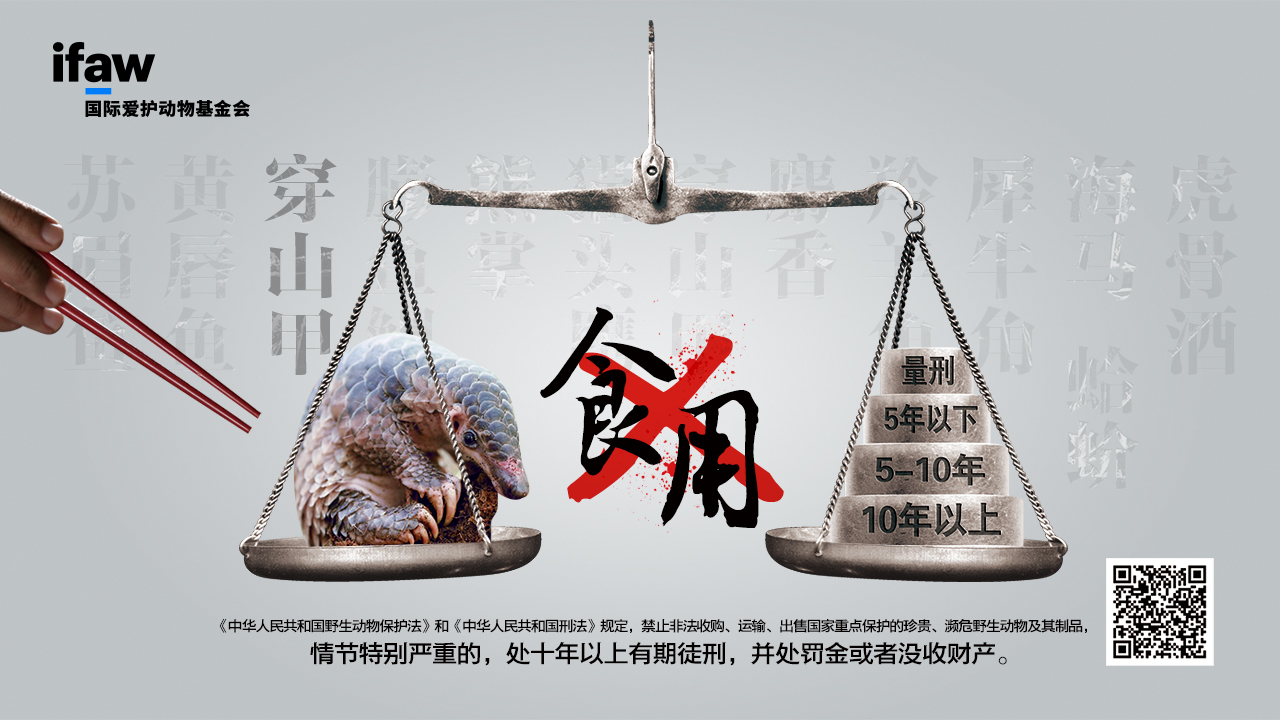 reducing market supply and consumer demand in China
With internet technology rapidly evolving, the illegal wildlife trade has been shifting from offline to online platforms for years. However, as platform providers strengthen their efforts to regulate wildlife cybercrime, sellers have become more vigilant and are constantly exploring new ways to avoid detection, including transitioning from using code words to images, short videos and live- streaming to convey the wildlife products they sell. Traditional code-word searching and monitoring is no longer enough to cope with the evolving trend. A tool that is able to recognize commonly traded wildlife products is urgently needed.
Collaboration with internet companies to promote wildlife conservation
IFAW works in close collaboration with prominent internet companies in China to bring the conversation about wildlife conservation to the mainstream. In January 2020, IFAW, along with other NGOs, worked with Alibaba to launch the wildlife conservation initiative Ai Ling Plan (Caring for Beings), which attracted more than 3 million visits to its site. The second largest Chinese search engine, Sogou, launched campaigns with IFAW in January and March 2020 that changed Sogou's homepage to wildlife conservation information, attracting more than 44 million views in seven days.
Adding artificial intelligence to the fight against online wildlife crime
In April 2020, IFAW and Baidu launched an artificial intelligence (AI)-powered tool to identify images of endangered wildlife products illegally traded online. This will provide a key tool in keeping one step ahead of those involved in the illegal trade as they constantly change the words and expressions they use in online listings in an effort to avoid detection.
The AI Guardian for Endangered Species was jointly developed by IFAW and Baidu's open-source deep learning platform PaddlePaddle. The tool currently has 75% accuracy for recognizing images of elephant ivory, tiger canine teeth, skin, claws and pangolin scales and claws. So far, the AI Guardian helped recognize more than 4,000 illegal wildlife product pictures from more than 250,000 messages from different Chinese online platforms. The tool will significantly improve the efficiency and coverage of IFAW's regular online research and help support enforcement agencies and platform regulators in their efforts.
Changing social behavior for wildlife
To reduce demand for wildlife parts and products, IFAW conducts social behavior change communications campaigns to change individual consumer behavior as well as create an environment for wider social change. Leveraging technology from the private sector, IFAW's campaign promoting the ivory trade ban and the legal ramifications of wildlife consumption, was able to reach target audiences with precision. With support from media partners, including JCDecaux Advertising (Shanghai), Dynamic Winning Partners Media Group, Beijing MTR, Beijing AirMedia United Advertising and others, IFAW's public service announcements reached more than 20 urban centers in China.
We are also engaging private sector partners to incorporate wildlife-friendly concepts into their own marketing strategies to mainstream and amplify IFAW campaign messages. IFAW and InNail, one of the leading high-end nail care and beauty lifestyle brands in China, jointly launched a series of wildlife conservation-themed products motivating consumers with "Hands-on Rejection of Wildlife Products" messaging.

In March 2020, IFAW and Meituan, China's largest food delivery platform, launched a joint campaign calling on people to refrain from eating wild meat. 17,000 merchants on Meituan responded to the call and promised to remove wild meat from menus. Within days of launching the campaign, Meituan delisted 7,514 "wildlife meat" relevant merchants. In fiscal year 20 IFAW leveraged over US$24 million of in-kind donations from China's media and private sectors.

illegal wildlife product pictures identified by artificial intelligence
views of wildlife conservation messages over seven days on Sogou's search engine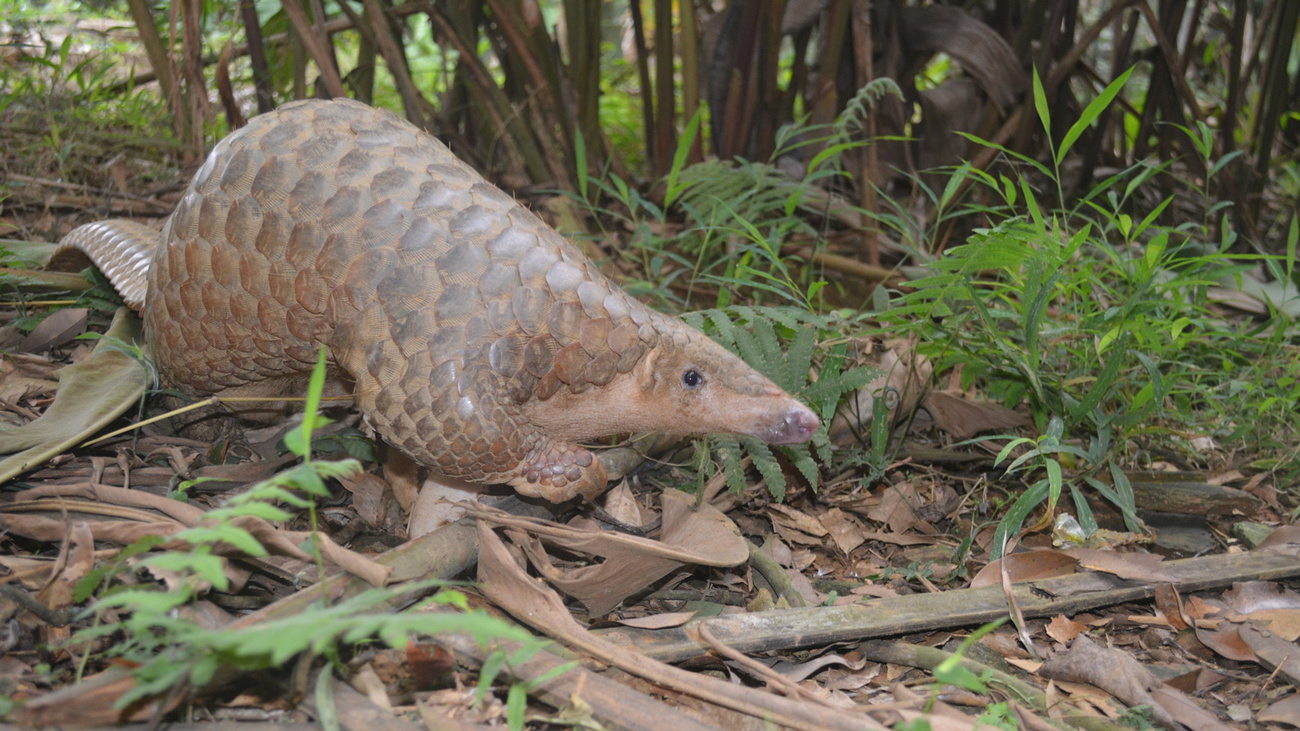 wildlife cybercrime
Stopping wildlife crime relies not only on protecting wildlife in its natural habitat, but also on disrupting the marketplace for wildlife products. Today, the biggest marketplace is online. It's a borderless market that's always open and connects buyers and sellers around the world with the click of a mouse. The global pandemic has pushed even more commerce online, making it more important than ever for IFAW to continue its vital work with private-sector partners, international policy forums, and consumers to end wildlife cybercrime and protect some of our most threatened species.
Working with vital partners to make a difference together
The Coalition to End Wildlife Trafficking Online continues to bring together the world's biggest online technology, e-commerce and social media companies from across the world in partnership with the World Wildlife Fund (WWF), the Wildlife Trade Monitoring Network (TRAFFIC) and IFAW for an industry-wide approach to reduce wildlife trafficking online. The coalition focuses on company policy harmonization, industry collaboration, user education, mobilizing citizen spotters, in-depth company training and machine learning enhancement.
In March 2020, for the second anniversary of the coalition, IFAW, WWF, and TRAFFIC published Offline and In the Wild, a report highlighting coalition successes, including more than three million prohibited species listings having been either blocked or removed, almost 470 staff trained, and more than 4,500 listings flagged to companies by cyber spotters.
In addition, IFAW successfully recruited two new partners for the coalition – France's Leboncoin and Germany's Deine Tierwelt.
In fiscal year 2020, IFAW proudly launched its cyber spotter program with 29 volunteers trained in Germany, France and China. The volunteers monitored online commerce platforms and reported listings suspected of offering live animals or animal parts. They identified more than 3,000 wildlife listings for removal across 10 platforms.

IFAW also continues working with partners on a two-year project aimed at disrupting criminals trafficking wildlife in or via the EU. Funded by the Internal Security Fund of the Directorate General for Migration and Home Affairs of the European Commission, the work is implemented by a coalition including IFAW, WWF, INTERPOL, and the Belgian Customs, with in-kind support from TRAFFIC. The Disrupting and dismantling wildlife cybercriminals and their networks in the European Union project helps train customs, police, and other enforcement officers across the EU to detect and deter wildlife trafficking. It also engages with delivery and online tech companies.

listings of prohibited species blocked or removed in two years
staff trained in two years
volunteers trained for the cyber spotter program
wildlife listings identified for removal from 10 platforms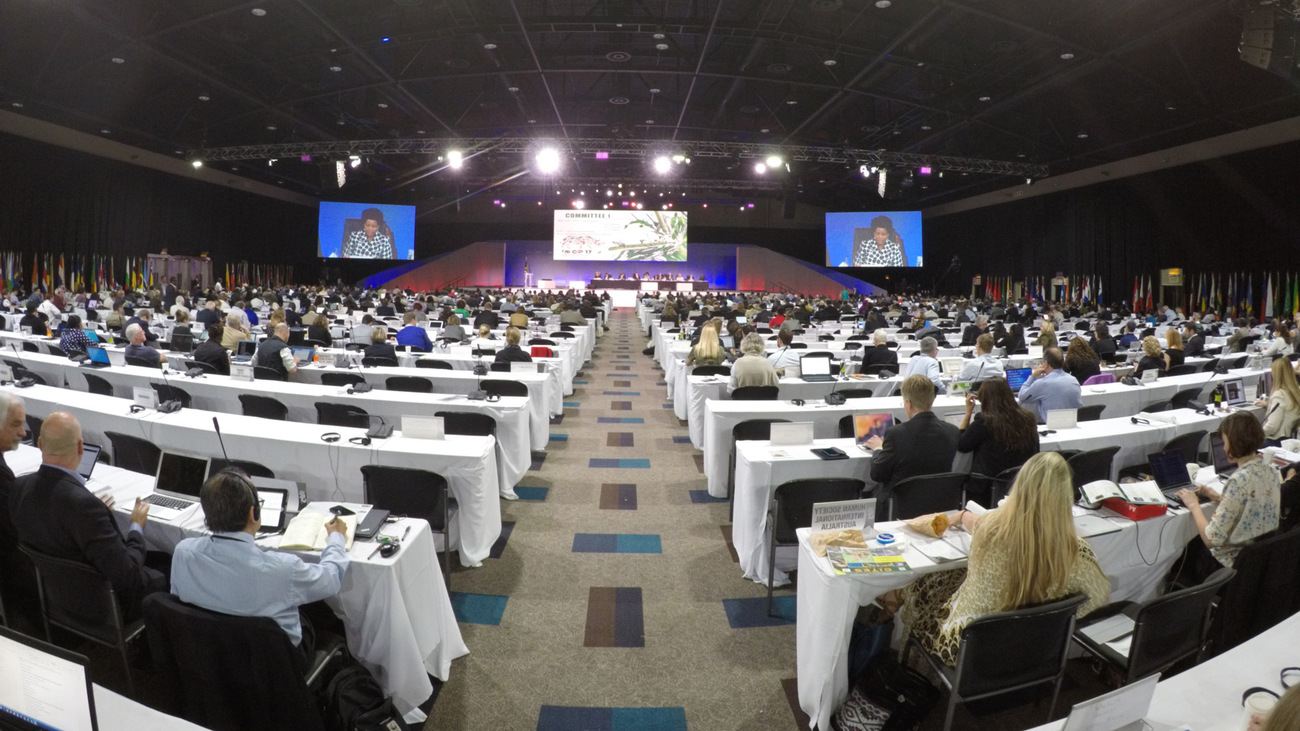 Making progress through international policy forums
IFAW's effective lobbying helped ensure that parties adopted important amendments at the Convention on International Trade in Endangered Species of Wild Fauna and Flora (CITES) CoP18, held in Geneva, Switzerland in August 2019. The amendments specifically tackle wildlife crime linked to the internet with calls for parties to evaluate or develop domestic measures to ensure that they sufficiently address wildlife crime and that adequate resources are available to investigate these crimes.
The amendments will help establish national monitoring programs and engagement with online platforms to raise awareness. At the conference, new CITES Secretary General, Yvonne Higuero, championed the issue of wildlife cybercrime, mentioning it in many of her speeches and in her closing remarks.
Wildlife cybercrime was also high on the agenda at the Americas Regional Conference on Illegal Wildlife Trade, the first high-level conference on illegal wildlife trade in the Americas, which saw countries from North, Central and South America and the Caribbean come together in Lima, Peru for two days in October 2019 to identify ways to combat wildlife crime. Twenty-one signatories pledged to "address wildlife crime linked to the internet with effective penalties and sanctions."
IFAW as a pioneering world leader on wildlife cybercrime
IFAW continues to grow its reputation as a leading body tackling wildlife cybercrime globally. In fiscal year 20, we provided valuable expertise to companies, governments, enforcers, inter-governmental agencies, funders and consumers. Examples include providing IFAW's breadth of experience and expertise at:
CITES CoP18
Americas Regional Conference on Illegal Wildlife Trade in Peru (October 2019)
INTERPOL's Wildlife Crime Working Group in Singapore (November 2019)
The General Police Equipment Conference (GPEC) wildlife crime workshop in Frankfurt, Germany (February 2019)
The Coalition to End Wildlife Trafficking Online event in New York (March 2020)
Online presentation about combating wildlife cybercrime for key functions at ByteDance (the parent company of Tiktok/Douyin) (May 2020)

Stay in the know. Be ready to act.
You'll receive news, updates on activities and on future giving opportunities. You can unsubscribe at any time.