landscape conservation
landscape conservation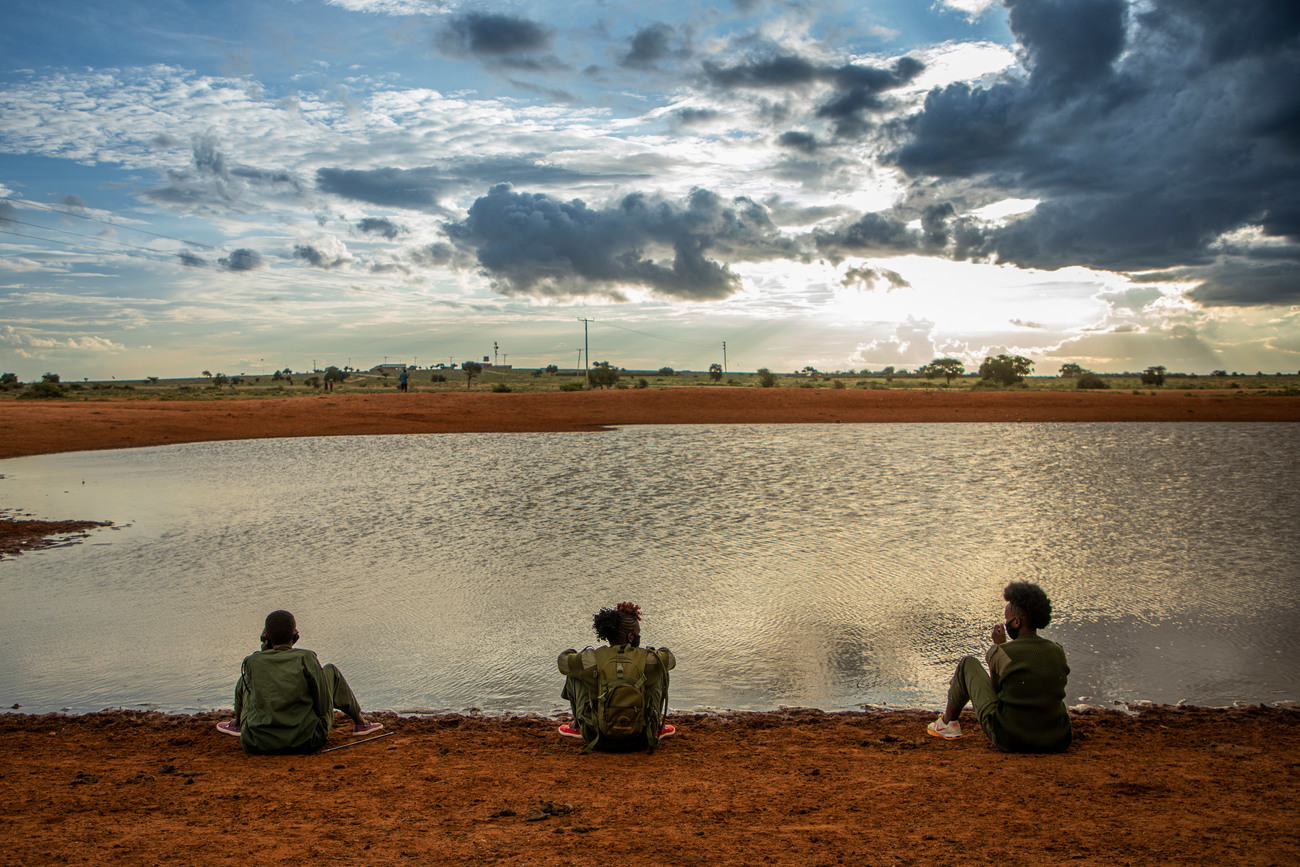 Despite the extraordinary impact of COVID-19, IFAW was able to continue to support essential landscape conservation in fiscal year 20, forge new partnerships and address challenges in a holistic way. This year we once again achieved noteworthy success in the priority landscapes where we work across Africa and Asia.
We remain committed to working with governments, local communities and other stakeholders to ensure connected conservation networks become a reality that provide wildlife, particularly keystone species like elephants, with the space they need to survive and thrive. This year IFAW-supported rangers recovered 2,498 kilograms of elephant ivory and arrested 1,289 poachers. Plus, IFAW-supported efforts added another 350 square kilometers of habitat to Manas National Park in India.
We continue to link conservation and community livelihoods through substantive community engagement and participation. This year we supported livelihood diversification activities that resulted in an astonishing US$278,000 in direct income for communities in Malawi, Zambia and Kenya. We supported training for 289 people with skills like tailoring, brickmaking, construction and beekeeping in the places where we work, including China and India.
Our work is driven by our belief that when people thrive, animals will thrive along with them.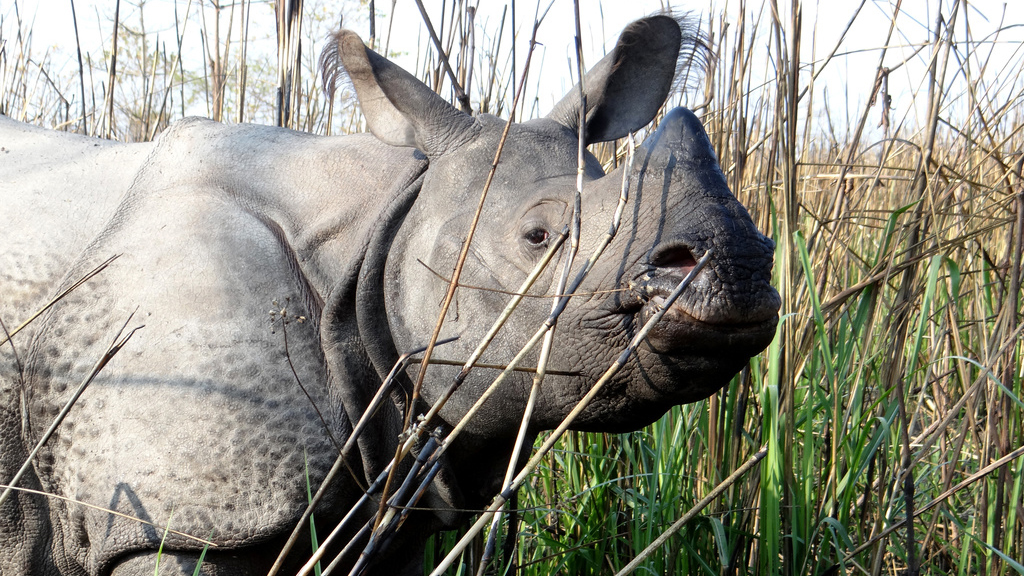 partnering for conservation in the Greater Manas Landscape
In fiscal year 20 we continued to make a difference in the Greater Manas Landscape through our long-term partnership with the Wildlife Trust of India (WTI). Greater Manas is a ribbon of 1,450 square kilometers of protected landscape that runs along India's border with the Kingdom of Bhutan, in the foothills of the Himalayan Mountains. At its heart is the 500 square kilometer Manas National Park, a World Heritage Site in Assam, that is a contiguous landscape with Royal Manas National Park in Bhutan.
To improve enforcement capabilities, IFAW-WTI built an anti-poaching camp in the extended area of Greater Manas known as "First Addition." The camp is strategically located to ensure patrol staff can provide enhanced protection to First Addition as well as an area that is key habitat for Gee's golden langur, one of India's most endangered primate species.

In December 2019, two rhinoceros calves rescued from floods in Kaziranga National Park were translocated to Manas National Park and released into suitable habitat. This brings the population of greater one-horned rhinos in Manas to 39 individuals, 19 having been hand raised at our jointly run Centre for Wildlife Rehabilitation and Conservation in Kaziranga as part of an initiative to return threatened species to Manas.
rhinoceros calves translocated from Kaziranga to Manas for release
fuel-efficient stoves installed
face masks produced by 150 women
The illegal logging of trees for fuelwood is a major concern for protected area management. During fiscal year 19, IFAW-WTI installed 26 improved cook stoves at commercial establishments in local markets around Manas and First Addition. These fuel-efficient stoves require significantly less wood for heating and the markets showed a 32% decline in the usage of fuelwood as a result. Since the project began, we have also installed about 2,000 stoves in homes in the Greater Manas Landscape reducing overall use of fuel wood by ~25%. Better fuel efficiency also means that households can dedicate time and resources to other important economic and social activities in the community. Such initiatives are key to reducing environmental impact and helping the region to become more sustainable.
IFAW-WTI has set up four weaving centers that provide 200 women with livelihoods and traditional weaving techniques. When the COVID-19 lockdown prevented weavers from going to work, we were able to mobilize more than 150 women to continue working from home making face masks. We procured and distributed 300 kilograms of high-quality cotton yarn to weavers at two centers and the weavers produced more than 500 masks for use in the community. Weavers were able to earn a monthly income of RS 8,000 (US$108), which is a meaningful amount, especially during the nation-wide lockdown. At Manas National Park, India, IFAW also supported frontline staff by providing 142 items of protective gear.
The partnership between IFAW and WTI has been a true conservation success story ever since it was formalized in 2001. Together we've worked on projects that meet a variety of IFAW's program objectives. One of the most significant achievements was the expansion of the Greater Manas Landscape through the #BringingBackManas initiative. This contributed to UNESCO removing Manas from its List of World Heritage Sites in Danger in 2011. The fruitful partnership between IFAW and WTI will continue to ensure that both animals and people thrive.
supporting rangers to protect wildlife during the COVID-19 crisis
Lockdowns due to COVID-19 had an immediate and devastating impact on tourism around the world. The safari tourism industry that supports many thousands of employees and their families had no choice but to cease operations and lay off staff. Within days, bustling tourism hubs turned into ghost towns and we received reports of increased snaring and poaching activities, a potent indicator of the impact of the pandemic on livelihoods.
Just by their mere presence, tourists visiting protected areas form an effective surveillance system that helps reduce poaching and illegal activities. Desperate times and empty parks provided an opportunity for criminals and a devastating threat for wildlife.
Rangers are considered an "essential service" in all the landscapes where IFAW works, so they did not leave their bases to return home to their families during the lockdown period. Many remained at work for months to protect wildlife and habitat.
In some countries, the downturn in tourist revenue meant conservation authorities were short-paying or not paying rangers at all. In others, the shortage of income meant funds were not available to buy fuel for patrol vehicles. We heard of rangers denied essential protective supplies, such as face masks and hand sanitizer, simply due to lack of money.
IFAW's Landscape Program went to work in partnership with government authorities and wildlife departments to ensure that rangers and law enforcement officers received all they needed to remain motivated and effective during the crisis. The international lockdown caused by COVID-19 created one of the greatest challenges ever to rangers tasked with protecting wildlife. During the lockdown they made enormous personal sacrifices. We thank them and we salute them.
Kenya and Tanzania
One of the priorities for IFAW is wildlife security in community lands in the larger Amboseli-Tsavo-Kilimanjaro (ATK) landscape straddling the Kenya-Tanzania border. In March 2020, COVID-19 lockdowns prohibited all non-essential movement and services in Kenya. As protectors of wildlife and habitat, and also as first responders in incidences of human wildlife conflict, the Olgulului Community Wildlife Rangers (OCWR) were declared an essential service by the leadership of the Olgulului Olalarashi Group Ranch (OOGR).
To ensure the safety of wildlife during this time, and to avoid the risk of COVID-19 transmission, the OCWR had to stay within the six ranger outposts for over four months without travelling home. Through the generosity of the European Commission and the TUI Care Foundation, IFAW remained steadfast in supporting the OCWR by providing salaries, rations, equipment, and personal protective equipment.
Malawi and Zambia
In Malawi and Zambia, the Combating Wildlife Crime (CWC) Malawi-Zambia Transboundary Landscape Project supports 120 rangers. The tailoring team based at Kasungu National Park made 1,540 camouflage masks that were distributed to all Department of National Parks and Wildlife (DNPW) rangers in Malawi. In addition, we distributed 400 COVID-19 personal protective equipment packs and supplied bicycles to community health workers so they could safely continue their work. Despite the lockdown, rangers continued to patrol the 7,000 square kilometer transboundary landscape with no reported increase in poaching. The elephant population in Kasungu National Park has more than doubled from 55 in 2015 to 115 in 2019. This has made it essential to refurbish the western boundary fence to keep people and animals safe, which is the project's next milestone.
camouflage masks distributed
packs of personal protective equipment distributed
the increase in the elephant population between 2015 and 2019
Zimbabwe
Victoria Falls, Zimbabwe, a main center for safari tourism, was particularly hard hit by COVID-19 closures. With many people left destitute and without income, the threat of an increase in poaching in the surrounding protected areas was very real. At the WIL-ZEN elephant release site in the Panda Masuie Forest, a short distance from Victoria Falls, an additional ranger base was established. Over a 12-week period, an additional 504 patrol hours were made from the base especially along the eastern boundary where there are human settlements. The entire staff was issued personal protective equipment and food to support the families of approximately 20 people who work as drivers, cooks, and maintenance workers.
At Hwange National Park, Zimbabwe's largest national park, IFAW supports Zimbabwe Parks and Wildlife Management Authority (ZimParks) rangers working in the Makona section, which is a known poaching hotspot. At any time, this 4,500 square kilometer area of the national park is patrolled by just 25 rangers, which is just one ranger per 180 square kilometers, far below the accepted standard of 1 ranger per 20 square kilometers. The impact of COVID-19 on surrounding communities was dire, greatly raising the risk of an increase in poaching.
IFAW is supporting ZimParks to provide operational support, including food provisions for patrols and fuel for rangers safeguarding the Makona sector. Over time support was expanded, enabling ZimParks to extend vehicle and foot patrols in the Sinamatella, Main Camp and Robins sections and surrounding communal areas. During the lockdown, IFAW support enabled ZimParks' vehicle patrols to cover an additional 3,230 square kilometers every month, greatly reducing the potential for poaching activity.
additional patrol hours over 12-weeks
additional square kilometers covered by patrols every month
conservation footprint in Hwange National Park
In late 2019, IFAW and the Zimbabwe Parks and Wildlife Management Authority (ZimParks) shook hands on an agreement to enhance wildlife conservation in the country renowned for its incredible commitment to conservation of biodiversity and its large elephant populations.
Our work with ZimParks addresses conservation challenges in the Hwange-Matetsi ecosystem, which covers the iconic Hwange National Park, Zambezi National Park, Victoria Falls National Park, and adjoining community areas. These areas are home to some 53,000 elephants and 600 lions and together form part of the world's largest conservation area, the 519,912 square kilometer Kavango-Zambezi Transfrontier Conservation Area (KAZA-TFCA).
The partnership spans a variety of conservation objectives, including developing on-the-ground law enforcement capacity to protect wildlife populations from poaching and working with communities to prevent human-wildlife conflict.
In Hwange National Park, our work focuses on Makona, a known hotspot for poaching due to the porous 150-kilometer boundary it shares with the neighboring Tsholotsho communal area. Keeping wildlife safe requires intense protection by a well-motivated and well-equipped cadre of rangers. IFAW's goal is to reduce elephant poaching in the landscape by 50% by 2023.
One of our first actions was to help ZimParks upgrade part of the Main Camp-Makona access road, a 40 kilometer stretch which was difficult to access due to deep Kalahari sands. Rehabilitating road infrastructure is a game changer in helping rangers respond swiftly to poaching activities. It also improves the tourism experience and this road will make it possible for visitors to explore new sections of the park that were difficult to reach before.
IFAW also provided ZimParks with a new tractor and trailer and two new 4x4 off-road vehicles to support anti-poaching efforts in Hwange. An additional two vehicles were refurbished to increase the law enforcement fleet. Rangers made some significant breakthroughs in their anti-poaching work, seizing 64 kilograms of ivory and arresting at least two poachers (one, a well-known local footballer, was jailed for nine years for illegal possession of eight pieces of unmarked raw ivory).
The partnership with ZimParks has thrived despite the challenges of the first year and we're confident that we will see long-term success and positive outcomes for animals and people in the landscape.
square kilometers, the world's largest conservation area
goal of reduction in elephant poaching by 2023
new off-road vehicle provided to support anti-poaching efforts
Stay in the know. Be ready to act.
You'll receive news, updates on activities and on future giving opportunities. You can unsubscribe at any time.