disaster response update: Hurricane Dorian animal rescue
Updated: Friday, October 11th
On Friday, October 11th, Wings of Rescue, International Fund for Animal Welfare, and GreaterGood.org will be flying Boxe, a mixed breed dog from Abaco, to National Jets in Fort Lauderdale, FL. Charlie Cornish is Boxe's owner and lived in Spring City, south of the Marsh Harbor airport. Charlie and his family were evacuated after hurricane Dorian, but unable to find Boxe when they left. The International Fund of Animal Welfare (IFAW) and American Humane worked together to locate the missing dog. A neighbor was feeding him and was able to assist.
After more than a month of being separated, Boxe will be reunited with his family at the airport. According to Wings of Rescue Vice President, Erin Robbins "we are so happy to be able to make this flight happen and get Boxe back with his family where he belongs."
Erin will be flying with Boxe today, with the flight scheduled to arrive at 4:00 P.M.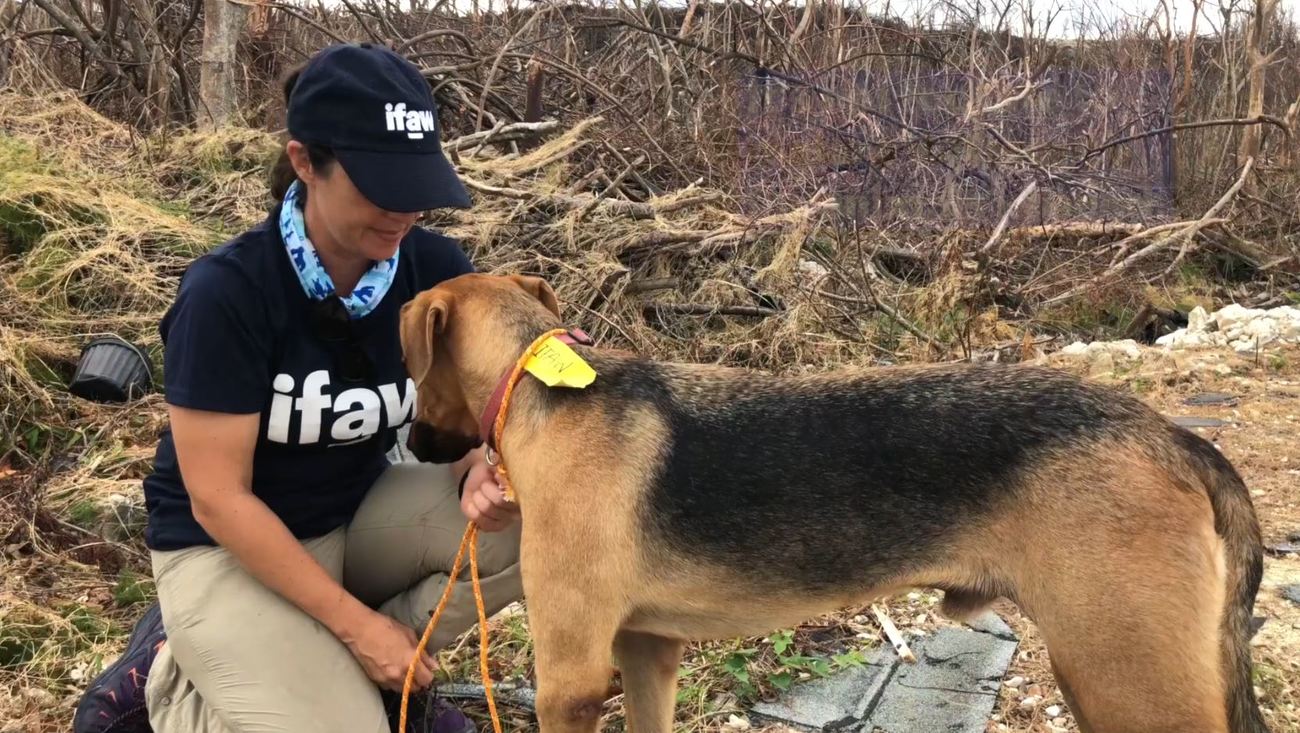 Thursday, September 12th, 2019
Our team remains on the ground in the Bahamas, working with the Dorian Animal Relief coalition to rescue animals from the hard-hit areas of the islands. We're responding to calls on our hotline and continue to reunite animals with their loving families. Recent rescues include Caddy, a bulldog mix who survived five days in the rubble following the hurricane. After receiving specialised care from our team, he was flown to Nassau where he is now resting safely until animal relief groups can locate his family.

Thursday, September 19th, 2019
As we enter week three of deployment across the Bahamas, momentum continues to grow. Our teams on Abaco and Grand Bahama islands are working in the hardest hit areas, rescuing displaced cats and dogs among the ruins. Across the islands, we're distributing food and supplies to communities who lost everything. Our Dispatch Center continues to receive calls from distressed residents, desperate to hear news that we've recovered their pet. We're doing everything we can to help those most in need, including securing flights to deliver rescued pets into the open arms of their owners.

Yesterday was a huge success for the team as we organised transportation off the island for surviving shelter animals. 71 dogs and 86 cats at the Grand Bahama Humane Society shelter survived the hurricane's path and urgently required relief from the wreckage. Thanks to the Andrew Sabin Family Foundation, the team was able to arrange a flight to transport the animals from Freeport, Grand Bahama to Fort Lauderdale, Florida. The dogs will be taken to HALO Rescue in Sebastian, Florida, while the cats will continue to St. Hubert's Animal Welfare Center in Madison, New Jersey to undergo health assessments before beginning the process of finding new homes.
The animals and people of the Bahamas have a long road to recovery ahead. Your donation today could help us rescue all animals in need and prepare for future disasters.

Tuesday, September 10th, 2019
IFAW is leading the international rescue and relief efforts for animals impacted by Hurricane Dorian in the Bahamas. We've partnered with key stakeholders committed to saving lives to create a coalition called Dorian Animal Relief (DAR). Our team is currently on the ground on Abaco and Grand Bahama to coordinate rescue operations with DAR members.
Our team on Abaco successfully set up a MASH (Mobile Animal Surgery Hospital) Unit, a facility where we can shelter rescued animals and provide urgent veterinary treatment. With winds of up to 185mph, the hurricane completely devastated communities and left hundreds of animals in need of rescue.
More than 1,000 residents evacuated the island with no option of taking their pets with them. Now they're trusting us to save their beloved animals. We created a Dispatch Centre where animal search and rescue teams continue to answer calls from owners and organise rescue missions.
While recently working on Abaco, our team came across a dog in dire need. Barely moving and suffering from severe dehydration, he required urgent veterinary care. Using a blanket as a makeshift stretcher, we placed the dog in the flatbed of our truck and rushed him to the MASH Unit. He will need long-term treatment and is currently resting with our team while we try to locate his owner.
Simultaneously, rescue operations on Grand Bahama have also begun. Our partners GreaterGood.org and Wings of Rescue are delivering lifesaving supplies for people and animals, in addition to transporting remaining shelter animals off Abaco and Grand Bahama islands.

Please check back for more updates from the field. Email Doriananimalrelief@gmail.com or WhatsApp text the DAR hotline at 242-427-7729 for all enquiries regarding:
· lost or found, injured or sheltered animals
· individuals or NGOs interested in volunteering time, supplies, vessels or planes
Check back soon for more updates. Donate today to help rescue and protect animals who need us most around the world.
Friday, September 6th, 2019
On Sunday, September 1st, Hurricane Dorian hit the Bahamas as a Category 5 storm. Over the following days, the hurricane swept across the islands and brought complete devastation to everything in its path. Intense rainfall and deadly flooding swallowed community structures and houses, forcing people to climb to roofs for safety. Downed power lines, trees and rubble now cover the islands.
As international relief groups continue to provide much-needed aid to the people of the Bahamas, IFAW remains on standby, ready to deploy when called upon. We will work closely with local government and our partners to provide boots-on-the-ground support to animals and wildlife in need.
Check back soon for more updates. Donate today to help rescue and protect animals who need us most around the world.