disaster response
disaster response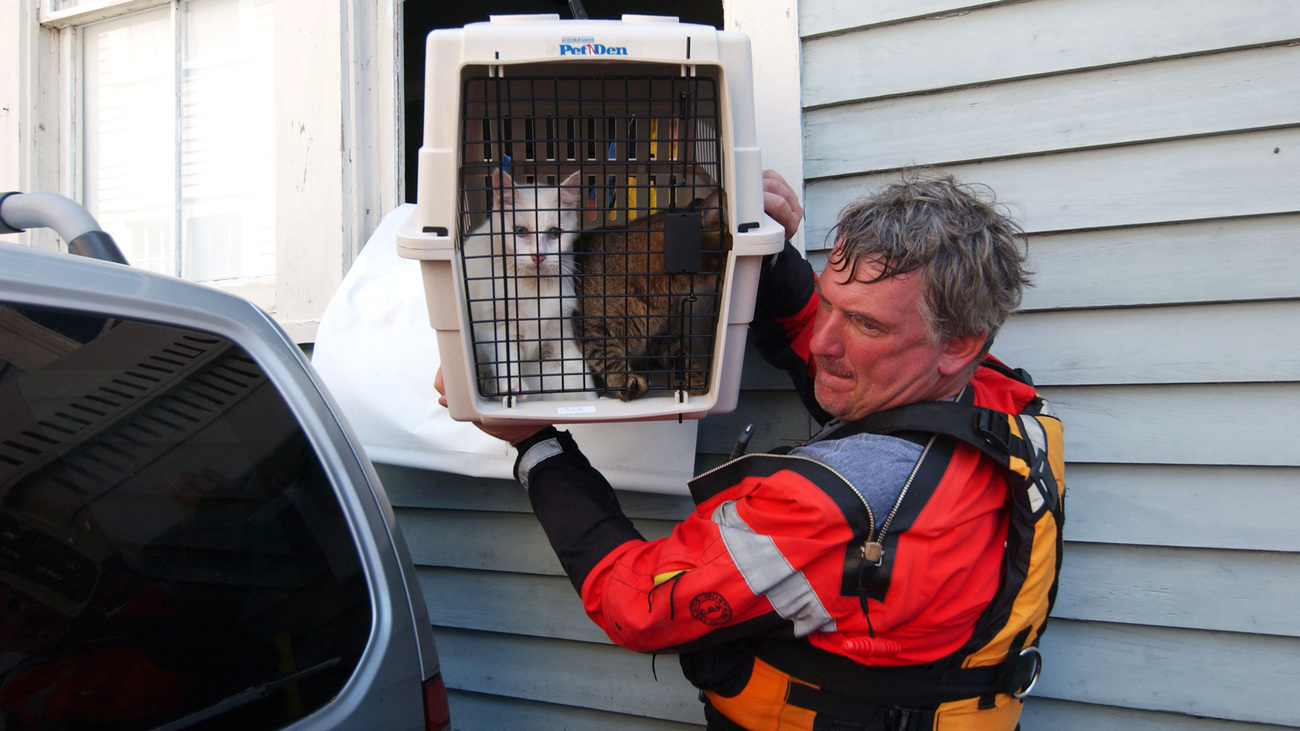 Disaster events continue to increase in both frequency and severity around the world, unleashing devastation at a level we have not seen before. Humans are not alone in facing the immediate and long-term effects of these ongoing disasters— animals share the same burdens.
IFAW has witnessed first-hand the escalating intensity and destructiveness of disasters, whether a hurricane, an earthquake or a wildfire; these events are devastating to both people and animals. Our team of dedicated and trained experts operates globally to offer immediate emergency support to rescue and care for animals when disasters hit and to keep animals and guardians together. We also work to develop resiliency planning and capacity building in high-risk communities.
Intense planning and expert communication can mean the difference between life and death for people and animals. We believe that a coordinated response is crucial in addressing the risk and impact of emerging disasters on animals in Europe. That's why in 2021, we set up the European Disaster Response & Risk Reduction team. This team will play a vital role in coordinating local stakeholders and advocating for the inclusion of animals in disaster preparedness and response plans.
Overall, in FY22, we helped more than 101,717 animals affected by disasters, including 5,780 refugee pets from Ukraine helped at the Polish border.

offering emergency support to rescue and care for animals in disasters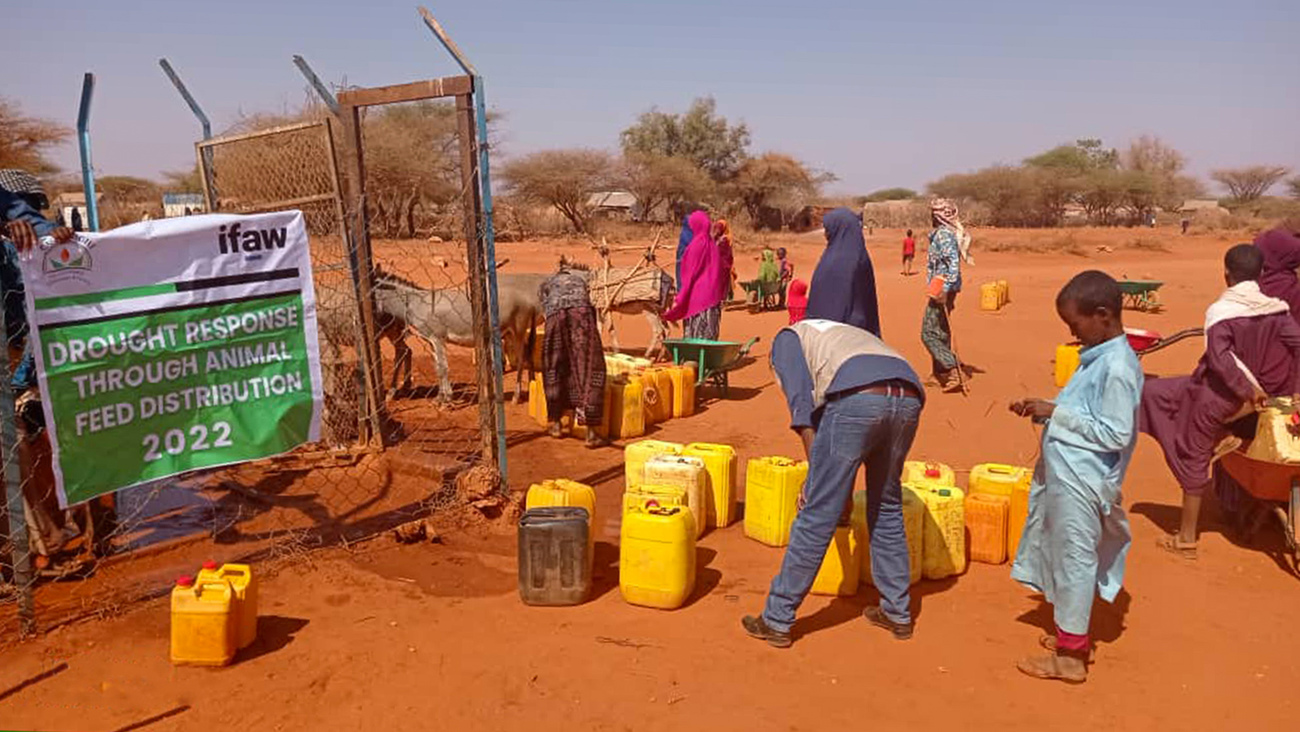 helping people and animals in drought-stricken Somaliland
After three consecutive failed rainy seasons, severe drought conditions displaced 810,000 people and decimated crops and farm animals in Somaliland in FY22. 59% of households reported they had lost all their farm animals, forcing them to abandon their livelihoods and move to towns, according to surveys carried out by the Horn of Africa Voluntary Youth Committee (HAVOYOCO) among people displaced by drought in the Togdheer, Sool and Sanag regions of Somaliland. Many animals died due to lack of pasture and water, while others were sold in desperation as pastoralists tried to raise enough money to support their families as food and water prices skyrocketed.
IFAW evaluated the dire situation in Somaliland and, together with local partner Candlelight, provided emergency water trucks for both farm animals and household consumption. Together we provided a total of 605 barrels of water (121,000 litres) for 300 people and 555 core-breeding small ruminants (sheep, goats, and donkeys) in the villages of Ceeg, Warcibran, Fiqi-ayub, Haji-Salah and Duruqsi in Somaliland.
Thin resources available to the local communities resulted in emergency-level acute food insecurity. With the help of Candlelight, IFAW hired five trucks, each transporting 162 bales of pasture forage to the project's target villages. The delivery ensured sustainability during the drought season and the survival of farm animals. Candlelight signed a Memorandum of Understanding (MoU) with each target village committee indicating their roles in helping us reach affected households.
rescuing animals in the wake of Hurricane Ida and supporting long-term community recovery
On 29 August 2021, the 16th anniversary of Hurricane Katrina, Hurricane Ida made landfall in Port Fourchon, Louisiana in the U.S., unleashing devastating high winds, life-threatening storm surges and widespread flooding. Within 24 hours of receiving a support request from the Louisiana Department of Agriculture and Forestry (LDAF), IFAW teams were en route to provide emergency support, including water rescue, temporary shelter and animal search and rescue.
We set up a 250-animal capacity temporary shelter for overflow dogs in the Terrebonne and Lafourche parishes. We also provided emergency grants to help more than 1,000 cats, dogs and community animals as they recovered from the tragedy.
To help communities recover in the long-term, IFAW supported Operation Whiskers, an initiative to address Louisiana cats still affected by Hurricane Ida. The project works to rescue owned and unowned cats affected by the storm, reunite lost cats with their owners, re-home cats that were once pets but which could not be reunited with their families and return sterilised and ear-tipped community cats. This multi-parish cooperation targeting 2,500 cats has been recognised as a unique approach to responsible management of cat populations in Louisiana.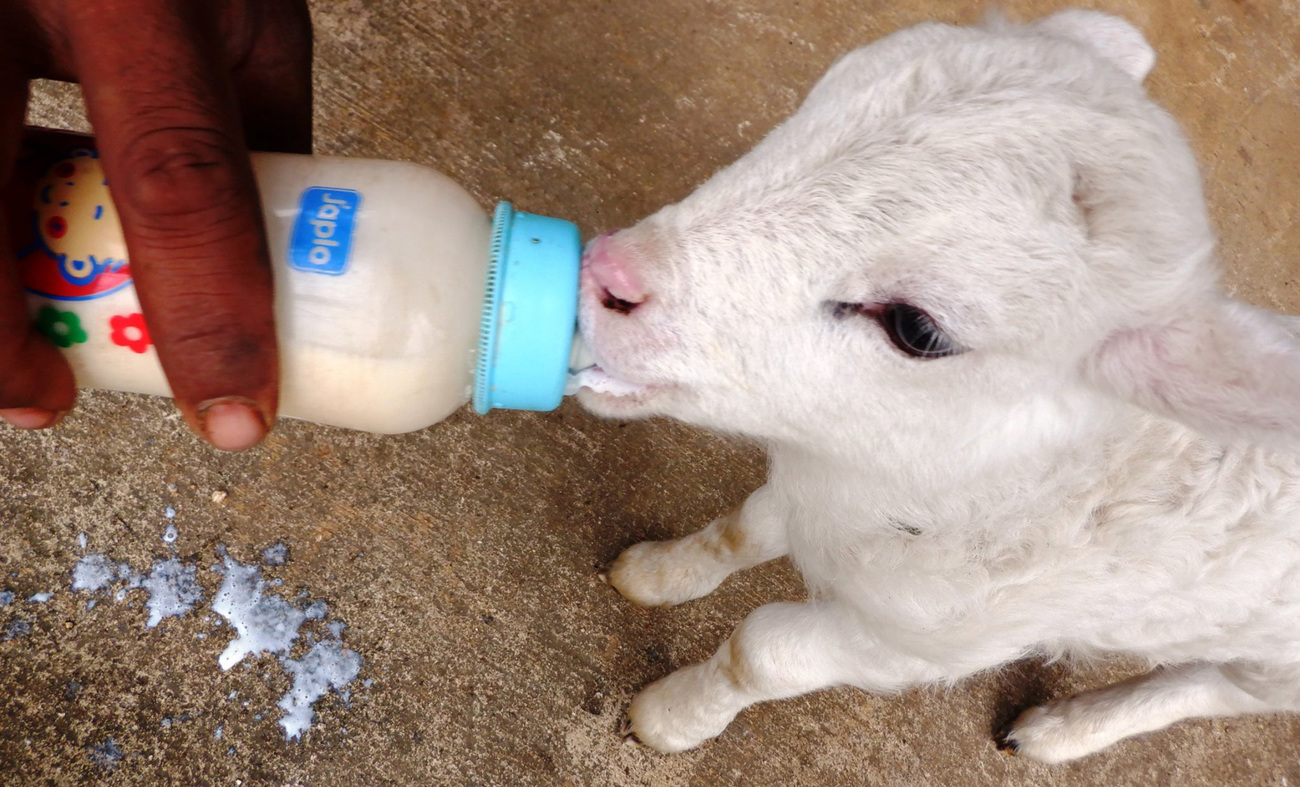 providing immediate support after a tsunami hit Tonga
When the eruption of an undersea volcano in January 2022 triggered a tsunami that devasted the Pacific nation of Tonga, IFAW immediately began assessing the situation and determining how to help. The tsunami and volcanic ashfall damaged the infrastructure of residences, roads, marine ports, energy and water supply, and undersea cables (phone and internet) that connect the island to the rest of the world. Islands like Atatā were almost entirely destroyed and the devastation left people, pets and farm animals extremely vulnerable.
We soon received word from our friends at South Pacific Animal Welfare (SPAW), a New Zealand charity that provides veterinary services throughout the South Pacific, that there was widespread tsunami damage. One clinic location was even displaced 80.5 kilometres inland from its location.
IFAW provided SPAW with emergency funding to support critical veterinary supplies for Tonga's animal community. This was a coordinated effort with the Tongan government to distribute three months of essential veterinary aid to Tongatapu and the outer islands. Officers from the Ministry of Agriculture, Food and Forests (MAFF) and local volunteers were vital in ensuring that veterinary supplies were delivered where they were needed most. IFAW's grant helped between 3,000 and 4,000 animals, including dogs, cats, farm animals, chickens and more.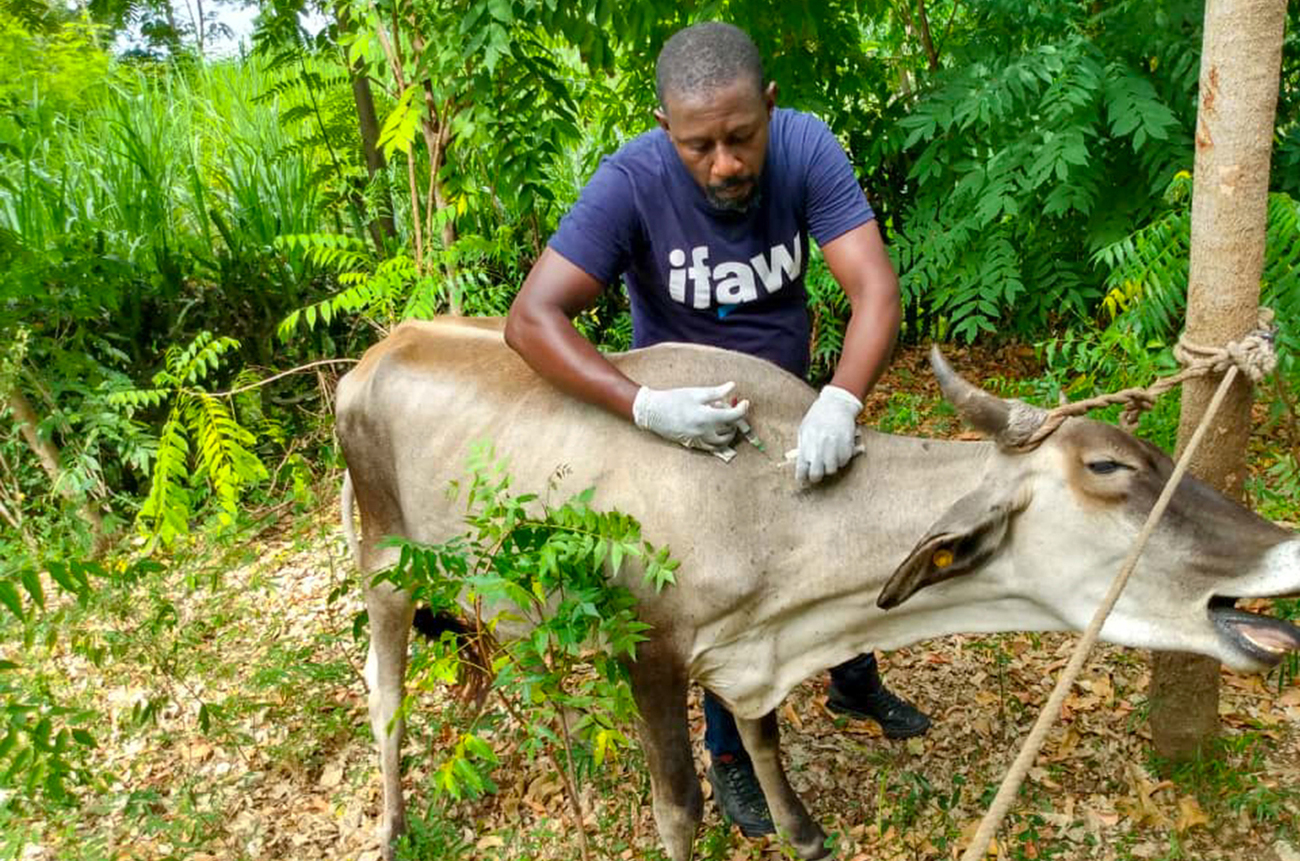 providing emergency relief after disasters hit Haiti
A 7.2 magnitude earthquake struck the country of Haiti and the surrounding region on Saturday, 14 August 2021. IFAW immediately contacted our local partners to assess the damage to their communities and we rushed aid to help provide safe shelter and food for animals and people affected by the earthquake and aftershocks.
Our local partners in Haiti set up several veterinary care stations in the Les Cayes area—which was the hardest-hit region. The clinics provided critical veterinary care for animals affected by the earthquake and tropical storm Grace. In total, IFAW teams provided care to 5,367 animals, including farm animals, goats, sheep, horses, donkeys, dogs, cats and pigs. IFAW previously worked with local partners following the 2010 earthquake and several disasters since.
Even as disaster response efforts were underway in Haiti, our rescue teams responded to additional disasters. In Mexico, Grace hit Tulum and Playa del Carmen as a category 1 hurricane. IFAW's veterinarian Dr. Erika Flores and her team helped secure animal shelters and clinics ahead of the storm and supported local rescue and recovery efforts. And on Cape Cod in the U.S., our Marine Mammal Rescue team prepared for an emergency response with tropical storm Henri.
of response-related requests from 20 different countries were supported by IFAW
animals helped that were affected by disasters
refugee pets helped by IFAW responders at Polish border crossings
Ukraine refugees hired as IFAW responders
authorities having jurisdiction in 8 countries engaged in animals in disasters planning
animal rescue network team members trained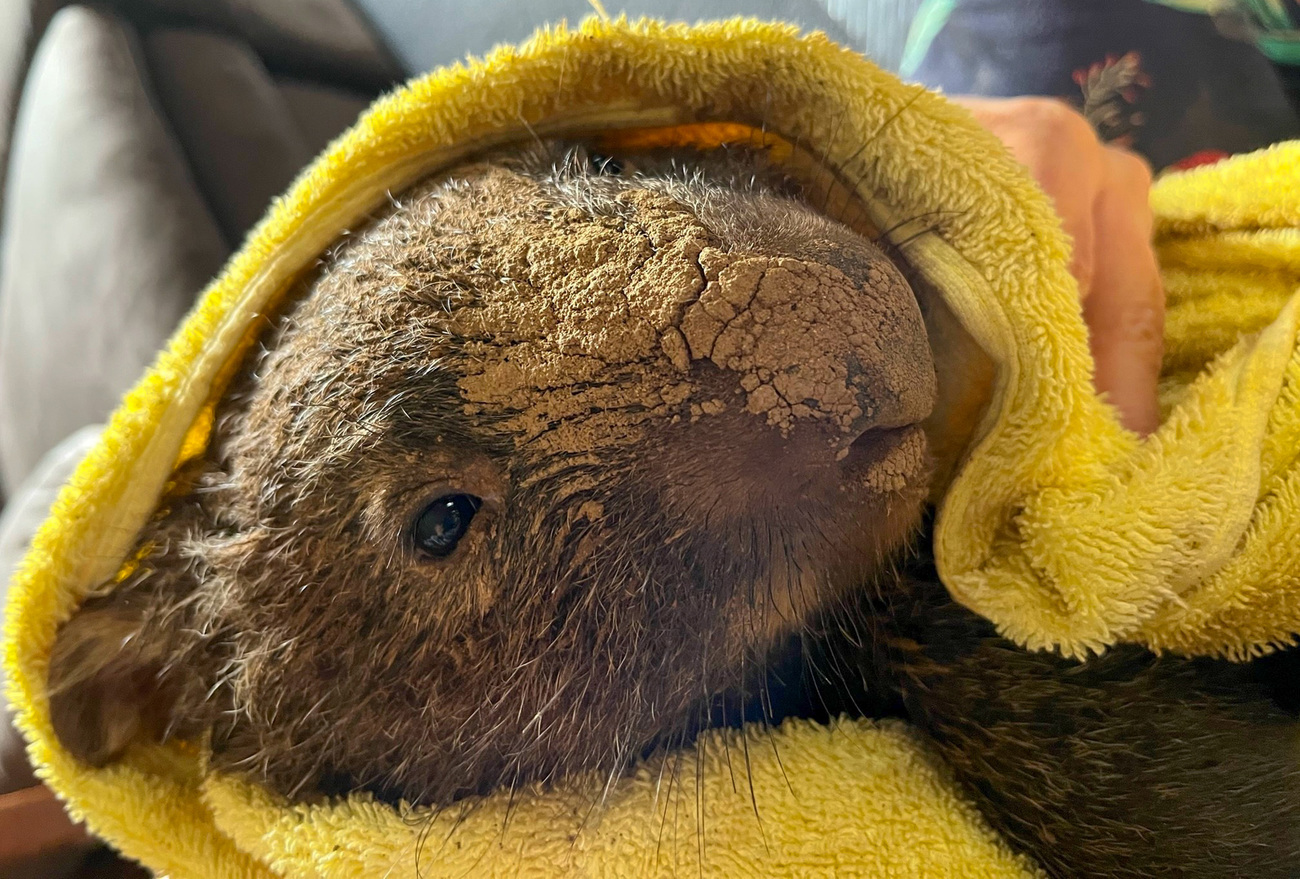 emergency support for flood-impacted wildlife
Between early 2021 and mid-2022, parts of eastern Australia suffered through three devastating floods. Some areas in New South Wales (NSW) were affected every time. Some of these areas were also devastated by the Black Summer bushfires of 2019–20.
Australia's iconic wildlife has barely had the chance to recover from prolonged drought, catastrophic bushfires, and now several record-breaking floods.
IFAW provided vital assistance to more than 10 wildlife rescue groups and carers across NSW and Queensland (QLD). We provided critical life-saving resources including enclosures, food, supplements, equipment such as generators, water pumps, heating, heartbeat stimulators, and medical supplies.
In the lead-up to these flood events, the IFAW team contacted wildlife carers and rescue groups to ensure they had plans in place and were prepared should they need to evacuate. We continued to share our disaster toolkit and offer workshops on how to create and put in place evacuation plans because we know being prepared saves lives.
IFAW worked with Sleepy Burrows Wombat Sanctuary in southern NSW to help them rebuild but also to become better prepared after they were heavily impacted during one of the flood events in FY22. Burrowing animals such as wombats are some of the most heavily impacted during floods because their homes become filled with floodwaters and mud.
We provided critical resources for the sanctuary to build 12 portable shelters with recycled materials which can be moved to higher ground during a flood or other emergency. The sanctuary was impacted by more flood events throughout FY22, and this simple yet effective resource was used by the wombats in care - saving more lives.
The floods also had a significant and devastating impact on landscapes and vital wildlife habitats. We furthered our already existing partnership with the Great Eastern Ranges to implement a suite of flood recovery projects to help communities and habitats rebuild, recover and develop resilience against future disasters.
Australia has been experiencing first-hand how climate change is increasing the intensity and frequency of extreme weather events and the impacts have been relentless for communities and wildlife. IFAW is committed to working with local groups and carers to ensure they are prepared before disasters hit and to help them, and the animals in their care, recover.
---
IFAW thanks all our donors, supporters and partners around the world who enabled our impact in the area of disaster response in FY22, with special acknowledgment of:
The Walt Disney Company
Rescue & Recover Fund by BNP Paribas
Chief Veterinary Office of Poland
Candlelight
South Pacific Animal Welfare
---


Disaster Response in Oceania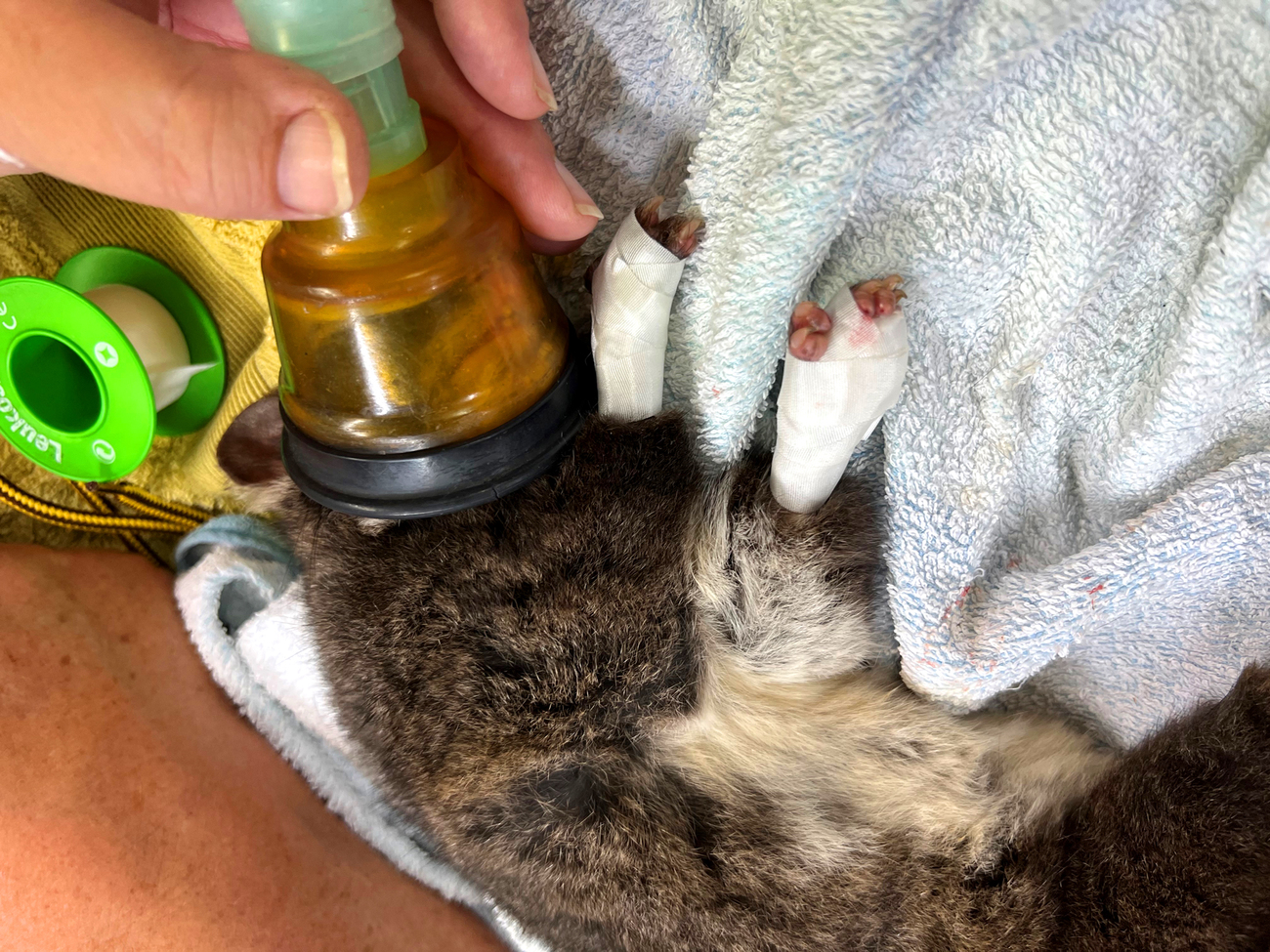 giving critically endangered animals a second chance amid bushfires
For several months, parts of Western Australia experienced record-breaking heatwaves and catastrophic bushfires. The impact on wildlife was devastating – many were dehydrated, distressed and severely injured, suffering burns from the hot ground.
IFAW reached out to its network of wildlife rescue groups in the area to offer immediate assistance and vital resources. One of these groups was volunteer organisation FAWNA Inc, which was inundated with severely injured and distressed wildlife in the South West region of Western Australia.
IFAW engaged specialist wildlife vet, Dr Shan Siah, to work with FAWNA Inc to give injured animals timely assessments and if needed, immediate specialist treatment and relief from suffering.
Dr Siah helped rescue and treat 45 critically endangered western ringtail possums. Sadly, seven were too severely injured to be saved, but the remaining were rehabilitated and released back into the wild as a result of the timely veterinary care received.
Through IFAW's support, 38 critically endangered animals were given a second chance at life and the suffering of many others was reduced.
---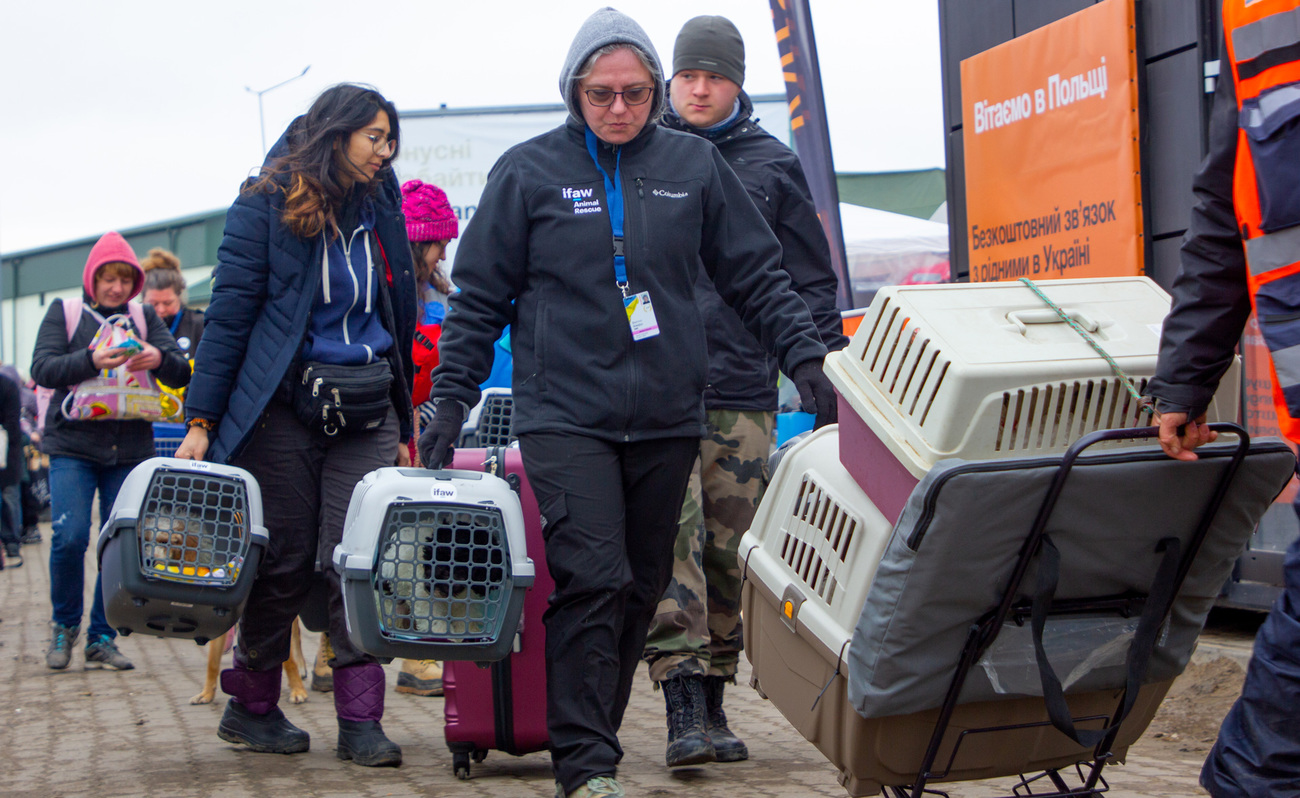 emergency help and long-term recovery for animals and people in need in Ukraine
IFAW worked with partners in Ukraine during the 2014 Crimea crisis, and we stood by those same shelters when Russia invaded in February 2022. Through our strong partnerships, we were able to rapidly expand our emergency response efforts in Ukraine, Poland and neighbouring countries. We connected with government and veterinary authorities to discuss their needs and we supported zoos and sanctuaries with evacuating and transporting wildlife into safer areas.
Our disaster response team deployed to Poland for two months between March and May 2022 to manage the only animal service station, the so-called 'blue tent', at Medyka, the busiest border crossing point with Ukraine. Our responders, veterinarians and volunteers at the tent worked nonstop to help refugees and their pets. In 8 to 12-hour shifts, they provided 24/7 access to pet food, triage veterinary care and animal supplies. Many people told us how grateful they were to be received with empathy and compassion, and that we alleviated some of the worry about their furry friends.
One of these people was 31-year-old Alina Beskrovna, a brave Ukrainian woman that escaped a basement in Mariupol, a Ukrainian port city nestled between Crimea and Donbas. She, her mother and her three cats had been stuck there for five weeks before they were able to escape, embarking on a challenging six-day journey past 16 Russian control points that would finally take them to the border crossing, where IFAW was able to provide some relief for them.
In total, 43 IFAW responders, including seven veterinarians, deployed to greet and care for refugees and their pets as they entered Poland and began the next part of their journey. Our responders came from all over the world to help: Germany, France, the Netherlands, Belgium, the United Kingdom, Australia, the U.S., Mexico and Costa Rica.
We also supported Ukrainian veterinarians who assisted refugees and their pets entering Poland via the Przemyśl train station until late June 2022. In addition, we've issued over 40 emergency grants to support animal rescue and relief efforts—both inside Ukraine and in other countries. We continue to receive requests for support and we work closely with each grantee to ensure their needs are met and that as many animals as possible are helped.
We are grateful to everyone. We really want peace. We are extremely tired mentally and physically. You are there and we feel it. THANKS! 10,000 times THANK YOU to everyone!

Partner shelter in Ukraine

In the first 100 days of the war, IFAW directly helped more than 42,000 companion animals (most of which were cats and dogs) and wild animals like bears, bats and tigers. In addition to helping animals in crisis, we also supported the incredible families and caretakers of those animals.
IFAW is grateful for the generous support we've received from around the world during the war in Ukraine. This generosity has allowed us to continuously provide critical aid such as veterinary care, animal food, emergency funds and pet supplies where this aid is needed most. Thanks to this generosity we are also able to make a multi-year commitment to help animals and people in Ukraine. When the war began, the recovery phase was outlined alongside our emergency response phase. When the time comes, we will move into the recovery phase during which we will focus on improving animal welfare standards and practices, as well as building more resilient facilities, systems and wildlife habitats.
Stay in the know. Be ready to act.
You'll receive news, updates on activities and on future giving opportunities. You can unsubscribe at any time.