how IFAW is helping animals and people during the Ukraine crisis
how IFAW is helping animals and people during the Ukraine crisis
IFAW responds to destruction of Ukraine's largest dam
In the wake of the destruction of Ukraine's largest dam, IFAW is helping our partners in the neighboring region of Mykolaiv, to which many people and animals have fled due to flooding.
>>> Follow the latest updates on our response here.

feeding, bedding, and treating animals in need
29 May 2023
IFAW continues to provide emergency relief and funds to help the Ukrainian people and their animals impacted by the ongoing war. These are some of our most recent and upcoming activities:
Providing beds and vet services for pets in Mykolaiv: During the winter period, IFAW supported Mykolaiv Red Cross in providing 374 families with insulated beds for 900 animals. In May and June, Red Cross in Mykolaiv will be providing veterinary care for pets from displaced and resident families, whose accommodation was damaged during the war.
Treating animals with war-related injuries: To date, support from IFAW has enabled Nova Ukraine to help nearly 12,000 animals. In addition to providing food for shelters and animals of families in need, IFAW funds are helping Nova Ukraine create mobile accommodations for animals at shelters and rescue centers. Nova Ukraine's local partners treating rescued animals include Alden Vet Clinic, the Step Up rehabilitation center, and Animal Rescue Kharkiv.

Supporting the local economy and delivery of free pet food: In March 2023, IFAW began purchasing directly from Kormotech—Ukraine's largest pet food manufacturer—as part of a strategic partnership to maximize capacity to deliver food to shelters and families in need. IFAW purchased 3,508 kilograms of pet food (7,734 pounds) from Kormotech in March, which was delivered to 227 cats and 51 dogs in the Lviv region. In June, IFAW plans to purchase around 50,000 kilograms (110,000 pounds) of pet food and distribute it among shelters and families located in frontline regions like Mykolaiv and Kharkiv, and regions which host many displaced families and pets.
Evacuating wildlife and supporting rescue centers: IFAW supports zoos, sanctuaries and rescue centers with emergency grants and animal welfare advice for the evacuation and transportation of wildlife into safer areas, both inside and outside of Ukraine. To date, IFAW has rescued 14 wild animals from Ukraine: 11 big cats (two caracals, one leopard, and eight lions), one wolf, and two brown bears. We are currently working with Wild Animal Rescue and UAnimals in Kyiv to evacuate another 14 big cats from Ukraine and transport them to Poznań Zoo in Poland.

Led by wildlife rescue field officer Natalia Gozak, we recently assessed and signed grant agreements with several wildlife centers, which take care of big cats, bats, hamsters, birds, and captive wildlife rescued from illegal trade.
Veterinary services for owned and shelter animals: IFAW and USAVA work together to provide free vaccination, chipping, and sterilization for pets from displaced and resident families and for shelter pets in the cities of Kyiv, Lviv, Dnipro, Kharkiv, Odessa, and surrounding areas. USAVA has partnered with 18 veterinary clinics in those cities to provide veterinary care onsite. By the end of March, over 14,400 animals were vaccinated, 14,900 were chipped, and 2,100 were sterilized.

---
IFAW has been helping animals threatened by the intense conflict in Ukraine since February 2022. Thanks to overwhelming support from people around the world, IFAW's work and that of our partners continues to make a difference for the animals and people impacted by the war in Ukraine and around the world.

---
timeline of updates from Ukraine >>

more than 500 bats rescued in northern Ukraine
April 6, 2023
Ukraine 1 year on: more than 103,000 animals saved
February 22, 2023
20 Ukrainian volunteers receive award for saving animals during the war
February 14, 2023
delivery of feed keeps 150 horses alive in Ukraine's Mykolaiv region
February 3, 2023
keeping animals warm this winter
December 21, 2022
rescued cubs from Ukraine arrive safely at their forever home
October 27, 2022
bat rescue and rehabilitation continue despite war
October 10, 2022
veterinary surgeon who treated pets of refugees during Ukraine war joins ifaw
October 3, 2022
free vaccinations for 20,000 pets
September 26, 2022
ifaw has helped more than 75,000 animals in Ukraine over the past six months
September 9, 2022
how ifaw helped feed Dobby and other animals
August 30, 2022
'We're helping people through animals. That's what we're doing'
July 9, 2022
Our "blue tent" closes, but the work continues
May 31, 2021
ifaw on CNN International's "First Move with Julia Chatterley"
May 10, 2022
A testimonial from Viktoria
April 27, 2022
Helping refugees and pets at the "blue tent"
April 26, 2022
Supporting a bat rehabilitation center
April 13, 2022
Alina's story
April 6, 2022
Managing an animal service station at the border
April 1, 2022
Refugee stories from the border
March 25, 2022
Helping Ukrainian refugees and animals at the Ukraine-Poland border
March 19, 2022
Shelter destruction in Berdyansk
March 17, 2022
IFAW deploys to Poland
March 13, 2022
Supporting a bear rehabilitation center
March 8, 2022
Caring for wildlife at the Poznań Zoo
March 4, 2022
A grant to World Central Kitchen
March 3, 2022
Shelter partners in Ukraine receive emergency funds
March 2, 2022
Shelter damage in Gorlovka
February 28, 2022
Preparing to rush emergency aid to Ukrainian shelter partners
February 25, 2022
2015 footage: IFAW supports Shelter Pif in Donetsk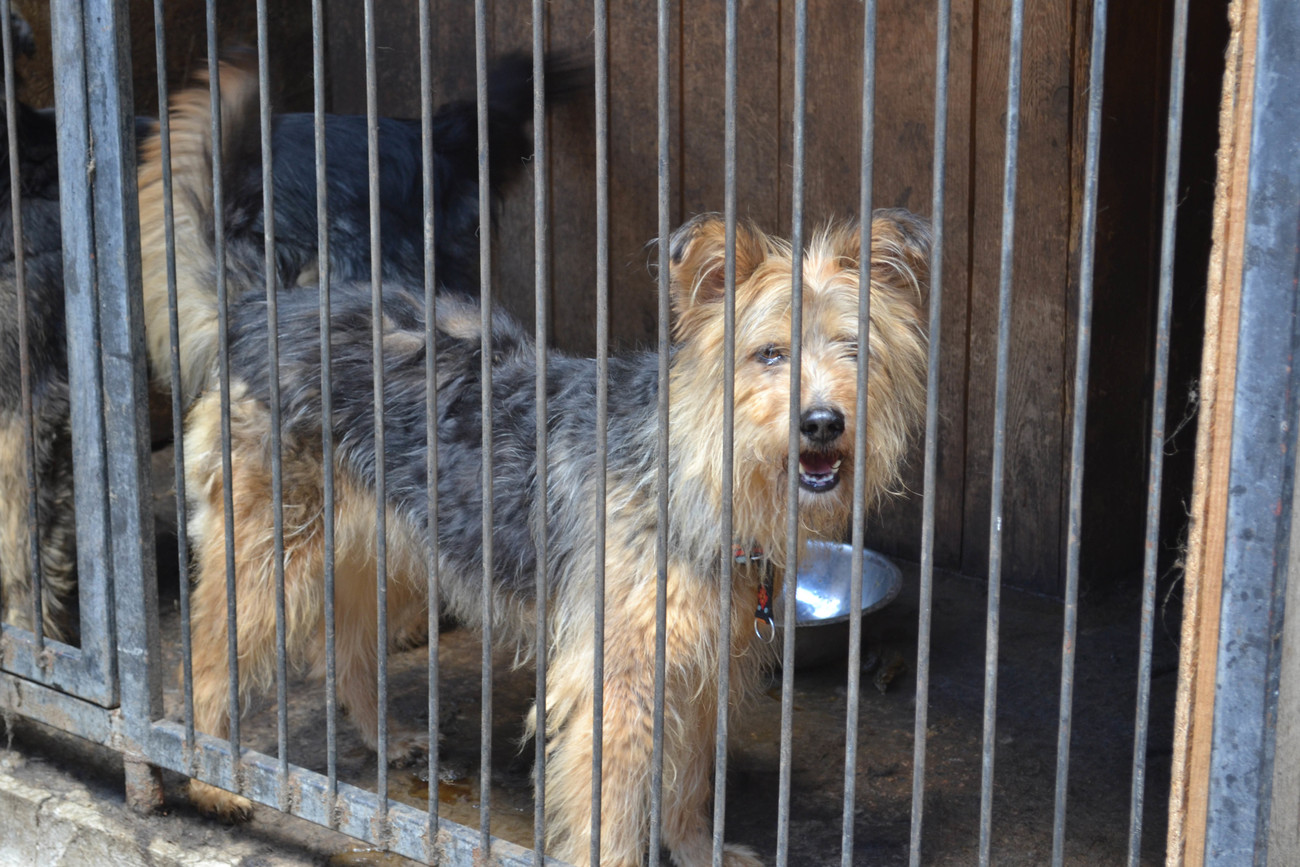 IFAW is committed to providing several months of animal food and veterinary supplies, and our emergency grant will also support operational costs for staff and volunteers as they continue to care for their shelter dogs.
IFAW first developed close partnerships with these shelters in 2014 when Russian troops invaded the eastern region of the country. We partnered with each shelter to provide critical support as they slowly rebuilt their homes, shelters and lives.
All too often, animals are the voiceless victims of conflict, and these shelters need our support now more than ever.
To see a list of resources for families fleeing Ukraine with their pets, click here.

Our work can't get done without you. Please give what you can to help animals thrive.
Donate now
IFAW affiliates are registered as tax-exempt nonprofit organizations in several countries. Depending on where you reside, your donation may qualify for a tax deduction or benefit. See the pull-down menu at the bottom right of this page to see how IFAW operates in your country.