fostering a generation that protects wildlife in Morocco
fostering a generation that protects wildlife in Morocco
As part of the Born to be Wild project in Morocco, we are visiting fifth and sixth graders at the schools around Ifrane National Park to help students better understand the importance of protecting Barbary macaques. Found in Morocco, Algeria, and Gibraltar, these endangered primates face a handful of threats that have caused populations to plummet. Habitat loss and poaching of babies for the exotic pet trade are the two biggest threats against Barbary macaques. Additional dangers emerge from poor management and handling of these animals due to the lack of understanding of their behavior, wellbeing, and importance to the ecosystem as a whole.
Importance in the ecosystem
Barbary macaques have greater value alive in the wild than in captivity. The macaques generate income for Morocco through tourism and they benefit the ecosystem by spreading the seeds in the forest. This is the main message we share during our visits to the schools. We tell students about the stillbirths experienced by mother macaques as a result of obesity due to being fed unnatural food in large quantities by the tourists. Our team highlights stories about the baby macaques we lose to poachers as a result of the habituation of these wild animals as park visitors neglect safe distance keeping rules. Lastly, we explain to students how these animals live in groups and suffer greatly when they lose one another to a poacher or car strike in the park.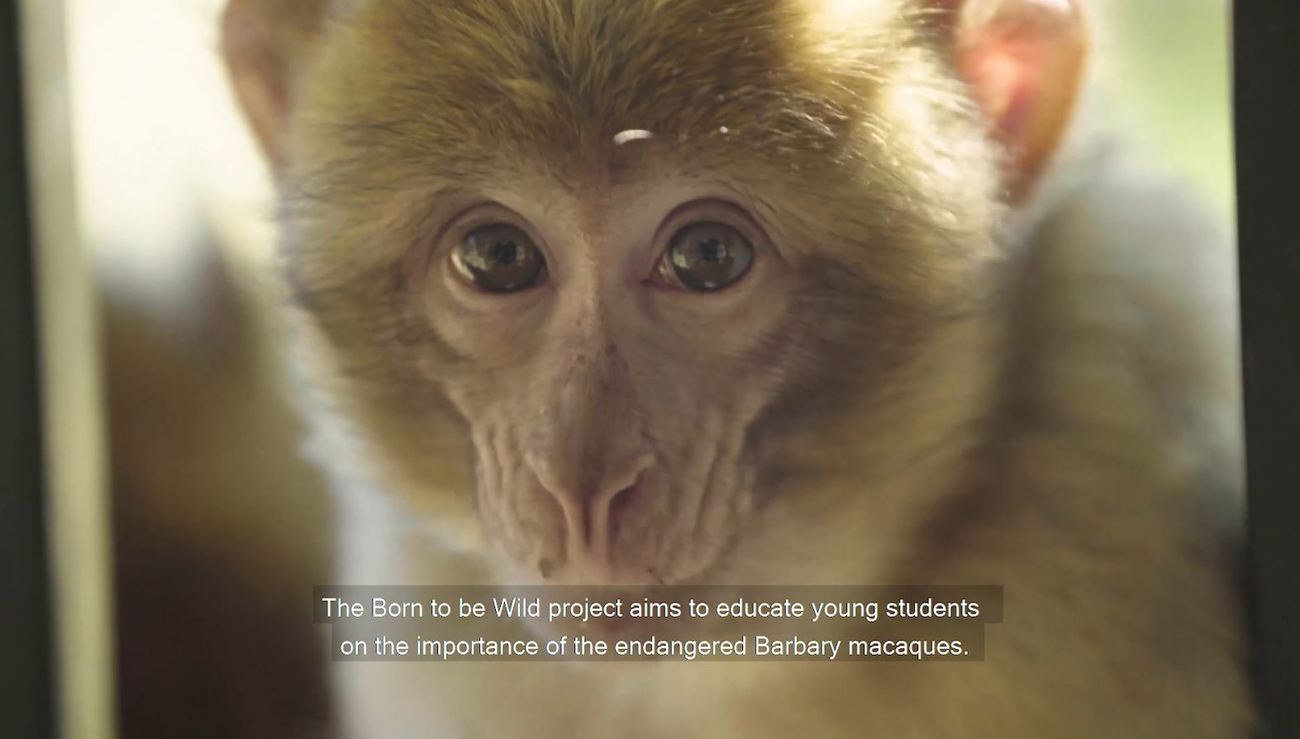 Inspiring compassion and spreading awareness
To carry out these visits and guarantee the full understanding of our messages to the students, we join forces with a group of motivated local volunteers. These trained individuals share educational materials with the children that include a short documentary in Arabic and Amazigria, a fun presentation repeating key messaging, and giveaways to encourage an ongoing appreciation for wildlife in Morocco.
The young children tend to imitate what they see and as they grow, they pass their learnings from one generation to the other. Changing the attitude of the generations to come is definitely a challenge underlying cultural aspects that are often difficult to address. Nevertheless, it is time to stand up and highlight that just because we have been doing something for many years, does not make it right. We need to encourage and welcome positive change to save more animals and people around the world.
Born to be Wild is a project ensuring the sustainable protection of the endangered Barbary macaque. The project is initiated and funded by AAP Animal Advocacy and Protection and is executed together with IFAW, in close cooperation the Department of Water and Forests in the Kingdom of Morocco.
-Kinda Jabi, Communications Officer, MENA

our work can't get done without you. please give what you can to help animals thrive.
donate now
IFAW affiliates are registered as tax-exempt nonprofit organizations in several countries. Depending on where you reside, your donation may qualify for a tax deduction or benefit. See the pull-down menu at the bottom right of this page to see how IFAW operates in your country.