Animal Action Week: Get Your Free Education Pack and Video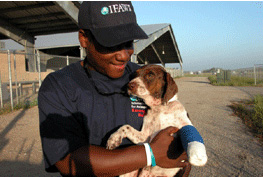 Welcome to Animal Action Week! Natural and human-made disasters affect the lives of thousands of animals and people every year. This year's theme is "To the Rescue! Emergency Relief for Animals."
Day 1: Get Your Free Education Pack and Video
Get your school or youth group to join in. We have free thematic educational materials that are ideal for students of many ages. The middle school pack, designed especially for US students in grades 5 - 9, includes a 16-page classroom guide, DVD/video and large fullcolor calendar poster.
For elementary students, we have a Poster Guide to meet standards for grades 3 and 4. It features a teacher's guide and reproducible student activities panels on one side and a large full-color calendar poster on the other.
View the video and download the packet
Learn how you can prepare your family for a disaster! (in PDF)