Spotlight Amboseli: elephant adoption drama update
Back in August, we were amazed by Elfrida's adoption of a female calf, who just appeared with the family.
Over the following weeks, everyone in the ATE team was keen to follow the calf's progress. Initially, she did well, competing successfully with Elfrida's own daughter, gaining access to suckle.
In a good rainfall year, as Amboseli experienced, we thought she might even make it.
Elfrida's own calf was very distressed by the "interloper"; I noticed she was often secreting from her temporal glands, which is a sign of both excitement and stress in elephants.
Over the weeks, despite her being the larger and more robust calf, I never saw Elfrida's daughter playing or exploring as her age-mates do. Instead, she became more and more clingy.
By September, she was never more than a metre from her mother, and was suckling almost continuously.
It became clear that she could not cope with her mother suckling another calf, and her strategy was to become almost permanently fixed on the breast.
With access to milk blocked, the adopted calf started to lose weight. At around eight months old, she was eating some vegetation, but it wasn't enough to sustain her.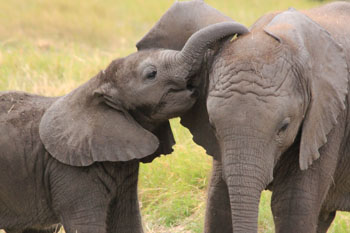 The last time I saw her, I could see her cheekbones protruding, which is always a danger sign for elephants. Then sadly, she disappeared. She had been with the EAs for almost a month.
Elephants are extraordinary creatures, and I wanted this little female to survive, to provide another wonderful story of elephants' flexibility and their care for one another. It was depressing to realise that she hadn't made it.
We will never know what circumstances separated her from her family, but it would have been wonderful to see her raised by the EAs.
The fact that they cared for her at all is remarkable. And I had to remind myself that not every baby elephant can survive to be an adult, even without the odds stacked against them, as they had been against this little female.
I was working with the other study families and didn't spend time with the EAs for a while, but then one of Elfrida's older daughters, Eltonin, gave birth. When I went to check on them, I was startled by the transformation in Elfrida's youngest calf.
Eltonin's female calf was particularly active and playful, although she was only a few days old at the time, and Elfrida's calf was her keenest playmate and co-adventurer.
While I am sad the adoptee didn't make it, it is good to see Elfrida's daughter feeling secure again, and is a poignant reminder of the value of the mother-calf bond.
This is how elephants should grow up; secure and trouble-free, with playmates that become life-long friends. In years to come, these two females should raise their first calves together. But first, there are many exciting adventures to be had, under Elfrida's watchful eye.
--VF