Humpback whale research project touches down in Zanzibar
These posts are occassionally filed by members of the Zanzibar Humpack Whale Research team led by Dr. Per Berggen. This particular post was filed by Kristin Öhman, this year's Field Principle Investigator. -- ED
It's hard to believe it's been eight months since Zanzibar Humpback Whale Research Project team last conducted surveys in the waters of southern Zanzibar but, after much anticipation and planning, the team is back in Kizimkazi-Dimbani!
Most of us arrived a week ago and from the get-go have been busy, busy sorting out permits, stocking the house with food and supplies, organizing research equipment, training new team members and looking at a site for land-based surveys for a pilot study we will conduct this year.
This has been a very productive week and we even completed four boat surveys. The boat surveys are conducted to study the occurrence and behaviour of the humpback whales arriving here, for breeding and mating, from the waters of the Antarctic where they spent the winter feeding!
This year the research team consists of three returning and three new research staff and students: Kristin, will once again be the Field Principle Investigator (her fourth season!); Kyla, will be a research assistant (her second season) and will take over for Kristin when she leaves in August, and Yussuf, is returning as one of our local Zanzibarian research assistants (his second season).
Yussuf graduated from the University of Dar Es Salaam last year and currently works with the Institute of Marine Sciences in Stonetown and we are very happy to have him back!
In addition to the returning staff, we welcome four new assistants for 2012 including: Nat (Nathaniel Stephenson) and Lynne Payne, two, undergraduate 3rd year students from Newcastle University; Khamis, another Zanzibarian student from IMS; and, in mid-August, Jessica, will be joining us as a research assistant until the end of the season.
Additionally, the research team we will be working with our local captains, Khamis and Foum, again. Khamis has been working with the project for 15 years now and Foum 5 years and we are lucky to have them with us for another humpback whale research season!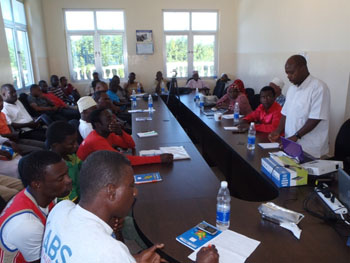 The project's Principle Investigator, Dr Per Berggren of Newcastle University, also arrived last week to help with project start-up, help the new students settle in and to organise and participate in a workshop on whale fisheries by-catch mitigation and development of best practice for whale watching activities at the Menai Bay Conservation Area offices here in Kizimkazi-Dimbani.
The workshop ran for two days and included presentations and discussion on increasing the use of weak links on fishing nets (to reduce whale by-catch), developing a commercial whale watch industry in addition to dolphin watching, and the development of regulations for both whale and dolphin watching activities.
Overall, Per was very pleased with the workshop and felt the issues discussed were heading in a positive direction.
-- KO