Fate of Zak and Mika, two seals in a Canadian aquarium, hangs in the balance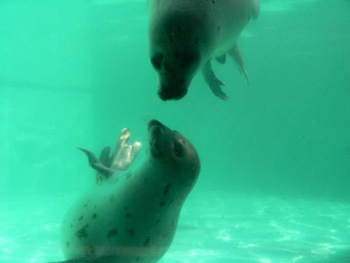 This is the story of Zak and Mika, two young harp seal pups that have captured the hearts of hundreds of thousands of people around the world. In March of this year, Zak and Mika were taken from the wild as whitecoat pups by the Canadian Department of Fisheries and Oceans (DFO) and provided to the Aquarium des Iles de la Madeleine in Quebec to display during the summer.
Word recently got out that Zak and Mika were to be destroyed at the end of the tourist season, and animal lovers around the world were outraged. In just over a week, over 130,000 petition signatures had been gathered, asking Canadian Fisheries and Oceans Minister Keith Ashfield to spare the lives of Zak and Mika, and allow for their release rather than sentence them to death.
When IFAW was alerted to the story, we immediately began making calls. I first asked the Ministry of Fisheries and Oceans why Zak and Mika could not be released. At first glance, both reasons given seemed reasonable. First: there was concern that the captive animals could have picked up a disease from humans or domestic animals. These diseases could then be spread to wild seal populations (or other species) with potentially disastrous effects. The second reason given was concern over whether the seals would be able to survive in the wild. Zak and Mika were captured just after weaning and would never have learned to feed themselves. Harp seals are a migratory species, and with the majority of harp seals currently much further north (although DFO estimates that about 5% stay behind each year) there was uncertainty as to where the seals would go when their migratory instinct – having been repressed by their 6 month stay in an above-ground swimming pool – was finally allowed to be expressed. Finally, there was a chance the seals would be habituated to humans after spending 6 months in captivity, which may result in behaviours that could end up getting them killed.
Let's be clear, IFAW does not wish to infect wild populations with exotic diseases, nor do we wish to see seals released only to die a slow death of starvation. Clearly neither situation is in the animals' best interest.
But there are some problems with the DFO response. First of all, a press release from the Aquarium des Iles notes that they have been releasing harp seal pups at the end of the season for over 25 years. Did the DFO really expect us to believe that the other 48+ seals were deemed sufficiently disease-free, and smart enough to learn to survive on their own, that there were no concerns for their welfare… but that suddenly these two would have little chance at survival?
In discussions with rehabilitation facilities on both the East and West coasts of Canada who have generously offered their support and assistance in this matter, we learned that seals can be - and are - successfully rehabilitated and released. There are, of course, concerns to be addressed – the animals must be deemed in sufficient physical health and husbandry for this to occur, and the Aquarium des Iles (who now "owns" the animals) and the Department of Fisheries and Oceans (who issues release permits) would have to give their permission. It would also need to be ascertained that this was in the best interests of the animals' welfare and that it would not threaten the conservation of other marine species.
Currently an option is being considered to send Zak and Mika to Oceanopolis, an aquarium in Brest, France. The Aquarium des Iles has launched a campaign to raise $73,000 – the amount they say is required to care for and feed the seals until they can be transferred - by September 21. Whether or not a lifetime in captivity in France is the best solution for these animals is still unknown. But we are calling on the Government of Canada to examine, and fund, humane, non-lethal alternatives for Zak and Mika. To expect the public or NGOss to now assume the financial responsibility for these two seals is also unfair. It was the responsibility of both the aquarium and the DFO to ensure they had the plans, and the finances, to adequately care for these two seals.
Animals are not disposable. It is unacceptable for the Government of Canada to provide wild, healthy, migratory marine mammals to be held in captivity for tourists' entertainment and then require them to be killed after the aquarium's doors were closed for the season.
A 1999 Report on Marine Mammals in Captivity notes that "the Canadian public cares deeply about marine mammals and look to DFO as the management agency responsible for both their conservation and welfare. Marine mammals represent an unequalled opportunity for DFO to communicate with the Canadian public, whether the Department wants it, or not." The same report recommended a moratoria on the captive maintenance of marine mammals in Canada until issues could still be addressed. And yet 13 years later, we learn that the government of Canada continues to capture live, healthy, marine mammals from the wild on an annual basis to supply the aquaria industry.
Yes - it is highly likely that DFO did not want the publicity associated with Zak and Mika. However, it is not acceptable for them to now shirk responsibility for their welfare. It was DFO, with public funds, that put these animals into their current predicament, and DFO has a moral – if not legal - obligation to help them out of it.
We've been working with rehabilitation centres, asked to meet with the Fisheries Minister and the fisheries critics, and have been doing everything possible to collaborate with the key stakeholders in this to find solutions. Now we need your help. We need to make sure that the terrible predicament facing the Zak and Mika is never allowed to happen again.
--SF
TAKE ACTION. Please contact Canadian Fisheries Minister Keith Ashfield and ask him to examine, and fund, humane, non-lethal options for Zak and Mika and ask him to stop the practice of capturing wild marine mammals, at the taxpayer's expense, for zoos and aquaria. Minister Ashfield's email address is Min@dfo-mpo.gc.ca and his office telephone number is +1 613 992 1067