The AA family; where Amboseli elephant research began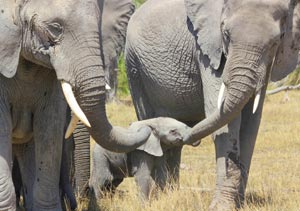 Working in Amboseli is a pleasure and a privilege that I'm happily becoming accustomed to. I've explained the history of the project and the biology of elephants countless times already, but every so often the sheer longevity, of the project and of the elephants themselves, really strikes home.
The AA family were the first to be identified by Cynthia Moss in September 1972 at the start of the Amboseli Elephant Research Project (AERP). As I sat down to write this post about them, I flicked through my notes on the family structure and history, and just took a minute to pause. AERP has documented their lives for 39 years now. That's longer than I've been alive, and in fact, Alison, the matriarch will be 50 next year. Even her eldest daughter, Astrid, is older than I! That's a humbling thought.
In this IFAW-supported social disruption study, the AAs serve as a kind of "control" family – of the adult females, only Audrey died in the 2009 drought. They did sadly lose 14 calves too, but in terms of changes to the fabric of family life, they got off lightly. Consider, for example, that the BB family lost 22 members in total, seven of whom were adult females. Not only did the AAs only lose Audrey, but they retained their matriarch, Alison.
The AAs are not the most dynamic family in Amboseli, and it has been said that they're quite dull. They are generally predictable in their ranging and daily routine and they're not very sociable or demonstrable. Some elephant families are very affectionate, full of body rubs, rumbles and greetings and continually reaffirming their social bonds. I think it's fair to say the AAs are more reserved in character. From a researcher's point of view, watching elephants move, feed and sleep for hours and hours isn't the most scintillating past time, when you're trying to understand social relationships.
In another sense, however, they really do exemplify elephants; nothing happens particularly quickly, but every so often, they can surprise you.
I had written in a previous post that I didn't think Alison was a very strong matriarch. It's true that she can be "overruled" by the majority in the family, but they still look to her when they feel insecure. When Jackson of the JA family found himself left behind, he panicked and ran up to where the JAs were travelling to the swamp with the AA and SA families. Elephants definitely don't like being approached from behind, and Jackson's panic startled all the other elephants so that they started running too. Alison led her family away and realised soon that there was no real danger, but what really struck me was how all the other elephants from the other families also responded to her lead. They trusted her to discern the real level of risk, and when she calmed down, they did too; just one small example of how age and experience are so important in elephant society.
The AAs have 22 family members at the moment in three known "matrilines", i.e. a female-based lineage of mother-daughter-granddaughter, aunts, sisters etc. Alison has three daughters and two grand-daughters in the family. Alison's sister, Agatha, spends surprisingly little time with Alison's part of the family; in fact Agatha is usually to be found just with her young son, two daughters and her grand-daughter. Amelia is the oldest member of the second matriline, and she and her three daughters are often with Alison. Angelina is the oldest member of the third and final matriline, and with her sister and niece had been spending time with both Amelia and Alison. Now she has a brand new calf however, it will be interesting to see if those association patterns change. She's a very attractive "friend" at the moment, since there are not many small calves (see also last month's post on allomothering behaviour).
As I've said before, the births we are expecting now will change everything for families. I wasn't to know how right Angelina was going to prove me, until she showed up in the research camp one day. The AAs are not regular visitors to the camp – in fact, although their range is close by, they hadn't been seen here for years.
The AAs usually spend most of their time near the Enkong'u Narok swamp on the west side of the Park. The swamp is hard terrain for very small elephants, as even adults are submerged when feeding. We watched with some trepidation as Angelina took her day-old daughter into the swamp, and noted with even more trepidation that later in the afternoon that the calf was falling down, cold and exhausted. From our records, it seems she was born a month premature and her suckling reflex wasn't very strong. The next day, we couldn't find them and returned to camp wondering if we should fear the worst.
And there they were…
Angelina had brought her new daughter to an area of easier terrain, where there was plenty of food. As well as her sister Amber and niece Abra, Amelia had joined them with her daughters. The young females delighted in babysitting the new calf, and Amelia's eldest daughter Anghared, herself heavily pregnant, seemed to thoroughly enjoy a cooling mud bath in the little swamp next to camp. Perhaps now she's discovered what a nice place the Ol Tukai Orok woodlands are, she will bring her own calf here when it's born.
I suppose the moral of this story is that elephants, even from the "dullest" of families, can always surprise you. That is, after all, why AERP still exists, because we still have much to discover and learn.
For a full history of the AA family, please click here and for more details of AERP, our current research activities and project history, please visit our website; www.elephanttrust.org. 
-- VF