In Zanzibar, Researchers Get a Splashy Show of Thanks From a Humpback
The whale approached us after becoming entangled, almost as if he was trying to show us that he needed help. Our captains managed to catch the bottles and pulled the rope, tied it to the front of our boat and cut away as much of the rope as they could reach.Lots and lots of whales... The whales are surely here now and we've already seen our first competitive pods ("active group of competing males")! On Sunday (July 24th) we had a group of 10 whales in the same sighting and Lucy did well to record everything in an orderly manner!! That's the biggest group we've ever recorded here since the research started in 2006. It was a competitive pod and at some moments the whales almost surrounded us and we had to manoeuvre very carefully.
During the last sighting for the day, we saw one whale swimming very close to some floating empty water bottles (used as buoys attached with ropes to bottom-set gillnets or fish cages, in this case; fish cages), and shortly thereafter the whale started with some strange surface activity behaviour, splashing and rolling around all over the place and we realised that he was entangled in the ropes. We were talking about calling the disentanglement team (who were trained during the International Fund for Animal Welfare's workshop here during the last season) for assistance, but since we were about an hour from where the team is based and our captains had also attended that workshop, we decided first to try to cut the whale lose by ourselves.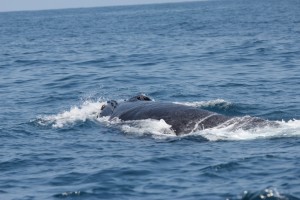 The whale approached us after becoming entangled, almost as if he was trying to show us that he needed help. Our captains managed to catch the bottles and pulled the rope, tied it to the front of our boat and cut away as much of the rope as they could reach. Directly after, the whale did a couple of high and rapid surfacings, appearing to shake off the rest of the ropes and cages. We stayed with him for a while to see if he seemed ok, without following him too close and shortly after he calmed down and swam away, seemingly completely freed from the ropes and cages. A good day's work! One of the most usual threats to whales all over the world is entanglement in fishing gear (bycatch), as we were reminded about today, also in our waters aroundZanzibar. This shows that the follow up bycatch and disentanglement workshop planned in September is much needed. Big thanks to Mau who went to Stone town for our weekly food shopping on Sunday, when we didn't want to leave all the whales. Unfortunately our old fridge decided to give up, but Yunusu our friend and man of all traits, wrapped it up in some old cardboard boxes and tied it together with one of our washing lines. He took it on the daladala to Juma in town the following morning to get it fixed and kindly saved our food and us by giving us some space in his family's fridge. The day after, we had one whale sighting not far from Dimbani and in the middle of our sighting, nine tourist boats arrived and joined us! The weather was really rough with about 1.5m high swells and especially one of the small fibre boats were going dangerously close to the whales, and at one point a whale actually had to dive under their boat when they were blocking its way! It shows that education and regulations for the tourist boat operators are urgently needed here. Meal of the week: Delicious dinner at Yunusu's place, nyanya ("mini aubergines"), samaki (fish) dish with rice & mango, oranges and bananas. Yummy!!! Baadaye kidogo! ('See you soon'!) --PB