Zac & Mika update: a promising letter from Canadian Fisheries and Oceans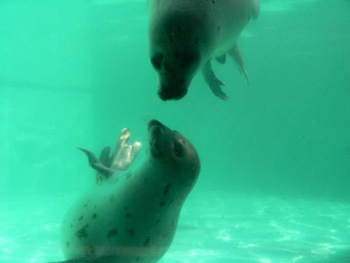 In September 2012, the International Fund for Animal Welfare's seal team sprang into action to help two captive seals, Zak and Mica.
The two seals were taken from the wild as whitecoat pups by the Canadian Department of Fisheries and Oceans (DFO) and provided to the Aquarium des Îles de la Madeleine in Quebec to display during the summer, under the condition that they be killed when the aquarium closed its doors at the end of the season.
The story sparked outrage around the world, and nearly 140,000 signatures were gathered asking the Canadian Minister of Fisheries and Oceans to spare the lives of Zak and Mika and allow for their release.
In a tremendous victory for everyone involved, Zak and Mika were released.
IFAW pledged to ensure that other seals and marine mammals in Canada wouldn't suffer a similar ordeal, and we are working to improve the policy that allowed Zak and Mika to be taken from the wild and placed in an unaccredited facility in the first place.
We've asked the DFO to prohibit the capture of marine mammals to be placed in captivity in zoos and aquaria and over 150,000 people have already sent messages asking the same thing.
Since then, we've received a letter from Fisheries Minister Gail Shea that gives us hope.
The letter from Minister Shea says,
"The situation that occurred this year at this aquarium is a clear indication that DFO needs to review its approval process for the capture and transportation of marine mammals, as well as its rehabilitation and release policy, where necessary."
While this statement is promising, we need a commitment from the Department to adopt a policy against the live capture of marine mammals for public display.
We will be following up with government officials and launching other efforts to provide greater protection for wild seals in Canada. Please let Minister Shea know that you, too, believe that wild animals should remain in the wild, by sending a message at this link: https://g.ifaw.org/zakandmika
Thank you for your help!
--SF