US Government announces destruction of domestic ivory cache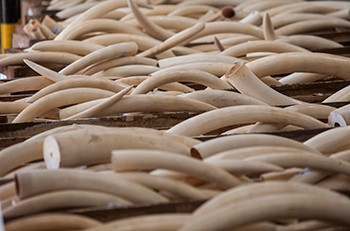 UPDATE: NBC News says the ivory crush will begin on October 8.
ORIGINAL POST: At a private White House Counter Wildlife Trafficking forum today, the Obama Administration announced to IFAW and a small number of other prominent wildlife conservation and animal protection groups, that the US Government will be imminently crushing a six-ton ivory stockpile currently housed at a facility in Denver, Colorado.
Welcome good news in what has otherwise been a terrible period for elephant populations around the world.
Also present, U.S. Secretary of the Interior Sally Jewell who used the forum to announce the eight members of a Wildlife Crime Advisory Council to advise the Presidential Task Force called upon by President Obama in an Executive Order made during his visit to Tanzania earlier this year.
Additionally, former Secretary of State Hillary Clinton and her daughter Chelsea Clinton made statements about the urgency for the wildlife groups assembled to act together and inform the Advisory Council and US Government on how best to address this wildlife crisis.
Our supporters should have no doubt that IFAW will continue to work in partnership with USFWS, the US Department of the Interior and other international and national organizations including Interpol, the Clinton Global Initiative, and the Kenya Wildlife Service, as well as other elephant range countries and consumer nations to help end these criminal threats to the world's wildlife.
-- JF