Top ten heroic animal rescues of 2013
IFAW has led or helped with dozens of animal rescues around the world, from the care of the tiniest orphan babies to the logistical nightmare that is an elephant transfer.
The past year was as diverse—and dramatic—as any in the rescues we accomplished.
This is the first of two reviews highlighting the best moments of the year.
IFAW helped Turpentine Creek Wildlife Refuge (TWCR) in Arkansas transfer 34 big cats over four months from a failing facility not far away in Mountainburg, where the owner couldn't maintain the cats' already dilapidated enclosures on account of failing health.
With the help of IFAW grants, TWCR built a new addition called Rescue Ridge to accommodate these cats and then transferred the cats in a number of moves.
2. Helping Animal Victims after Moore, Oklahoma Tornado
After a tornado with 210 mph sustained winds struck Moore, Oklahoma in May, IFAW launched a team to help the Central Oklahoma Humane Society care for and reunite pets and owners.
IFAW also helped the WildCare Foundation in Noble, Oklahoma, just a few miles south of Moore, rehabilitate day-old fawns washed away from their mothers by flash flooding, Mississippi kites battered by giant hailstones, hatchling hawks thrown violently from their nests, and 600 other injured, orphaned, and displaced wildlife.
3. Responding to India's Super Cyclone Phailin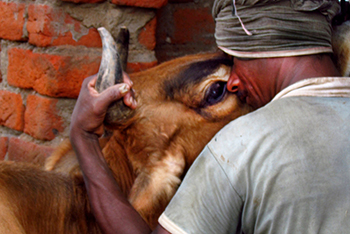 When the east coast of India was hit by super cyclone Phailin, triggering the largest evacuation ever in the country, with close to a million people relocated from the coast, the IFAW-Wildlife Trust of India team launched a mobile veterinary camp and treated thousands of animals affected by the disaster.
In the neighboring state of Andhra Pradesh, hundreds of birds including open-billed storks were housed and rehabilitated in and eventually released from a make-shift facility in a school compound.
4. MMRR Team Frees Struggling Seal Caught in Buoy Lines off Cape Cod
After a call on the stranding hotline from the Massachusetts Environmental Police, IFAW dispatched to Pleasant Bay in nearby Chatham, where a seal that was strangled by a buoy line had been sited.
We were able to successfully restrain the juvenile, haul it into our vessel, and cut the line away from its neck. The seal was given a thorough health assessment, and then released into the water free of the entanglement.
5. IFAW Helps Rescue 367 Dogs from a Massive Dog-Fighting Ring
Many of the dogs in this particular case exhibited wounds, scars and other conditions consistent with dog fighting.
Makeshift, filthy dog houses—some with rotting wood floors and rusted metal roofing—provided the only shelter in the sweltering heat and humidity of the three states in which these dogs were living.
IFAW, the American Society for the Prevention of Cruelty to Animals, and the Humane Society of the United States worked together to remove the dogs and transport them to temporary shelters, collect forensic evidence for prosecution, and provide veterinary care.
6. Saving Animals After the Philippines Disaster
Following the worst typhoon in the nation's history, IFAW dispatched a team that helped Philippines Animal Welfare Society provide veterinary treatment, anti-rabies vaccines, antibiotics, vitamins, de-wormer medicine, and food to companion animals and livestock.
Once the animals were treated, they received a colorful and visible new collar and leash so they were easy to identify. In two days, we treated nearly 1000 animals.
7. Five Baby Elephants Spared a Lifetime of Isolation in a Chinese Zoo
Thanks to the vigorous campaigning of a coalition of animal welfare organizations including IFAW, five elephant calves in Zimbabwe were rescued from lives of isolation in Chinese zoos.
Although, these calves weren't able to be united with their own families, amazingly they were adopted by another elephant family.
The joint coalition campaign together with petitions from supporters around the world stopped these elephants from being transported to China.
The calves are being rehabilitated for release back into the wild.
8. Reaching New Heights to Save Indian Gibbons
With the help of the North Valley Animals in Disaster Group, one of our Emergency Relief Network Partners in Northern California, IFAW provided safety training to the rescuers who had to scale trees up to 60 meters high in order to capture gibbons.
A number of Eastern Hoolock gibbons were then moved from their currently endangered habitat to the nearby Mehao Wildlife Sanctuary.
9. IFAW's Beijing Raptor Rescue Centre (BRCC) Rehabilitates Two Local Owlets
A victim of the illegal wildlife trade, an Asian Barred Owlet arrived at the IFAW BRRC underweight, his feathers broken, his feet and left wing wounded, but was rehabilitated within seven months.
When a Little Owl kept as a pet arrived at IFAW BRRC, its beak overgrown, no feathers on its head, its wing feathers and skin damaged, IFAW BRRC staff trimmed its overgrown beak and placed it in a bigger, more suitable enclosure and started to bring it back to health so it could be released back into the wild.
10. Coordinating Transport for a Stray Canadian Dog Named Nala
When an abandoned dog in a remote Canadian town needed immediate veterinary care, IFAW worked with Air Creebec, which flew her free of charge to Montreal, and Pilots and Paws Canada, which then transported her further so she could get to a vet near Toronto.
Nala has since recovered from her injuries and has found a new permanent home, where she is healthy, happy, and loved.
--AD
Your support will help IFAW animal rescue teams around the world, consider a donation now.