Too often consumers of exotic products are failing to realize their impact on wildlife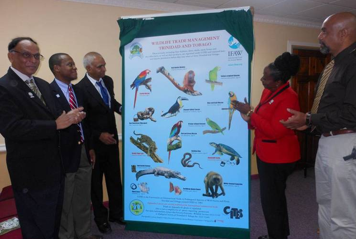 A consumer education and awareness campaign to stop ecologically destructive wildlife trafficking was launched in Trinidad and Tobago on 21 November 2011. The educational effort, designed to stem the tide of illegal wildlife trade that is robbing many Caribbean nations of their rich biodiversity, was launched by the International Fund for Animal Welfare and its partners, the Zoological Society of Trinidad & Tobago (ZSTT), the Forestry Division, and the Ministry of Housing and Environment, with support from the Secretariat of the Convention on International Trade in Endangered Species of Wild Flora and Fauna (CITES).
Trinidad and Tobago is a known transshipment point for wildlife trafficking due to its strategic geographic location connecting South America (Guyana, Suriname and Venezuela) to Canada, the US and Europe.
Drugs, arms, ammunition and humans are all trafficked in the region, but at the top of the list are illegally traded wildlife species, primarily exotic birds, reptiles and primates.
This initiative, the result of ongoing discussions among IFAW and its partners, is designed to raise the awareness of people entering and leaving the country about the damage caused by buying illegal wildlife products and the penalties for wildlife smuggling.
All too often, consumers fail to factor the cost to wildlife into the exotic items they purchase. Of course, some people who buy illegal wildlife products simply do not care about the consequences.
Many others, however, do not think about the nature of the transaction at hand, or they are honestly ignorant of the negative impacts of their purchases on wildlife and ecosystems.
IFAW has long recognized the importance of educating the traveling public to reduce demand for illegal wildlife. We've undertaken consumer awareness and education campaigns across the globe. The latest edition of our "Think Twice Before You Buy" brochure targets European nationals traveling to Africa, warning them not to purchase products made from endangered species.
Through this joint collaborative with our partners in Trinidad & Tobago we will reach both residents and tourists with our message about the perils of the illegal wildlife trade and ideally provoke a sense of responsibility for protecting the biodiversity of wildlife in Trinidad & Tobago.
--KA