Three years with Amboseli elephants, and reflecting on their future
Nothing happens fast with elephants.
Pregnancy lasts 22 months, the time between consecutive births is five years, while learning and friendship making last decades.
Yet my three years in Amboseli have simply flown by.
Although in the 42-year lifespan of the elephant research project it has been brief, I can at least say I've been here for longer than an elephant pregnancy now.
Also on IFAW.org: WATCH: amazing move of four forest elephants in Cote d'Ivoire
The Amboseli elephants have been enjoying a peaceful and prosperous period. We have had unseasonable, but nonetheless welcome rain in Kenya in February. Usually it doesn't rain until March, but this year it's either very early, or the late rain that didn't come in January. Nobody can tell.
It's wonderful to work in an ecosystem where elephants can and do move such distances, but I miss them when they're gone. The saturated ground means we simply can't follow them to those outlying areas: Land Rovers might be four wheel drive, but elephants are four-foot drive.
I've been spending a lot of time with my laptop instead, reflecting on what has happened to the families (and me) in the past three years, and, inevitably, thinking about what the future holds.
My bonds with the elephants have grown, and certain families may even greet me now, especially if they're returning to the park after their wet season migration.
One evening a small group of elephants from the EB family was feeding close to our shower. We don't have an electric fence around the camp so the elephants decide what they feel is a comfortable distance. I slipped inside the bamboo fence and opened the tap, thinking the sound of the water would encourage them move to away, but they were enjoying the lush grass and showed no sign of moving.
Eager to get under the hot water (a decided luxury for any field researcher) I decided to talk to them, letting them hear my voice in the same way I do when I drive up to a group in the field. I was stunned, and delighted, when the big female, Enid, raised her head and rumbled back at me. She recognised my voice and, as with a friend or family member, responded to my greeting with one of her own.
It was, quite simply, one of the most special moments of my life.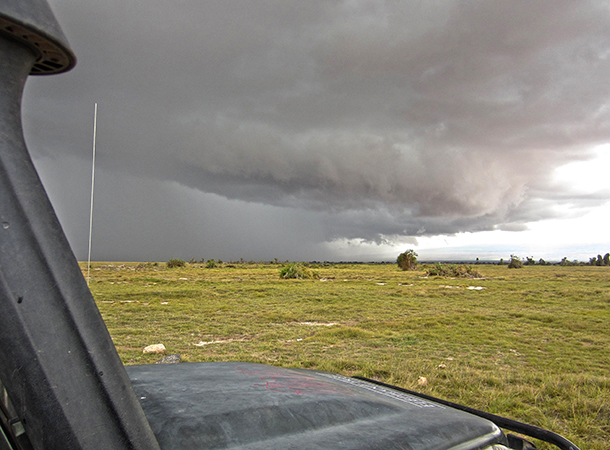 Moments like these are often the privilege of those of us lucky enough to spend a lot of time with these amazing animals. But these experiences aren't exclusive; I have spoken to hundreds of tourists who have an overwhelming sense of awe and wonder about their own time with elephants, however short these might have been.
We want a world where everyone can dream of travelling to Africa to experience its wonder for themselves. A world where filmmakers can continue to make documentaries that inspire children to dream of going to work in Africa too: After all, that was what got me hooked.
Sadly this world will not happen if the ivory trade is allowed to continue. The peril for elephants is all too clear; there are simply not enough elephants alive in the world to supply the current demand for ivory. With such severely unbalanced supply and demand, I see no way that an ivory trade and elephants can co-exist.
We have to persuade the world that ivory is worthless and that elephants are not.
--VF
For more information about IFAW efforts to protect elephants, visit our campaign page.