The survival of elephants depends on our collective stand against the ivory trade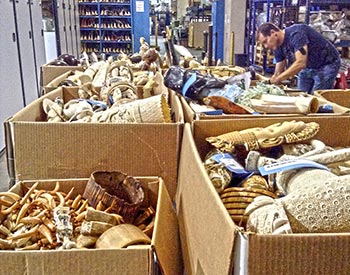 At the invitation of the US Fish and Wildlife Service, I am flying into Denver, Colorado today to witness the destruction of the elephant ivory seized in the United States.
Nearly six tons of elephant ivory confiscated from illegal trade will be destroyed by crushing at the Rocky Mountain Arsenal Wildlife Refuge. The symbolic ivory crush signifies the US commitment to combat wildlife trafficking as outlined in President Obama's new Executive Order in July.
SEE ALSO: From Africa, President Obama strikes back against poaching epidemic
The organization I work for, the International Fund for Animal Welfare (IFAW) strongly supports governments to destroy their stockpiles of confiscated ivory for two reasons: both as a symbolic gesture to highlight the plight of tens of thousands of elephants that are being killed each year to supply the ivory trade, but also as a way to ensure that seized ivory does not re-enter the market.
IFAW believes the destruction of confiscated ivory will send a strong signal to consumers everywhere that buying ivory is immoral and wrong, and send a tough message to poachers and traffickers that their actions will not be tolerated.
The snow-capped mountains and the crisp dry air of the mile high city bring back memories of another symbolic destruction of wildlife parts from another species, on another continent.
A decade ago, at the Kekexili Nature Reserve in China's western plateau, elevation 3-miles high (16,400 ft), I twice joined Chinese government officials in setting fire to thousands of confiscated Tibetan antelope pelts.
Tibetan antelope or chiru ((Pantholops hodgsonii), a highly endangered species endemic to the Qinghai Tibet plateau, were heavily poached in China for their wool, which is smuggled into India to be woven into a shawl highly-prized for its lightness, softness and warmth that it is called "shahtoosh" ("King of Wool").
The sharp demand for Shahtoosh shawls in the luxury markets in Europe and America stimulated poaching, which saw tens of thousands of chiru killed a year.
By burning the pelts, China asked the international community to help end the slaughter of the Tibetan antelope by smashing every link on the trade chain, from poaching to trafficking to market demand.
Governments and civil society responded, so overwhelmingly that they ended both international and domestic trade of shahtoosh around the world.
In China, a law enforcement network was formed to combat poaching and ensure the safety of the chiru in its habitat and along its migration route, on the vast and desolate high plateau.
In the Jammu and Kashmir regions of India where shahtoosh is woven, the entire industry has shifted from weaving shahtoosh to an alternative wool sheared from mountain goats;
And in fashion markets in the west, designers and consumers rejected shahtoosh as a "shroud" rather than a "shawl" and called for ending the trade.
To plug any market loopholes and give more teeth to law enforcement, the US government adopted the Tibetan antelope into its Endangered Species Act, making domestic trade of shahtoosh also a prosecutable crime, the same as trafficking of shahtoosh across international borders.
The collective stand against all commercial trade of Tibetan antelope parts and products internationally and domestically, saved this endangered species from sliding into extinction.
That level of political will and commitment to shut down ivory markets is what's desperately needed today for elephants.
Poaching of elephants in Africa is at an all-time high. Poachers use machine guns, poison and rocket propelled grenades to gun down entire families of elephants, including pregnant females and young calves, all for their ivory.
Elephants are a long-living, slow-growing and slow-breeding species. The United Nations Environment Programme notes that when elephant populations decline by over 6% annually, that population is vulnerable to collapse. Yet, in many parts of Africa right now, the killing of elephants for ivory is running at 11 or 12 percent of those populations.
China and the United States are considered to be two of the largest markets for illegal ivory. A 2008 IFAW investigation of global online markets uncovered nearly 4,000 ivory listings with majority of them on the eBay US sites.
At our urging, eBay banned ivory trade on their website.
In China, ivory is increasingly promoted as "white gold" and coveted by the wealthy as a status symbol. IFAW investigations there found that illegal ivory trade is rampant under the cover of a legal market.
The existence of legal ivory markets not only provides cover for illegal trade, it creates difficulties for law enforcement officers and the consumers to distinguish whether an ivory sold in the market is legal or illegal. Worse, it fans the desires of more consumers who want their own piece of the "forbidden fruit."
An IFAW survey in 2013 found that the most compelling reason for Chinese consumers to stop buying ivory is for the government to "make ivory buying illegal in all circumstances" (60%).
A 2012 survey by WildAid found 94% of urban Chinese residents agree that "Chinese government should impose a ban on ivory trade to help stop elephant poaching in Africa."
Banning the domestic ivory trade will send an unambiguous message that killing elephants for the ivory trade cannot be tolerated.
Only by having strong and clear laws making ivory trade illegal combined with rigorous enforcement and meaningful punishment for violations can we ultimately see social stigma attached with the consumption of ivory, which is essential for ivory demand reduction.
Just as China's symbolic destruction of Tibetan antelope pelts did to the shahtoosh trade, I hope the destruction of the ivory stockpile today can be the impetus for the US rallying the international community in taking a strong stand against all ivory trade.
To save elephants, we have to: Stop the poaching. Stop the trafficking. Stop the demand.
--GGG