Super Cyclone Phailin: vets in India work to save storks and their fledglings by the hundreds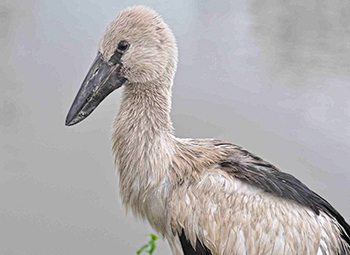 Hundreds of open bill storks affected by Cyclone Phailin in Andhra Pradesh, India are being attended to by the IFAW-WTI team who reached Telukunchi two days ago.
The team is working in collaboration with the VSPCA (Visakha Society for Protection and Care of Animals) who began with the relief work and alerted IFAW-WTI for support.
SEE ALSO: Super Cyclone Phailin: 3 days of animal rescue diaries from India
So far, a total of 111 cases have been handled in a shelter set up in a nearby school.
More than 25 of the birds have flown out on their own.
While a few succumbed, the rest are being treated for various levels of distress – caused mainly by injury due to nest falls, shock and dehydration. Around 600 storks are still at the roosting site and are being fed there until volunteers can transport those that are severely injured to the centre for care.
The highest numbers of birds affected are fledglings, while there are a few sub-adults and adults.
At the moment, they are scavenging or disturbing the adult parents who, post cyclone, are busy building new nests.
There is a scarcity of food for the birds and so the team is organising for regular food supply to come in from local fishermen.
Twenty six of the birds flew away from the shelter last evening following their instinct to return to their roosting sites.
The shelter is around 50 km away from the cyclone-affected area in a place where there is at least some electricity.
We have been treating the birds in the shelter with antibiotics and vitamins and are also trying to feed the birds in the roosting site as well.
--SS
Your support is crucial to ensure our IFAW-WTI teams can continue their relief efforts.