Super Cyclone Phailin: 3 days of animal rescue diaries from India
Over the weekend the east coast of India was hit by super cyclone Phailin. It triggered the largest evacuation drive in the country, with close to a million people relocated from the coast. The human casualties were majorly curbed with swift action by the government. So far 23 people have been reported killed.
On ground the International Fund for Animal Welfare – Wildlife Trust of India (IFAW-WTI) has Radhika Bhagat, Dr Reetika Maheshwari, and Rudra Prasanna Mahapatra conducting assessments.
They are currently in Bhubaneshwar (the capital city of Odisha). They will be meeting with our network of rehabilitators, NGOs and other volunteers from the coastal areas this evening to discuss the extent of damage and the action ahead.
IFAW-WTI has activated their Rapid Action Projects and Emergency Relief Networks (ERN) for this disaster. The networks consist of more than 400 animal rehabilitators from across the country.
Dr Reetika Maheshwari, Incident Commander for this response said that during such disasters, food shortage and spreading of diseases are the major threats to animals so they were already began the process of procuring fodder and medicines.
October 15, 2013
The IFAW-WTI animal rescue team reached the south-eastern coastal Ganjam district this morning, and is currently assessing the damage around the town for animal relief interventions.
Flooding continues to remain a major threat in a number of districts. The assessment team will move to Kendrapara tomorrow, while another including a veterinarian remains in Ganjam to address animal relief needs.
The team met with the National Disaster Response Force (NDRF) officials in Bhubaneshwar, who helped coordinate with their local wing in Ganjam. The NDRF have also offered assistance to set up camps along their three mobile camps in the worst-affected areas in Ganjam.
Meetings were also held yesterday with volunteers and veterinarians to create broad teams for multiple camps in Gangam and Kendrapara.
Currently, the team has basic supplies to attend to animal emergencies they encounter immediately. They will set up camps the day after they return to Ganjam with all necessary work force, medicines, fodder, and more. Our veterinarian Dr Reetika meanwhile will remain on site.
We will look to extending support to other districts once we settle our activities in Ganjam and Kendrapara, which are high on our priority right now.
Meanwhile, back at our IFAW-WTI headquarters in Delhi, efforts are on to contact all Divisional Forest Officers in Odisha, beginning with those in the coastal areas to identify cases of wild animals in distress.
A request has been received to assist in the rescue of birds in Srikakulam district of Andhra Pradesh adjoining Ganjam in Odisha. We are evaluating the situation and already started our preparations to dispatch IFAW-WTI veterinarians from northeast India and experienced bird rehabilitators and ERN members from Delhi.
MT @wti_org_india: #CyclonePhailin - owner comforting his injured cow as IFAW/WTI team helps: https://t.co/6DBFA4fseT

— IFAW (@action4ifaw) October 16, 2013
October 16, 2013
Our rescue team has launched a mobile veterinary camp and began treatment of animals here, beginning with Subalaya village this morning.
We have responders now split into three different districts. So far more than 30 animals have been treated for various ailments, including injuries and fever caused during the cyclone. The animals were dewormed and provided mineral supplements too. The treatment will continue in the evening as the animals are returned from their grazing.
Flooding continues to be a major threat in a number of districts. Work in Subalaya will finish today and the plan is to deploy the mobile camp to Birudigada tomorrow.
Meanwhile at the IFAW-WTI headquarters in Delhi, efforts continue to find information through various sources on cases of wild animals in distress.
IFAW-WTI veterinarian Dr Panjit Basumatary has left to assist in the rescue of birds in Srikakulam district of Andhra Pradesh adjoining Ganjam in Odisha.
October 17, 2013
The mobile veterinary unit in the Phailin-hit Ganjam district has now attended more than 80 animals in Birudigada village today. Arrangements were also made to facilitate interventions in Kendrapara and Balasore districts which have been affected by post-cyclone floods.
The mobile veterinary unit covered Subalaya village yesterday providing relief to approximately 50 animals.
We estimate that just in this village, 34 animal lives have been lost. We attended to 80 and over 80% of them suffered from cyclone related ailments – including rhinitis, stress-induced foot and mouth disease, muscle strains and more.
The unit plans to cover two villages – Madhuruchua and Diandein, tomorrow and have conveyed this to the residents.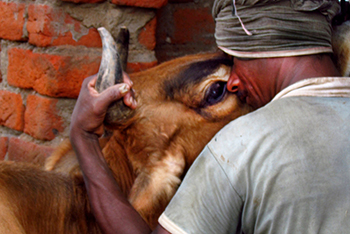 Public temper seems to be increasing too, with clashes between villages on the account of purported uneven distribution of human disaster relief witnessed by the team who had a narrow escape. A cow that was hacked above its tail was treated by the team en route.
At Kendrapara district, the assessment found yesterday that while the cyclone itself had not caused much damage, floods have been wreaking havoc, with many villages marooned, many inaccessible.
One of the villages they visited had become an island surrounded by water from all sides and people were scared that more water might be released upstream. Fodder for animals is a problem in these areas. We also expect some bacterial infections post floods and will be taking preventive steps when the camps are set. Many areas flooded with sea water which has spoiled fodder previously available for livestock.
Additionally, the team has reported that Balasore and Mayurbhanj districts are severely flooded and that the government is initiating an air drop of food packets.
In the neighboring state of Andhra Pradesh, hundreds of birds especially open billed storks are known to have been affected by the cyclone. Along with rehabilitator Saleem Hameed, IFAW-WTI veterinarian Dr Panjit Basumatary attended to around 107 birds that were being housed in the make-shift facility in a school compound. Six succumbed while ten were added during the day.
According to Saleem, most of them are fledglings. There appears to be a scarcity of food; there are more birds in the roosting site desperately in need of more fish. At the moment they are scavenging and disturbing 'their' possible parents who, post cyclone, are busy building new nests.
--SS
This work is only possible with your support, consider a donation now.