Spotlight Mexico: do you believe in destiny? "Kaab" the dog does!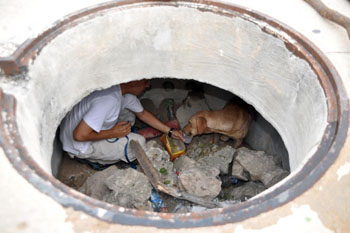 On August 7th I was driving back home from a massive spay and neuter campaign in Playa del Carmen, worried because Hurricane Ernesto was going to hit us the next day so we were in preparedness. But suddenly in the local radio station, someone called to report a dog that fell or was thrown inside a sewer without a lid. A minute later I received a call to my cell phone from the radio show host asking if IFAW could help the dog, she was very pleased to hear that we were already in our way so she was able to announce it.
IFAW Veterinarian Erika Flores was with me together with local vet Monse Ramirez Morales. When we arrived we saw a couple of people looking inside the sewer but without knowing what to do. It was a wide open filled with rocks, garbage, rusty wires and a very scared Labrador alike dog in the corner. He had scratches on his nose and body caused by his attempts to get out without achieving it.
With a Hurricane about to come it was urgent to take him out before all that get flooded, so I carefully went inside and after some scratches I managed to get close to him. I noticed some chicken bones that perhaps motivated him to get inside the sewer, but there were plenty of bones and meat, so he wasn't really hungry, he was very exhausted and thirsty, so I asked Erika to pass me some water. She took out a knife and cut a plastic bottle to improvise a bowl, as soon as I offered the water he immediately started to drink desperately.
After gaining his trust I asked Erika to get inside too and after using our leashes we were able to lift him out. The first thing he did when he was out was to wag his tail!
Erika decided to call him "Kaab" which means honey in Mayan, a perfect name not only for his color but also his nature, such a sweet dog!
His rescue was broadcast in the radio show and some people showed interest in adopting him if he wasn't claimed by his owner. Days passed and fortunately the hurricane became tropical storm and we only got strong winds and rain, but sadly nobody claimed Kaab, even that he clearly was a home dog who knew how to sit, walk with the leash, stay and even run beside the bicycle.
We featured his story in Facebook that soon became viral. In the meantime while our care, Kaab received a good bath and tick treatment, was dewormed, vaccinated and neutered to be ready for adoption.
Suddenly 10 days after we rescue him, we received a call from a couple who recently suffered the death of their beloved dog, a Lab rescued from the pound also named "Kaab" and they were amazed on how alike this Kaab was to their dog… destiny or coincidence?
They came from the neighboring town of Puerto Morelos to see the dog and it was love at first sight for both humans and dog, as soon as they saw him the put him the collar with the ID tag of their beloved Kaab, what a great way to make a tribute to your dog by giving a chance to another who need it!
Congratulations and our gratitude to Vanessa Peña and Miguel Angel Lozano for opening their hearts and home to Kaab, a truly happy ending!
-- JDLT