Spotlight India: Oli, the rescued otter pup learns how to fish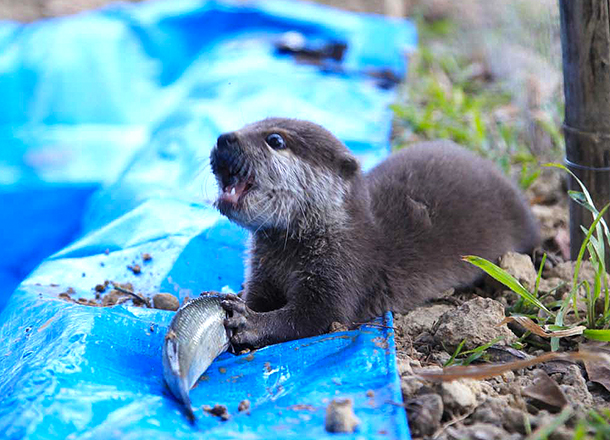 The smallest mammal at our wildlife rescue centre is growing up!
Oli, a small clawed otter pup rescued back in September, is learning the skills he will need to survive in the wild.
Two weeks ago, after our team set up a small makeshift pond, Oli entered his new habitat for the first time. The small pond has a depth gradient of four to eight inches. A covered 'den' was also built next to the pond to imitate the small clawed otter's natural living conditions. The entire complex is fenced with nets.
SEE ALSO: SLIDESHOW: adorable newborn otter pups rescued in India
The first two days, Oli was hesitant to enter into the water. He carefully touched the water, drank some but mostly kept away.
After a few days, and with a little encouragement from our team, Oli jumped into the pond where fish were swimming providing our rescued otter with an opportunity to learn a critical skill.
However, during his first 'water day' he remained in the shallow end.
Now, after few days of exercise, he is much more active in the water, especially around fish. He is gradually developing his hunting instincts.
Oli remains in his new enclosure the whole day basking in the sun or swimming or sleeping, under the watchful eyes of our veterinarians and animal keepers. At night, he is housed in a wooden enclosure in the nursery area.
Oli is still being bottle-fed thrice a day, even though he is now able to catch fish on his own.
Oli weighs a little less than a kilogram, and he's about three months old. Once he's able to navigate the water and hunt with ease, he'll be moved to a forest camp for his final rehabilitation stage.
--SS
For more information about the IFAW-WTI partnership, visit our wildlife rescue centres in India page.