Song of the Whale journal: listening for sperm whales amongst the noise
After completing an intensive search of the northern Aegean Sea for harbour porpoises, the International Fund for Animal Welfare's (IFAW) unique whale research vessel, R/V Song of the Whale, headed south last week surveying for sperm whales.
Most people do not associate the Aegean Sea with deep-diving cetaceans such as sperm whales; however there are three deep water troughs (greater than 1,000m) which may provide suitable habitat. Using our 400m hydrophone array, we were able to detect and track sperm whales to the west of Kusadasi, Turkey. However the ever-present ship noise made our job very challenging.
Most of the ship traffic in and out of the Black Sea passes through these relatively narrow waters, generating noise levels that are of concern considering that cetaceans utilise sound to find prey and to communicate. An important part of the survey was to measure this background noise level using a calibrated hydrophone which we have been deploying twice a day.
SEE ALSO: Welcome noise reduction steps taken for whales at the International Maritime Organization
There are some important things to consider when measuring background noise levels, such as changes in the density of seawater, which may channel sound more efficiently at certain depths. This is affected by the salinity and temperature of the water which can be quite variable in the Aegean due to influence of the relatively fresh Black Sea and the highly saline Mediterranean Sea waters mixing.
To account for this important factor in our noise measurements, we conduct CTD casts. These are vertical profiles of the Conductivity (salinity), Temperature and Depth which we record using our CTD. The CTD is effectively a water pump connected to several instruments which we drop vertically to a certain depth, and retrieve again.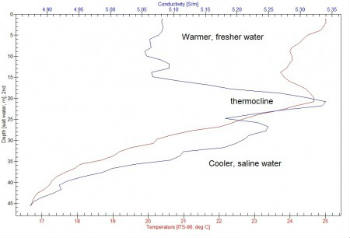 During the last few days we have been deploying lots of gear, pulling in and out the hydrophones and getting plenty of sailing done (reducing our noise and carbon footprints!).
This type of exercise is always very welcome when living in a confined space at sea, and the warm swim/washing stops are a nice reward after a hard day's work. We have had an unexpected 11th crew member on board this week – a tired racing pigeon landed on the aft deck, sheltering from the sun under our hydrophone covers.
'Blinky' was treated to a selection of cheeses, crackers, muesli and water and often came out for a wander around deck when we were deploying gear. Once within reach of land, she took off and flew strongly towards Lesbos Island.
Tomorrow morning we will make a port stop for a big crew change. We will be saying goodbye to Luke O'Connor (of stunning GoPro footage fame) who has been our intern and has lived on the boat since leaving the UK back in May.
Chief scientist and gastronomist extraordinaire Olly Boisseau (of Greek dancing fame) will head back to the UK after a two week stint, and Matt (skipper) and Edd (mate) are taking a break.
Our Turkish and Greek friends Arda, Ayaka, Eleni and Myrto will also be leaving having done Trojan work over the past fortnight. So it's time to get the boat ready for shore to stock up on supplies before our next spell in the field.
--CR
Stay tuned for more updates on the SOTW by checking back here!