Rebuttal: How many whales should be sold to the highest bidder? None.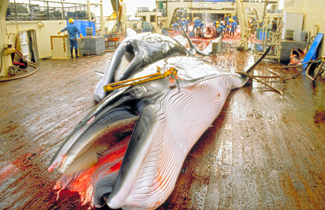 In a 'comment' posted on Nature.com, authors Christopher Costello, Leah R. Gerber and Steven Gaines argue the creation of a 'whale conservation market' might, assuming proper quotas; "reduce the number of whales harvested" under the guise of science from the world's whale populations.
This isn't a new proposal. It's a warmed-over wacky idea that's been around since the 1960s and hasn't improved with age.
Rather than devising ways to throw this dying and anachronistic industry a lifeline or put a price on the head of protected whales, we need to encourage Japan, Norway and Iceland, the last three countries still killing whales for commercial purposes, to finally join the emerging global consensus for whale conservation.
Why would anyone give whaling a commercial value which simply does not exist? The International Fund for Animal Welfare believes that all whales should be protected from this cruel and unnecessary practice.
No whales should be sold off to the highest bidder.
IFAW urges Japan, Norway and Iceland to end whaling once and for all. Responsible whale watching is a sustainable and economically viable industry which, as we've shown, is better for whales and people living in coastal communities.
Innovative ideas and new, creative approaches to the "whale wars" are urgently needed, but this one is better suited to a freshman year economics bull session than the serious ongoing global campaign to end illegal whaling.
--PR
Read more about the International Fund for Animal Welfare effort to increase whale watching activities around the world.