Pulled from Thai flood-waters, Pigtail and puppies are safe and dry
International Fund for Animal Welfare veterinarian Kati Loeffler reports from flood-stricken Bangkok after her visit to IFAW-supported Wildlife Friends Foundation of Thailand (WFFT) and other groups caring for thousands of dogs in need.
Six fat, bouncy puppies tumble and wrestle in a makeshift playpen at the Wildlife Friends Foundation of Thailand (WFFT) shelter. I am draped over the side of the pen, enraptured, when I feel a gentle tug on my trouser leg. Behind me stands Mama, polite but wary, reminding me to mind my own business and to not get too carried away with her puppies.
Mama dog has a short, kinked tail with a little tuft at the end of it that earned her the endearing name of Pigtail. She had been pulled from the floodwaters near Bangkok a month ago, emaciated, exhausted, and heavily pregnant. Several rescue groups and great numbers of volunteers have spent weeks in boats and wading through chest-high water to pull thousands of dogs and cats to safety. On dry ground, other teams set up shelters, triaged for veterinary needs, and bedded the animals down with blankets, straw, food and water.
Veterinary teams at WFFT and other rescue groups have been working non-stop since the floods began more than a month ago to treat the dogs and to sterilize as many as possible. The veterinary authority in Thailand has temporarily granted permission for foreign veterinarians to work in Thailand. Volunteer veterinarians, veterinary nurses and many people from all walks of life have come from around the globe to help the animals. Interest and assistance are strong, but after so many weeks of crisis and no sign of an imminent end, there are still not enough, and veterinary supplies are harder and harder for shelters to afford.
Donations and assistance poured in when the flooding first began more than a month ago. But donors tire of crises that don't end soon, and help is now sparse. High water persists in many areas, and people and their animals may not be able to return there for another month or more.
Meanwhile, at the shelters, vaccination, de-worming, treatment of illness and wounds, and sterilization are in full swing to make use of the opportunity of having all of these animals at a clinic, which would otherwise take years to achieve. Needs for food, bedding, veterinary supplies and transportation costs mount. And then the puppies are born as well, to mama dogs like Pigtail who are dry and safe at last, with food and water and beds of straw in which they can care for their babies.
People in the flooded areas have lost their homes, jobs, livelihoods, everything they own. But they are worried about their animals. Many people relinquished their animals to the care of local Buddhist temples, police stations or rescue groups when they had to evacuate. Many of these found their way to shelters like WFFT.
Edwin Wiek, director of WFFT, can barely push the 'end call' button on his iPhone before the next call comes in. People are looking for their dogs. Edwin grins like a kid with an ice cream cone and I know that another owner has found her pets.
"Brown spots and the left ear is all black, got a funny scrunched up kind of face, right? Came in with a female that looks a lot like him? Yes, they're here. Doing great! You'll pick them up on Tuesday, then? Excellent, see you then!"
Every animal that was pulled from the water and that WFFT received had photographs taken on site, so Edwin has a record on his iPhone of each dog's identity and the GPS location of where it was rescued. Animals whose owners are known are also tagged with the name and phone number.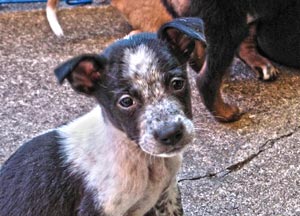 Those that are owned will be reunited with their people as soon as it is safe for people to return home. Roaming dogs will be taken back and released in the place from which they came. Local rescue teams put out food and water every day to the roaming dogs in those areas to tide them over until they can fend for themselves every day. And all of those dogs are now spayed and neutered, which will help greatly to reduce the number of stray dogs in future. Some 2,000 dogs have passed through the hands of Edwin's teams, and thousands more through those of others.
Roaming dog populations are a chronic problem in areas like Thailand, where most dogs like Mama are not sterilized, and puppies are born to the streets to live short, miserable lives. Any opportunity to sterilize the animals to prevent more miserable animals is taken advantage of by groups like WFFT who are committed to improving the welfare of animals however possible.
WFFT is usually a wildlife rescue center. But the center is located on safe, dry ground, and Edwin has opened his clinic and a great deal of space to help dog and cat rescuers in the flood areas to establish temporary shelters.
He lent his boats, equipment, food and supplies to rescuers on the water, and opened his doors to the animals who were pulled to safety. Edwin's veterinary staff are usually found with a baby langur or pangolin in their arms, and a gibbon or civet in the surgery. For the past month it's been dogs, dogs, dogs. There are fewer coming in now since the needs for rescue have slowed down, but there are still some 400 dogs in the care of WFFT that need daily care and veterinary treatment.
A Buddhist temple near the WFFT wildlife center has lent Edwin a large open area, like a fair grounds, to pitch tents and build dog enclosures. IFAW's donations to WFFT are used for veterinary supplies, fences and cages. Dog food companies have pledged donations of tonnes of food. Thai volunteers from all over the country, and people from as far and scattered as Finland, France, Scotland, Australia, and the States work tirelessly in the humid heat to set up fences, fluff fresh straw, walk dogs, lure back escapees who are enjoying the exploration of the temple grounds, feed, water, and of course snuggle whoever needs snuggling.
And who can't help but snuggle these puppies, even if they're already smooched soggy by cooing volunteers? They will need homes, and some groups in Bangkok have already started adoption drives. Pigtail is still heavy with milk and eats ravenously to keep up with the demand of her puppies. But eventually her pups will no longer need her, and she can put on weight of her own and become a sleek, gorgeous doggie. She will relinquish the puppies that she has been able to raise so well to loving homes, thanks to the care and compassion of rescuers like Edwin and the groups he and IFAW support. And thanks to those same groups, Pigtail won't ever need to worry about feeding another family on the streets again.
-- KL