New rule proposal brings hope for wolves in 2015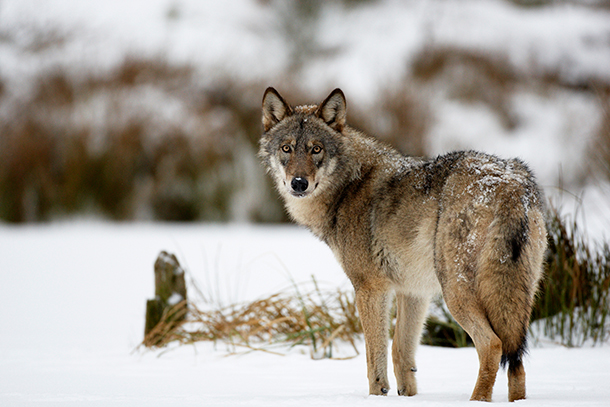 This blog is one in an ongoing series of intermittent analyses of the United States' Endangered Species Act. –ED
For gray wolves (Canis lupis), 2014 was a big year filled with both highs and lows. Nearly extirpated in the lower 48 states by the early 20th century, wolves were reintroduced into the U.S. in the 1990s and their management under the Endangered Species Act (ESA) has been extremely controversial ever since—and it will likely remain so in 2015.
At present, it is estimated that around 3,700 wolves inhabit the Great Lakes region, while 1,675 reside in the Northern Rocky Mountains.
In recent years, the U.S. Fish and Wildlife Service (FWS) has proposed delisting the gray wolf from the ESA throughout the continental U.S.
Legal and political battles over the wolves' protection have been waged for years; a number of states that have been granted management authority over wolves within their boundaries, which has led to the opening of hunting and trapping seasons that have crippled the species' ongoing recovery, while other states' wolves remain subject to federal and state safeguards.
Great Lakes wolves were dealt a blow when, in December 2011, FWS prematurely delisted the region's population and states hastily established killing seasons.
Since the 2011 delisting, nearly 1,600 wolves have been killed in the western Great Lakes area—a tragic and short-sighted return to the very management practices that decimated the nation's gray wolf populations a century ago.
Fortunately, 2014 brought good news for the region's wolves—including those inhabiting Minnesota and Wisconsin, where hunting has taken a serious toll–when a federal court overturned FWS's decision to delist the animals and required that hunting and trapping end immediately.
Holding that the agency's basis for delisting the gray wolf was improper, the court emphasized that FWS had ignored the potential for wolf recovery in certain areas of its historic range and had failed to demonstrate that the states' aggressive management programs were not a threat to the species' survival.
Earlier in 2014, the same district court rejected FWS's delisting of wolves in Wyoming, another state in which officials have favored intensive and inhumane management.
As with Minnesota and Wisconsin, Wyoming's wolves—which were delisted in 2012—have already been impacted by irresponsible state management practices, with more than 200 killed in recent years. The recent court decisions are promising and illustrate the critical benefits of the ESA when properly interpreted and administered.
In addition to these important court decisions, some states took important legislative and administrative action to protect wolves in 2014. The Illinois state legislature, for instance, passed a bill to add gray wolves (along with black bears and mountain lions) to the state's list of protected species.
Though wolves are generally absent from Illinois at present, it is heartening to see a state prepare to welcome and protect these apex predators—quite a different response relative to the states that have used their management authority to promote wolf killing.
Similarly, the California Fish and Game Commission voted to extend the state's Endangered Species Act protections to gray wolves in June, sometime after a lone wolf known as OR7 wandered from Oregon into California and adopted the state as part of its range.
Another notable wanderer, a Northern Rockies wolf spotted near the grand canyon in October—the first gray wolf seen in Arizona in 70 years—brought hope for the wolf's dispersal through its historic range.
Sadly, that wolf is believed to have been killed in Utah by a hunter later in 2014.
At the federal level, the National Park Service (NPS) took a stand for gray wolves and other predators, proposing to prohibit the inhumane practice of taking wolves during the denning season and, more broadly, to reject the artificial control of predators to enhance game populations on NPS lands.
This much-needed rule—which IFAW has supported would set an important precedent, as the State of Alaska has long ignored NPS's recommendations for sound wildlife management, instead adopting cruel, unsporting and ecologically destructive practices.
If the proposed rule is finalized in 2015, it will mark another important victory for America's gray wolves.
The past year has brought some major changes in wolf management throughout the U.S., some good and some bad, and 2015 is sure to bring new controversies.
I look forward to working together to protect America's wolves and other native predators in the new year!
--CB
Help Protect Alaska's wildlife by telling the NPS to ban cruel hunting practices.