Lending wildlife a helping hand after an oil spill in Quintero Bay, Chile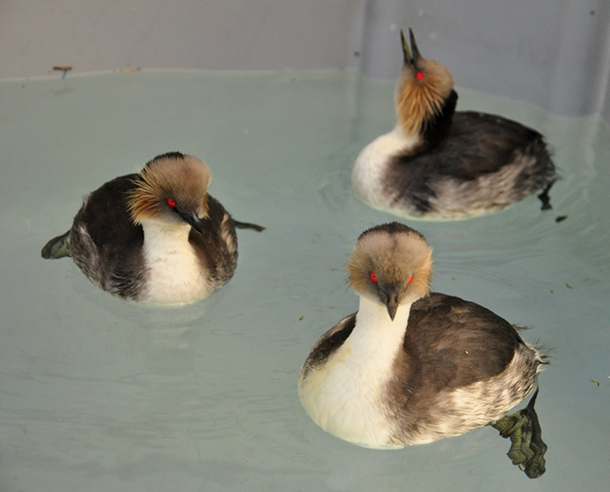 An oil spill of approximately 22,000 litres (approximately 5,600 US gallons) in Quintero Bay in northern Chile on 25 September, saw myself (Valeria Ruoppolo) and Sergio Heredia with the IFAW Animal Rescue Team travel from Brazil and Argentina to assist with local efforts to rescue oiled wildlife involved with the spill.
IFAW was invited to participate in this response through ENAP's support (the Chilean national oil company). Through IFAW's participation, ENAP's goal was to increase the local capacity in dealing with the wildlife involved. SERNAPESCA (the National Fisheries Services, with responsibility for penguins in Chile) also submitted an invitation asking for our expertise in setting up a makeshift facility for animal rehabilitation and training.
We arrived on site on October 1, one week after the spill, and immediately liaised with the organisations involved with the animal rescue activities: the Universidad Santo Tomás, Servicio Agricola y Ganadero (SAG, the National agency for Agriculture and Primary Industries, with responsibilities for flying birds in Chile) and SERNAPESCA.
IFAW responds to disasters around the world. Watch IFAW's animal rescue efforts at Mayon Volcano in the Philippines
The oiled animals were being treated at University Santo Tomás' veterinary hospital by their amazing staff, students and SAG's professionals.
Through our involvement there was improvement in the animal husbandry practices and housing facilities, rapidly adapting them for an oiled wildlife response event. We shared our experience and expertise in treating oiled wildlife with the local professionals, helping them to clean all of the animals in care, and get them ready to be released following treatment.
Animals were only treated when they met the approved physical and blood criteria for treatment, following recognised international best practices.
Once the remaining birds are waterproof and clinically approved to be released, the Universidad Santo Tomás will release them. Most of the oil has been cleaned from the bay, and there are no further untreated oiled birds appearing in the bay.
While in Chile, we worked with the local agencies, visiting breeding colonies and the local fish market looking for oiled seabirds. Local agencies will continue to try to capture the few oiled birds observed for treatment and rehabilitation. Sergio also gave a talk to SERNAPESCA agency staff to raise awareness of the responses required in dealing with oiled wildlife.
After a little more than a week on site, we left for home, leaving behind a community that is much better prepared for any future spills involving wildlife. The local capacity to respond appropriately to oiled wildlife has been increased, with local knowledge of the appropriate protocols, best-practice husbandry and clinical procedures.
8 October 2014: Breakdown of 36 live birds rescued at the Quintero Bay, Chile oil spill.
Species
Oiled
Cleaned

Died/Euthanized

Released
Total admitted alive

Magellanic Penguin

Spheniscus magellanicus

3
5
0
0
8

Great Grebe

Podiceps major

0
0
10
0
10

Silvery Grebe

Podiceps occipitalis

0
3
2
0
5

Pelican

Pelecanus thagus

0
4
2
0
6

Cormorant

Phalacrocorax spp.

0
0
5
0
5

Coot

Fulica spp.

0
0
0
0
1
Tern
0
0
1
0
1
36
8 October 2014: Breakdown of the 13 birds collected dead on site at the Quintero Bay, Chile oil spill.
| | |
| --- | --- |
| Magellanic Penguin | 3 |
| Great Grebe | 1 |
| Silvery Grebe | 0 |
| Pelican | 4 |
| Cormorant | 4 |
| Coot | 0 |
| Tern | 0 |
| Seagull | 1 |
| | 13 |
We will continue to work with the Universidad Santo Tomás and the Chilean government agencies to ensure a greater degree of preparation for future incidents.
-- VR
Learn more about IFAW's global disaster response operations, click here.