India celebrates its wild elephants with Gaj Yatra
Come October, a road show aimed at raising awareness about the shrinking space for India's wild elephants and the importance of securing elephant corridors will begin to move through elephant range states across the country.
The biggest event ever planned around India's wild elephants, the Gaj Yatra, partnered by IFAW and Wildlife Trust of India (WTI), was launched by India's Union Minister for Environment, Forest and Climate Change Dr Harsh Vardhan in New Delhi this World Elephant Day.
Deriving its name from 'Gajah', meaning elephant and 'Yatra', meaning a journey, the Gaj Yatra will take the form of a road show travelling through 12 elephant range states in India over the next 15 months. Streets will come alive with elephant-themed art and local artists and artisans will create life-sized elephant installations and sculptures to add to a travelling 'herd' of amazingly crafted elephants. Celebratory events at different venues along the way will feature performances, parades, street plays and educational activities for children in particular, which will build a groundswell of popular support and catalyze policy to help secure elephant corridors.
India has just over 27,000 wild Asian elephants; over 50% of the species' estimated global population. Yet these natural nomads face an increasingly uncertain future in the country, which also houses 1.2 billion people. The growing resource needs of India's human population have led to the destruction and fragmentation of wild habitats across the country, depleting the area available for elephants to roam and causing the loss of their traditional migratory paths.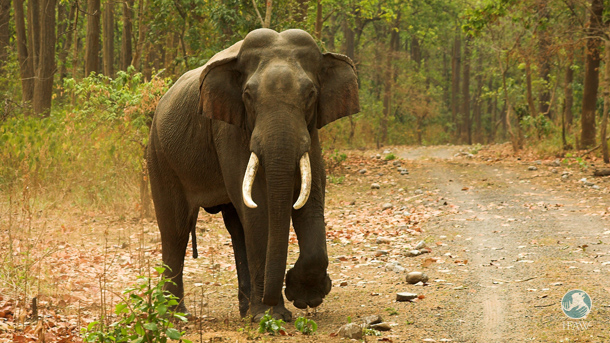 Elephant corridors are vital natural habitat linkages that enable elephants and other wildlife to move through the degraded habitats lying between larger protected forests freely, without being disturbed by humans. With Asian elephants now occupying a meager 3.5 percent of their historical range, securing these corridors has become a conservation imperative. The Asian elephant is a keystone species on whose survival rests the fate of much of India's rich biodiversity. By celebrating the elephant, which is also India's National Heritage Animal, the Gaj Yatra will help bring issues related to the shrinking of elephant habitats and the importance of securing elephant corridors to the forefront.
A day after the official launch by the Honorable Minister in Delhi, the Gaj Yatra assumed its public face through a launch at the most popular temple dedicated to Ganesha, the elephant-headed god, in the bustling metropolis of Mumbai. The event at the Shri Siddhivnayak Temple, Prabhadevi had all the trappings one might associate with a celebration for elephants in the commercial and business capital of India. With the Union Railway Minister Mr Suresh Prabhu as the Chief Guest, and the Mayor of Mumbai, the area Municipal Corporator, the temple management and a host of film stars led by WTI's brand ambassador Dia Mirza in attendance, the Mumbai launch attracted immense attention on mainstream and social media channels.
Thank you #MOEFCC @drharshvardhan for launching our #GajYatra campaign today!We are committed to securing #101Corridors #WorldElephantDay pic.twitter.com/kvmM0HyWRG

— Dia Mirza (@deespeak) August 12, 2017
Over the coming year, IFAW-WTI will continue to build popular support for securing elephant corridors in cities, towns and villages, and drive policy initiatives towards our goal of securing the 101 corridors identified across India's elephant range states. Five elephant corridors have already been secured with the support of the Asian Elephant Alliance partner charities World Land Trust, Elephant Family and IUCN-NL (and another corridor has been secured in south India by the Karnataka State Forest Department). As the Alliance works towards its vision of raising funds to secure #RightOfPassage for elephants through all 101 elephant corridors, we hope India's National Heritage Animal becomes a conservation priority through the Gaj Yatra.
--RGC