CLAW Spotlight: Dog rescued from harmful chain collar adopted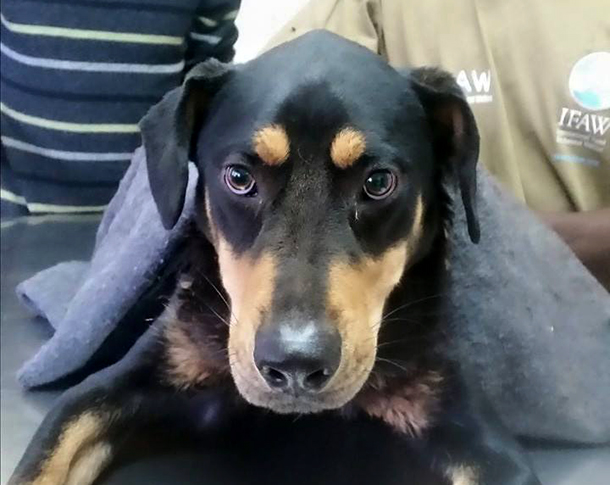 The month of May was a very busy time for the staff at CLAW outside Johannesburg, South Africa. We had several cruelty cases reported to us, and urgent rescue calls we needed to attend to.
Brutus was just one of these cases.
Cora Bailey was attending to calls in one of CLAW's local townships when she came upon Brutus chained up in a yard. She noticed that he had a thick metal chain around his neck.
A dreadful smell wafted from him and, on closer inspection, she saw to her horror the chain was literally cutting through the skin and the underlying muscle of his neck.
Cora called the owners over and asked them about this poor suffering dog before confiscating him from the property and rushing him for urgent veterinary treatment.
Back in the CLAW hospital the chain had to be cut from his neck and the wound treated. The wound continued all the way around his neck and had cut through several muscle layers. After a month of intense treatment the wound finally healed and Brutus' sweet personality has started to shine through.
He has had a bit of a rough start in life, but with a bit of training and rehabilitation he became a happy, friendly boy again. Cora has been gathering information about Brutus' former owners but cruelty charges are yet to be filed.
Earlier this week, Brutus was adopted by a long-time CLAW supporter!
Unfortunately this is not an occasional case that we see at the CLAW hospital. We have been working tirelessly with people in the local townships to educate people on basic animal care and what to do if animal cruelty is occurring in their areas.
Several of our staff members are out in these communities providing education to animal owners. Most of these cases are not intentional, but just ignorance. CLAW community liaisons help owners build running wires for the dogs that don't have adequate fencing to safely contain them.
--JG