Chance meeting with President Banda of Malawi, meant to be?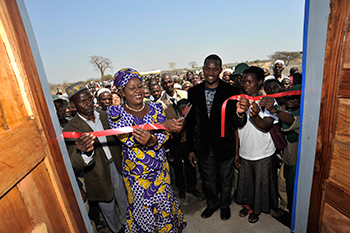 Earlier this week, I gave you an update on the opening of the IFAW Model Fish Farm and Elephant Fence project in Malawi.
Since the inception of this elephant and rhino habitat project, I have been very excited about the possible ramifications of its success. We are off to a very positive start and are breaking new ground in the area of incorporating human livelihoods into animal welfare values.
SEE ALSO: Spotlight Malawi: saving Liwonde National Park – one fish at a time
I feel strongly about shining the light on this particular effort and had requested a meeting with President Joyce Banda of Malawi so that I could explain why I think success in this project will reverberate beyond Malawi.
I wanted to ask her to lend her voice to our endeavor; to find ways to provide livelihoods to communities with large populations living near a national park whilst involving them in the protection of animals.
At IFAW, for peoples who have traditionally utilised wildlife as their main economic resource, we want to promote community livelihood models that aren't based on imported trophy hunting or the needless killing of elephants and rhinos for the sale of their ivory and horns.
Presidential schedules being what they are, my hoped-for meeting did not materialise. I knew that President Banda will be attending the Clinton Global Initiative in New York City later this month, and so I set my sights on meeting with her there.
After the successful ribbon cutting ceremony at Chickolongo, I began the long journey home and boarded a plane bound for Johannesburg, South Africa.
To my utter surprise, President Banda boarded the same plane, and we had a chance to talk together. I told her of our project in Liwonde National Park and how I believe that Malawi can set one of the example community livelihood models we are looking for. I then asked for her strong voice in the defense of elephants at the Clinton Global Initiative meeting next week.
Had the pleasure of meeting with President Joyce Banda in Malawi. We spoke of elephants and IFAW project in Liwonde National Park

— Azzedine Downes (@AzzedineTDownes) September 16, 2013
If I had had more time with her, I would have told her of the amazing work I had witnessed already being undertaken in her country:
the woman's cooperative IFAW established to design and sew the uniforms of the rangers who protect the elephants and rhinos in Liwonde
how the woman were able to expand that enterprise to beyond the park
of the local villagers who made the bricks with which the IFAW project built shelter for the rangers who are out on patrol removing snares from animals caught in the poachers cruel web
of the Peace Corps volunteers who help the villagers identify and remove invasive species of trees in the forest so that wood could fire the kilns to make the bricks whilst leaving the native species in place for the animals
of the cash crops such as hot chili peppers that will be planted around the fish farm, a crop the elephants won't raid and which provide some cash for the community.
how the villagers themselves built the fish farm and established an irrigation system and now own the project
I did get to tell her how our project will help stop people and animals from getting killed in lethal wildlife-human conflict. And President Banda expressed her thanks…
So, my meeting with the President may have been a result of serendipity, but perhaps it was meant to be.
As we lifted up and out of Malawi with a sense of hope for the future and knowing that IFAW's mission will resonate when heard.
--AD
For more information about our efforts to protect Africa's elephants, visit our campaign page.