Bright future for retirement of chimps used in testing, funds still needed
UPDATE (12/4/2013): On November 27, President Obama signed a bill that amends the Chimpanzee Health Improvement, Maintenance and Protection (CHIMP) Act, effectively removing a cap on spending for federally owned chimpanzees in sanctuaries.
The NIH had announced its intention to retire all but 50 of the approximately 360 government-owned chimpanzees currently in laboratories to sanctuary, but needed this congressional fix to do so.
Days later, the Nonhuman Rights Project filed a landmark litigation arguing legal rights for chimpanzees. Amazing news for chimp welfare! -- TC
UPDATE: IFAW has granted $5,000 to Chimp Haven to support its work to provide captive chimps the permanent and enriching home they deserve. Between now and August 12, 2013 the U.S Fish and Wildlife Service is accepting comments on the proposal to list all chimpanzees as Endangered. Please take a moment and urge the agency to protect ALL chimps by finalizing this new rule.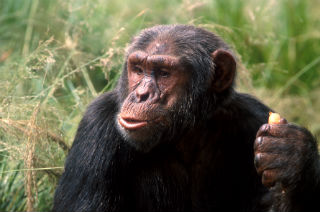 Last week, the National Institutes of Health announced its plan to retire about 310 chimpanzees from labs into sanctuaries. Approximately 50 chimps will remain in research.
In announcing the NIH's plans, Director Dr. Francis S. Collins echoed what animal welfare advocates have been saying for years: chimps are not necessary to biomedical research. Advances in scientific methods and technology aside, their status as humans' closest living relatives demands "greater justification for their use."
The sanctuaries the chimps will be heading to, like Chimp Haven, replicate conditions of living in the wild. Newly retired chimps will socialize, climb, and forage for food.
The 50 animals remaining in NIH labs will not be bred for future research, meaning that over time, government-sponsored invasive research using chimpanzees will become a thing of the past.
While the NIH's announcement represents an undeniably positive step in the right direction, it also requires further action to ensure these chimps will live their best possible lives in retirement.
Right now, the United States Congress caps funds available to the NIH for chimp retirement at $30 million.
Given the scale of this week's policy shift, the agency is expected to reach that limit soon.
NIH officials are calling upon Congress to increase this allowance. Additional funding would enrich housing and care for these primates.
International Fund for Animal Welfare supporters interested in improving the lives of chimps in captivity should write to their congresspersons encourage them to make funds available to retire these animals safely and humanely.
--TC
For more information on our work to protect primates, check our newsfeed.