With a bit of teamwork, a stranded dolphin returns to the ocean
Satellite follows movements of rescued dolphin on Cape Cod
Overview:
Based on historical and anecdotal data, it has been a long-standing belief in marine mammal science that a single-stranded social dolphin could not survive being released on its own; thus it was recommended that the animal be humanely euthanized.
The International Fund for Animal Welfare is proving that not only can these dolphins be released alone, but that they're also capable of finding a group of dolphins of the same species and successfully assimilating into that group. It's a finding that we hope will improve both the outlook for and welfare of single-stranded social dolphins around the world.
-------------------------------
Yet another single-stranded dolphin was reported to the International Fund for Animal Welfare Marine Mammal Rescue and Research team in the early afternoon on November 21st. The dolphin had stranded on the bay side of Cape Cod, near the Provincetown-Truro, MA line during an incoming tide.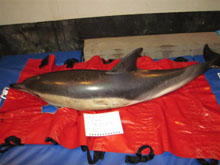 To the first team member on the scene, a volunteer, it appeared that the single common dolphin was making its way back out to deeper water. Unfortunately, the animal soon turned and came straight in to shore; floating in approximately 1.5 feet of water by the time the main MMRR team members arrived.
We immediately stretchered the animal and with the help of beachgoers, lifted and brought it into our rescue trailer. Once inside, we immediately began conducting our health assessments that include monitoring respirations and heart rate, collecting and analyzing blood, determining nutritional condition, conducting a thorough external exam, and monitoring behavior for signs of stress.
Happily, we found that the dolphin was a good candidate for relocation and release.
Upon the team's determination, we quickly transported the animal over land to Herring Cove in Provincetown, a predetermined release site due to its deep-water access.
At the release site, the animal, our 284th of the year, was affixed with a satellite-VHF combination tag and released back into the wild at 9:15PM. Staff and volunteers alike held their breath until the animal was no longer visible.
Eager to determine how the animal was doing, we looked to the computer to check for any satellite hits, and found that one hour post- release, the animal was located 2 miles off of Race Point, Provincetown, and by the late afternoon on Wednesday, 23 November, it had travelled approximately 75 miles out in open water and appeared to be doing well!
I and the IFAW MMRR team want to offer our sincere thanks to all of our dedicated volunteers for your passion and patience, as well as the Cape Cod National Seashore rangers for making this stranding response another success story!
-Jane M. Hoppe