ACTION: Help us pass the Humane Care for Primates Act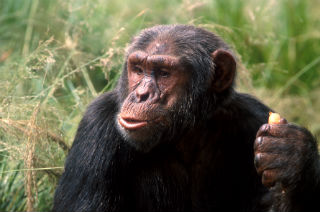 It has been a landmark year for primates in the United States. Now, we have yet another reason to celebrate—this time on behalf of primates around the world!
Congress has just introduced The Humane Care for Primates Act (H.R. 3556) to allow reputable U.S. sanctuaries to rescue primates from overseas. This amazing bipartisan initiative is spearheaded by U.S. Reps. Renee Ellmers (R-NC) and Peter DeFazio (D-OR), and our friends at Born Free USA, and it will finally provide much-needed refuge to primates suffering overseas.
SEE ALSO: Bright future for retirement of chimps used in testing, funds still needed
Currently, Centers for Disease Control (CDC) regulations only zoos, universities, and research facilities to import primates. When these beings are deemed ineligible for scientific, educational, or exhibition purposes, they are either destroyed, become victims of the global pet trade, or are shipped to substandard facilities abroad.
This needs to change.
Many sanctuaries are in a unique position to provide long-term resources that meet the complex physical, physiological, and other enrichment needs of primates from all backgrounds, and H.R. 3556 would help save these precious lives.
" [I]n 2011, a rescue center in Amman, Jordan requested that a U.S. sanctuary import and provide permanent refuge for three vervet monkeys and nine baboons confiscated from severely inhumane circumstances in zoos and private possession.
That same year, another rescue center in Kenya requested that a U.S. sanctuary take in a yellow baboon who was kept as a pet for two years and was facing impending euthanasia. Despite being fully equipped to accept and care for these primates for the rest of their lives, as well as the ability to assist a foreign sanctuary in need, the current regulation forced the U.S. facilities to deny these requests."
I encourage everyone to support this important and much-needed legislation.
With enough effort, hopefully the next time there is a primate in the need of a home, she won't be turned away based on bureaucratic red tape.
--TC
Urge your Congressperson to support H.R. 3556!