At Switzerland's Bex Festival of Nature, visitors learn about challenges facing wildlife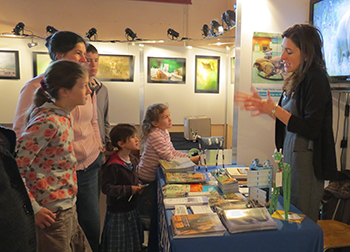 Recently, the International Fund for Animal Welfare was invited to participate at the Bex Festival in Switzerland, a weekend long festival organised by 'Images de Nature' an event dedicated to the importance of the conservation of nature.
Amongst those present were famous photographers such as Tony Crocetta and Eric Dragesco. Presented through interviews, projections of both photos and film, the underlying theme was always clear: the beauty of nature and its fragile state. The images displayed are first-hand accounts of this beauty and fragility and were complemented by IFAW's presence as a call to action for change.
IFAW presented workshops to students, using the didactic material from our most recent Animal Action Program dedicated to elephants.
Over 100 pupils learnt about our work in this field and were keen to know more about the problems surrounding elephants and the ivory trade.
They watched our production of 'Elephants Never Forget ' which took them through a series of emotions, from laughter at the behaviour of baby elephants, to sadness at the threats they face such as poaching.
The video's final message was that each and every one of them plays a crucial role in ensuring that this magnificent species does not become extinct, which left them with a sense of urgency and motivation to act.
Several of them approached me personally after the workshop, and all of them took home with them various materials. These will serve to spread our message in the hope that this young generation become ambassadors for IFAW themselves.
They were surprised to find out about the scale of the problem of ivory products online, and, being familiar with buying and selling objects on Internet, were intrigued to learn that each one of them can make a difference by reporting suspicious ivory items online.
IFAW also gave a general presentation of our mission, actions and approaches. Here we were fortunate enough to have our very own ambassador of the animal action education Programme, Olivia Mokiejewski, to complement this general presentation with a personal account of her work with us.
This was followed closely by Jean-Sébastien Desbordes and Alexandre Paré' France 2 documentary recorded during IFAW's mission in Boubandjida, which screened last year.
This documentary included our Director of France and francophone Africa, Celine Sissler-Bienvenu, reporting on the devastating massacre of 650 elephants at Boubandjida National Park in Northern Cameroon.
Presented on a huge screen measuring 6' by 4' m in a room seating 600 people, it was a moving testimony of the problem of elephant poaching.
Many people approached me after the projections, commenting on the terrible situation and thanking us for the work that we do.
I helped staff a stand throughout the weekend attracting persons both young and old with our posters and background screening of 'Elephants Never Forget'.
The gruesome image of an elephant carcass left after an episode of poaching incited much discussion with visitors. Although the stand included material attesting to a wide range of our projects, its focus was on elephants and poaching for ivory.
Many were shocked at the scale of the problem and were keen to know how they could contribute in the fight against it. Several felt that their role as Europeans in the fight would be futile, given that the principal markets are in China. This incited much discussion about our work within Europe, including 'Think Twice' and our projects and office in China, which the public was pleased to see is a large part of our work.
Our images of 'Think Twice' and ' Will only words remain?' were described as striking and were thought to convey a powerful message. Following on from our presentation, which talked about our Animal Action Program, numerous teachers approached me, keen to use our educational kits in their own schools.
All in all this first gathering of 'Images de Nature' was a fantastic experience for IFAW, enabling us to spread our message to both young and old.
We hope to be able to participate in this event for many years to come.
My sincerest thanks go to the Organisation 'Images de Nature', and to in particular, Mr. Jacques Tournel, for the warm welcome and deep commitment to our work.
My special thanks also to Mrs. Sylvia Ange and Mrs. Marine Drouilly for their help at the stand.
--MC
For more information about our educational work, visit our Animal Action Week campaign pages.