Spotlight South Africa: teaching kids about animal welfare through story
In Northern Sotho, the word Bosasa means "the future" and in this instance, it also happens to be the name of a small community located in close proximity to the Mdzananda Animal Clinic, a companion animal project of the International Fund for Animal Welfare in South Africa.
An apt name for a number of reasons, Bosasa is a temporary housing development for people who, for the most part, have lived in informal structures without access to 'luxuries' such as the basic necessities of running water and flush lavatories.
The children are also fortunate enough to have a play park.
It is in this community where the IFAW funded performance of "A Dogs Life" by Jungle Theatre Company took place recently, in conjunction with Mdzananda Animal Clinic, on a very windy but warm Saturday morning.
A Dogs Life is an exploration of the lives of pets in urban communities, told through a story about a homeless dog "Wafi" and a lonely homeless boy.
Their struggle to survive in the city sees them tackle many obstacles and make important life choices. Seen through the eyes of the dog, some young audience members literally jump to their feet and dash for the safety of the nearest adult, as Wafi "comes to life".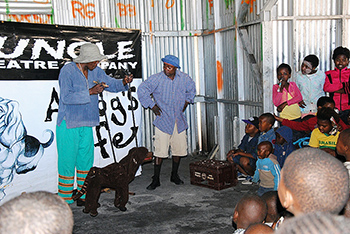 As children experience a mix of delight and trepidation, there is sheer amusement to be seen on the faces of the adults.
The story captivates from the beginning, with the cast members drawing the audience into the world of Wafi and his young owner, delivering important messages about the practical aspects of animal welfare through dance and song.
Touching on some of the social issues faced by many of these children on a daily basis, such as alcohol abuse and violence, the youngster's expressions and reactions are clear giveaways.
These are the young people IFAW and Mdzananda seek to reach through its humane education programmes to ensure that they grow up exercising compassion and responsible ownership towards their dogs and cats and those living within the community.
--LCH
Learn more about the International Fund for Animal Welfare's efforts to educate students around the world at our Education page: IFAW.org/Education
Experts
Senior Advisor, Policy Development
Campaign Manager, Northern Dogs Project