Online wildlife trade: IFAW measures its impact in France
The International Fund for Animal Welfare (IFAW) has been working on the online wildlife trade since 2004. IFAW's investigations enable to measure the extent and nature of online trade of both live animals and their derived products, as well as to raise awareness about this issue among politicians, police forces, commercial websites and consumers.
In France, since May 2016, IFAW conducts monthly investigations of the online trade of Hermann tortoises, African Grey Parrots as well as elephant ivory or body parts and derived products of tigers and leopards. These species have indeed been identified as the most widely traded on the internet, mainly sold by three websites: leboncoin.fr, naturabuy.fr, marche.fr
Such a regular monitoring, which provides a snapshot of the online trade and its evolution, allows for an assessment of the impact of certain measures, such as the total ban on the raw ivory trade or restrictions on the worked ivory trade adopted on 16th August 2016, and revised on 4th May 2017. These investigations aim at raising awareness about cybercrime targeting wild species on websites, and to support these websites in implementing a stricter legal framework to better regulate this trade.
The first results of this study, which has been carried out for 10 months (May 2016 – February 2017) reveal a rather positive trend, which IFAW hopes will catch-on:
A reduction of nearly 69% of the number of ads published on the three above-mentioned websites : 144 suspicious ads were reported in July 2016, whereas only 45 were found in February 2017. This can mainly be explained by a signifiant drop in the number of advertisements for objects made of ivory on the website naturabuy.fr. Such ads went from 84 in July 2016 to 5 in February 2017, and are now prohibited following the website's decision to ban all sale of ivory items.
Furthermore, the number of ivory ads has dramatically dropped, from 96 in July 2016 to 10 in February 2017, thus amounting to a reduction of nearly 90%. IFAW's campaigning following the legislation that entered into force in August 2016 has convinced Naturabuy.fr to delete the category "objects made of ivory and bones" and to ban the sale of ivory objects on the website.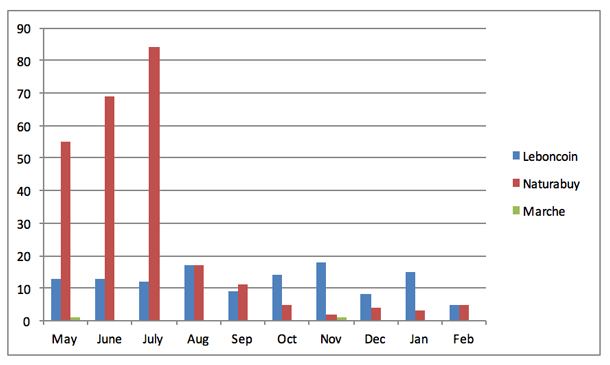 Alerted by IFAW to the decision taken at the last CoP of CITES of putting the African Grey Parrot on Annex I of the CITES Convention, Leboncoin.fr decided to be even more careful of the content of the ads published, so that no ads of African Grey Parrots not complying with the CITES regulation would be posted. This decision led to an absence of ads offering African Grey Parrots. Numerous African Grey Parrots were found at the beginning of our study, a high of 35 were recorded in September 2016, whereas there have been found none over the last few months of the study.
Internet has become the largest marketplace in the world, open 24 hours a day and 7 days a week. Distinguishing itself by its anonymity as well as its lack of regulations and borders, this freely accessible market offers numerous opportunities for criminal activities. IFAW's monitoring aims at raising awareness about cyber-crime targeting wild species and to put forth recommendations to policy-makers, websites and police forces, enabling them to fight this issue more efficiently.
IFAW calls for websites to embrace their responsibility by being proactive and flawless, by banning the sale of derived products from endangered wildlife species, by cooperating with police forces to stop cybercrime and by raising awareness among their consumers about the issue of poaching and the legal framework surrounding the wildlife trade.
Notes to author
The same methodology is used throughout the study, but as monitoring 24 hours a day and 7 days a week is impossible, these results are non-exhaustive.
Contact:
Anne Perthuis, Press Service at IFAW France : aperthuis@les-influenceurs.com, +33 1 53 53 36 87
Julie Matondo, IFAW France : jmatondo@ifaw.org, +33 3 26 48 64 79 or +33 6 12 36 40 07
About IFAW (the International Fund for Animal Welfare)
Created in 1969, IFAW saves animals in need all around the world. By leading projects in more than 40 countries, IFAW helps all animals in need, and works to prevent all forms of cruelty towards animals and advocates for the protection of wild species and their habitats. For more information, visit our website : www.ifaw.org. Follow us on Facebook and Twitter.
Press Contact
Julie Matondo, IFAW France
Contact phone:
+33 3 26 48 64 79
Contact mobile:
+33 6 12 36 40 07
Contact email:
Anne Perthuis, Press Service at IFAW France
Contact phone:
+33 1 53 53 36 87
Contact email: