Big trunks, tiny tales: Animal Action Education in the UAE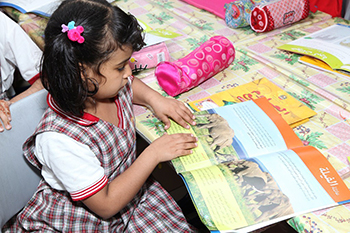 When I was a kid, I used to watch a TV series called Babar. It was one of my favorite animated series and as far as I can remember, it was the first time I learned about an animal called an elephant.
Every year, thousands of elephants are being killed just for their tusks and it has become necessary to take serious and effective steps toward protecting elephants from this deadly threat. One of these steps is to increase youth awareness and education about animal welfare and conservation.
Do we need to wait until a kid turns on a TV and accidentally finds a show to learn about elephants? How about stepping forward and introducing educational materials into school classes? How about if these materials would not only educate students about elephants, but also empower them to protect elephants. Does that sound good?
That's what the International Fund for Animal Welfare's (IFAW) office in Dubai did. In collaboration with the UAE Ministry of Education (MoE), in January 2013 we launched "Big Trunks Tiny Tales" this year's Animal Action Education program. The program will run throughout the second semester (Jan.-March).
With MoE support, thousands of IFAW's educational resources have been delivered to UAE schools (except Abu Dhabi Emirate). The program aims to educate 40,000 students ages 6-8 years old about elephants and conservation. The educational components are a student's magazine that includes lessons and activities, a companion film, plush elephants and an art contest.
The lessons and film give students the opportunity to explore the world of African and Asian elephants, their body parts, behavior, families, conservation and threats.
It is not easy to educate early-age youth about elephants in a country that has no wild elephants.
We are proud to continue our partnership with MoE for a second year, helping us raise youth awareness for critical elephant conservation--a cause that needs immediate action.
--MO
For more information on the IFAW Animal Action Week education program, visit our campaign page at ifaw.org/education