New report, "Collision Course", raises alarm on humpback ship strikes
It's that wonderful time of year again, when humpback whales arrive in Australian waters in their thousands.
These magnificent mammals migrate from Antarctica each year and travel up the west and east coast of Australia to mate and give birth in the warm waters of the Kimberly and Great Barrier Reef.
We are incredibly fortunate to have so many whales visiting our shores every winter, especially as this population was brought to the brink of extinction by past whaling.
Today, as they recover from the impacts of whaling, humpback whales face many threats as they make their long migration up and down the Australian coast. One of these dangers is the risk of colliding with boats, known as ship strike.
Ship strikes are a serious issue for whales around the world. A whale may be killed instantly or suffer from debilitating injuries that can lead to a slow, painful death.
Also on IFAW.org: Watch Out, Whales About Programme to avoid ship collisions
IFAW is highly concerned about the risk of ship strike to humpback whales as they reach Australia, particularly in essential breeding and nursery areas in the Great Barrier Reef (GBR).
Increased coastal development, ports and shipping across the reef means that whales are likely to be under more pressure and we wanted to find out what the risks are to humpbacks as they arrive in the reef this season.
IFAW's new report, Collision Course, revealed alarming results. It showed major overlap between shipping routes and humpback whale nurseries, with ships travelling at speeds likely to kill a whale in the event of a collision. Just as with pedestrian injuries on roads, speed is key as to whether a whale survives being hit, with small rises in speed dramatically increasing the likelihood of a whale being killed.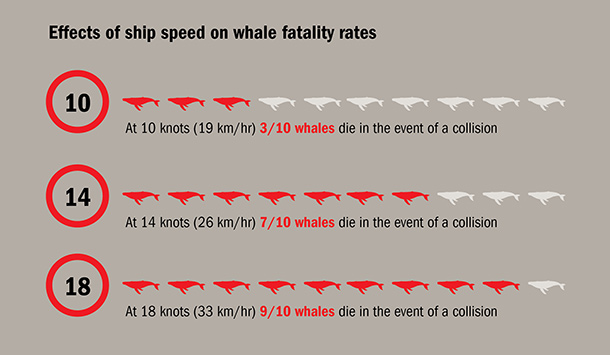 Next to a 300-metre long cargo ship, even a humpback whale can go undetected or mariners may not realise they are required to report an incident. So, ship strikes are a largely unrecognised and unreported problem for whales, with current records representing just the tip of the iceberg.
Our report recommends the introduction of 'whale zones', with ship speed limits to reduce the risk of whales being hit. These would work much like school zones do to protect children from traffic on our roads. Ship speed restrictions have been successful elsewhere in the world to reduce whale deaths.
Education and awareness-raising for the shipping industry will also inform mariners of where humpback whales are likely to be found and of the legal requirement to report any incidents.
As ship numbers grow, the risk to whales will increase in coming years. It is crucial that the government takes action now to protect whales in their main east coast calving grounds, before this problem grows and puts more whales in danger from collisions with ships.
--SL
Read the IFAW report, "Collision Course" using this link.