With passion and a plan, lost Bellavista dogs are reunited with their owners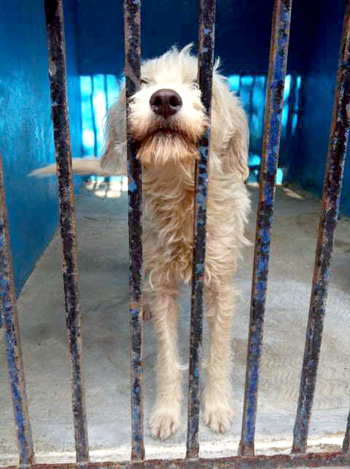 Erika Flores and I met with the municipality of Playa del Carmen two months ago to address operational problems at the Animal Control Center (ACC) as well as a new regulation on responsible pet ownership.
With the help and collaboration of two local groups, we have been able to make more frequent visits to the ACC and help animals being held there.
It will be a long-term challenge to significantly change the way the ACC is run, but we continue to push for improvements in the facility's overall condition including the regular provision of the basic necessities of food, water and adequate space (previously three or more dogs would share one small cramped crate even when additional space was available).
Recently, a lack of resources has resulted in fewer dogs in the ACC kennels.
However, when Erika visited ACC last month, she found many dogs in crates.
These dogs were captured due to a request from the neighborhood of Bellavista, a very poor community. We were aware of this specific request because it had been discussed during a previous meeting at which time it was agreed that we would be notified prior to any captures.
Unfortunately, when Erika saw the dogs and heard the story, it was clear that they reneged on our agreement and captured the dogs without notifying us.
To Erika's surprise, almost all the Bellevista dogs appeared quite healthy and were friendly. She knew that if she didn't do something that the dogs would be euthanized so she devised a clever plan to save them.
Erika photographed all of the dogs and their data sheets, which contained the addresses where they were captured. She then printed pictures of the dogs along with their data sheets and we distributed them around Bellavista.
We literally went door by door, showing the dogs' pictures to people and asking if they recognized the dogs and knew the owners.
Initially it seemed like looking for a needle in a haystack, but thanks to Erika's determination and several enthusiastic children, we found almost every dog's owner fairly quickly.
We asked the owners if they had tried to get their dogs back or if they had even known that the ACC had captured them.
Almost all said they knew what happened but couldn't afford to get their dogs back.
In order to do so, they would have had to find a way to get the ACC (which is very far and not accessible by public transportation), identify the dog, go to the municipality's office downtown, pay the fine (around $25 USD), and go back again to the ACC with the receipt to allow the dog's release.
For most people, especially those from disadvantaged neighborhoods like Bellavista, this process is impossible not only because of the money and lack of transportation, but also because it would necessitate missing work.
All the families were elated to know that their dogs were still alive and relieved that we could help them.
We offered our assistance with a few conditions.
We would return the dogs only if the owners agreed to spay or neuter them.
We would also vaccinate the dogs against rabies and deworm them.
In return, the owners would ensure that their dogs always wore a collar with identification tags and they would try their best to keep their dogs from roaming.
The very next day, Erika returned to ACC, squeezed all the dogs into her car and took them directly to the International Fund for Animal Welfare's (IFAW) Partner, Coco's Cat Rescue, for sterilization.
Reuniting the dogs with their families was a great experience!
We saw everything from hugs and tears from two little girls who desperately missed their dog "Canelo", to an outpouring of gratitude and blessings from a gangster-style man whose bad-boy facade melted into love and affection when he finally saw his little "Blacky".
Going forward, we are lobbying the authorities to adopt owner and community-friendly actions instead of picking up any dog simply because it's on the street.
We want communities like Bellavista, where the roaming dogs are tolerated and accepted by most of the people, to be treated differently by ACC authorities.
We're hoping that the authorities will utilize their resources on efforts such as on-site spay and neuter clinics, and work on enforcing regulations against animal cruelty and neglect.
Instead of capturing beloved family pets, the ACC should target specific reported stray dogs that appear sick, injured or aggressive and keep them for rabies observation.
Erika's persistence, compassion and creativity saved these dogs' lives.
Even more importantly, she proved that this approach works which could revolutionize the way that the ACC operates and ultimately benefit many more animals!
--JD